In spite of the pandemic, new residential construction is booming in Central Ohio. According to the Census Bureau, 16.4% more single family building permits were issued since the same period last year.
This chart shows the numbers for January to April. May values are not available yet.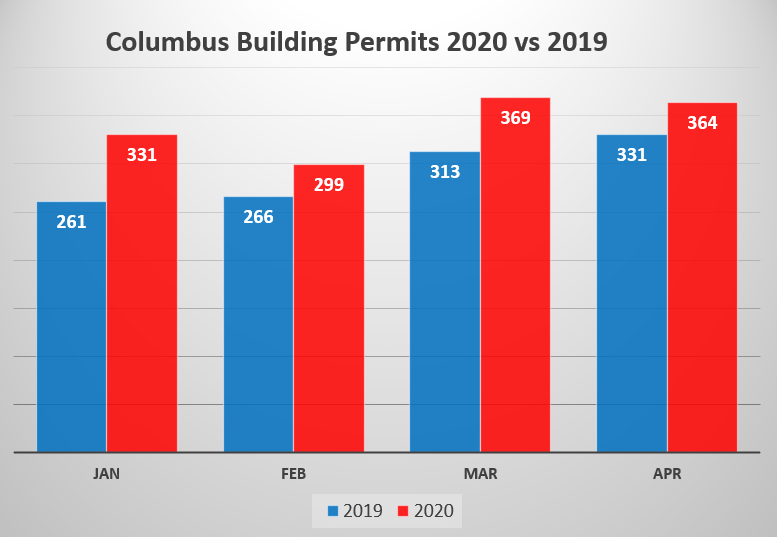 New Construction for First-Time Buyers
This is good news for buyers who have been desperately searching for a home to purchase. Active listings of existing homes have continued to fall, and did so every week during the lockdown.
Unfortunately, many owners are still reluctant to list their home. As a result, the inventory of homes for sale in Columbus, OH dropped to 2,772 this week (6/22).
New construction is a great alternative, even for first time home buyers.
With a new home, everything is brand new – from the foundation to the finish carpentry. Your Dream Home! Plus with new construction you avoid… Bidding Wars… Losing out on multiple properties… Overpaying for a Used Home. In addition, most builders will accept Home Sale Contingencies, provide Home Warranties, and many have their own lender allowing them to buy down your mortgage rate saving you hundreds on your monthly mortgage payment!
In some developments you can buy a brand new home for less than $300,000. You can design the house exactly how you like it, and you don't have to compete with other buyers.
Where Can You Find Affordable New Construction?
The least expensive new developments are located in Obetz, Canal Winchester and Groveport.
Builders specializing in the lower price ranges include
You will see other builders advertise prices starting below $300,000, however, options typically add another 10% to 20% to the base price of your new home.
Don't expect discounts on new construction homes this summer. Builders know that the market is tight, so there's no reason for them to offer incentives to buyers. In addition all of their costs are up, including permits, land, labor and materials.
Before you talk to any Builder, Call or text me FIRST at 614.332.6984. The builder pays our fee and thus the service we provide is absolutely free to you!