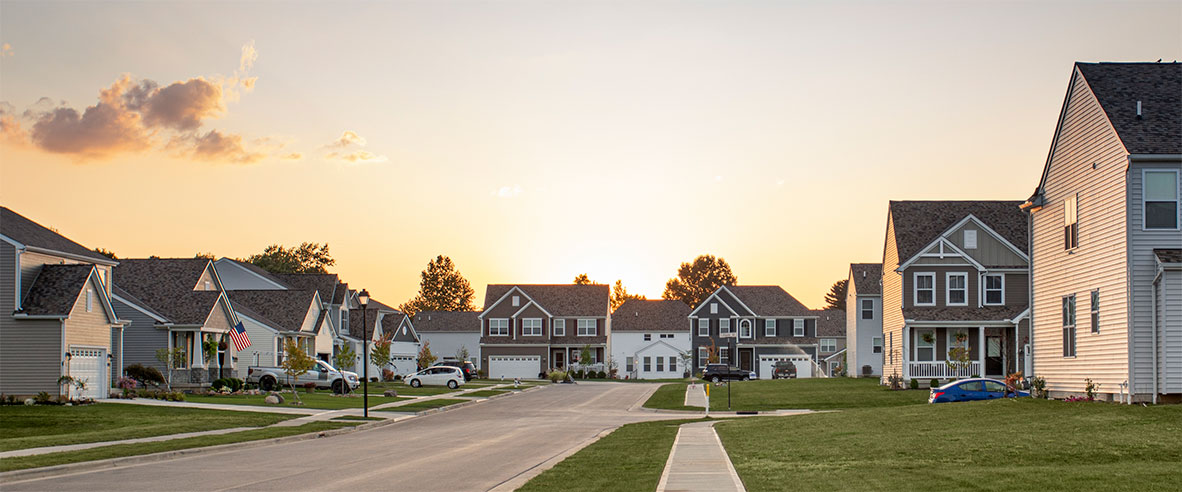 Choose Wisely. Choose Westport.
Affordability. Reliability. Quality. With traits such as these, it's no surprise that Westport Homes has rapidly become a leading home builder in the Columbus and Central Ohio area and beyond.
Founded in 2003, Westport Homes had already been identified as one of America's "Top 50 Homebuilders" and "Fastest Growing Homebuilders" by the National Association of Homebuilders before being acquired by DR Horton in 2018. DR Horton is the largest builder in the country, and one that has been delivering the American dream of home ownership since 1978. Together Westport and DR Horton believe in a vision of home ownership for everyone, and a home for every stage in like. The company has defined its success not by bricks and mortar, but by the satisfaction of the families that make our houses their homes.
Westport Homes is currently building homes in Columbus, Cincinnati, Indianapolis, and Fort Wayne.
What Distinguishes Westport Homes from Other Local Home Builders? When compared to other home builders, Westport offers an unbeatable value. Walk through a Westport home and feel the superior workmanship that comes from using only high quality brand names and attention to detail. Their homes come equipped with an extensive list of included features that other builders consider upgrades such as: decorative lighting packages, finely crafted wood cabinets, impressive landscaping packages, and, on select plans, kitchen islands and luxurious master bathrooms.

But the real value comes from the quality construction we put into every home, and the peace of mind that comes with a premium-backed warranty from America's Number One Homebuilder.

Westport is also a "green" home builder. Home comfort levels, quality of life and high energy bills are all issues that are driving increasing numbers of Americans to make their homes more energy efficient. Westport Homes uses building materials and suppliers that embrace sustainability and resource conservation and they are the only Central Ohio builder to offer a HERS Rating with every home they sell. These "green" features make for a healthier, more energy efficient and the lower the energy cost to operate

Additionally, Westport delivers smart house plans that match your specific needs, preferences and personal style. Choose from a wide variety of plans that range in size from a modest 1,000 square feet to a more spacious 4,000 square feet. Westport also offers an array of low maintenance condos, townhomes or single family homes in select communities for people who want to enjoy the benefits of homeownership without the responsibility of yard upkeep and snow removal.
More than Just a Neighborhood… Westport communities are found in some of the most desirable and accessible locations, with attention given to top-notch school systems, shopping, health care, recreation, entertainment, and the major thoroughfares that make daily commutes easier. Luxurious amenities such as: gorgeous entry features, swimming pools, clubhouses, tennis courts, walking trails, parks, ponds and golf courses are trademarks of many Westport Homes communities.

Focused on What Matters… With a customer satisfaction rating exceeding 98%, Westport Homes has a clear focus on what matters most… their customer. The Westport Homes team consists of dedicated and knowledgeable professionals who strive to make your home building experience easy, enjoyable, and rewarding. The high level of care given to each customer has played a key role in Westport's success. Westport Homes delivers a quality home in a timely fashion by simplifying the home buying and construction process and ultimately keeping their customers satisfied, all at a very affordable price.

All of the steps in the homebuilding process require the utmost attention. Let the combined efforts of The Opland Group and Westport's team take care of those details so you can have peace of mind when it comes to your investment. Westport is committed to helping you find or build a home that fits you and your lifestyle. Choose with confidence: "Upgrade Your Style of Living" with Westport Homes today!

Westport Homes is an Accredited Business with the Better Business Bureau (BBB) with an A+ Rating.

Collections:

Westport Homes offers 30 different floor plans to accommodate every buyer! Each floor plan offers different amenities, features, selections, floor plan, price range and location. So whether you're a first-time homebuyer, a move up buyer, looking to downsize, Westport Homes has plenty for you to choose from!

Communities:

There are 5 locations in North Columbus. The communities are located in: Dublin Schools (Woodbine Village), Olentangy (The Corners at Johnnycake, The Reserve at Hidden Creek), Delaware (The Reserve at Lantern Chase, Springer Woods), Buckeye Valley (Meadows at Mill Creek), Marysville (Weaver Ridge).

There are 10 locations in East Columbus. The communities are located in: Columbus (Shannon Farms), Licking Heights (Broadmoore Commons), Southwest Licking (Ellington Village), Pickerington (Preston Trails, Willow Pond), Columbus (North Grove),

There are 2 locations in South Columbus. The communities are located in: Teays Valley Schools (Chestnut Commons), Canal Winchester (Canal Cove, Shannon Farms), Bloom-Carrol (Wagnalls Run), Hamilton (Butler Farms).

If you are a buyer considering a new build inventory home or if you'd like to select a lot and build a custom home please, call us today! Our team of experts will assist you every step of the way and we offer all of our clients one stop shopping. Furthermore there is no cost to you for our service as the builder covers this expense! Call me today at 614.332.6984 to get started!