Two of the most difficult decisions a homeowner needs to make after deciding to sell their home, and selecting a real estate agent is when to put their home on the market and at what price.
Putting too much emphasis on timing as opposed to focusing on determining the appropriate list price for your home can be counterproductive and result in a delayed sale and your home staying on the market for months. Here we discuss how the list price of a home is typically far more important than the time of year that a property gets put on the market.
The Timing Fallacy
It's common to talk about real estate as a seasonal industry, suggesting that sales are related to the time of year rather than recognizing that market conditions, relocation patterns, correct pricing, properly preparing your home for market, and any number of other factors can have a far greater impact than timing or season. No two years are the same, and home sales can take place at any time of year.
For example, luxury real estate agents in many markets spend the summer on vacation based on the assumption that their luxury home buyers are out of town, as well. Many advise their clients to hold off on listing their homes, believing that there won't be sufficient traffic and that the home will sit on the market.
In reality, of course, people buy homes at all times of the year. Buyers with children want to close before the school year starts. Spring markets run later some years than others, depending on weather patterns and late storms. Economic activity also plays a role including corporate expansions and relocations and hiring activity, shifts in mortgage interest rates, etc. This means that there are no hard-and-fast rules when it comes to the timing of a listing.
That said, there are specific times of year when both home sales and home prices tend to peak. Here in central Ohio, home sales and prices tend to peak around June. Now given that the sales process tends to take approximately 30-60 days, this means these properties were listed and hit the market in March, April or early May, and during what is commonly referred to as the Spring selling season.
While Spring does tend to bring out additional buyers resulting in an uptick in activity and demand, homes that are listed this time of year often tend to be those which have been best prepared for market, and the most desirable inventory available. These sellers typically have been planning to sell for at least 4 to 6 months patiently waiting to strategically time the home sale, and spending the Fall painting the home's exterior and overseeding and fertilizing their lawn to ensure maximum curb appeal come Spring. Winter is spent painting the home's interior in the neutral tones buyer's prefer, replacing carpet and/or outdated light and plumbing fixtures, decluttering and staging. When these homes are then listed in the Spring they stand out from their competition and sell quickly and for top dollar.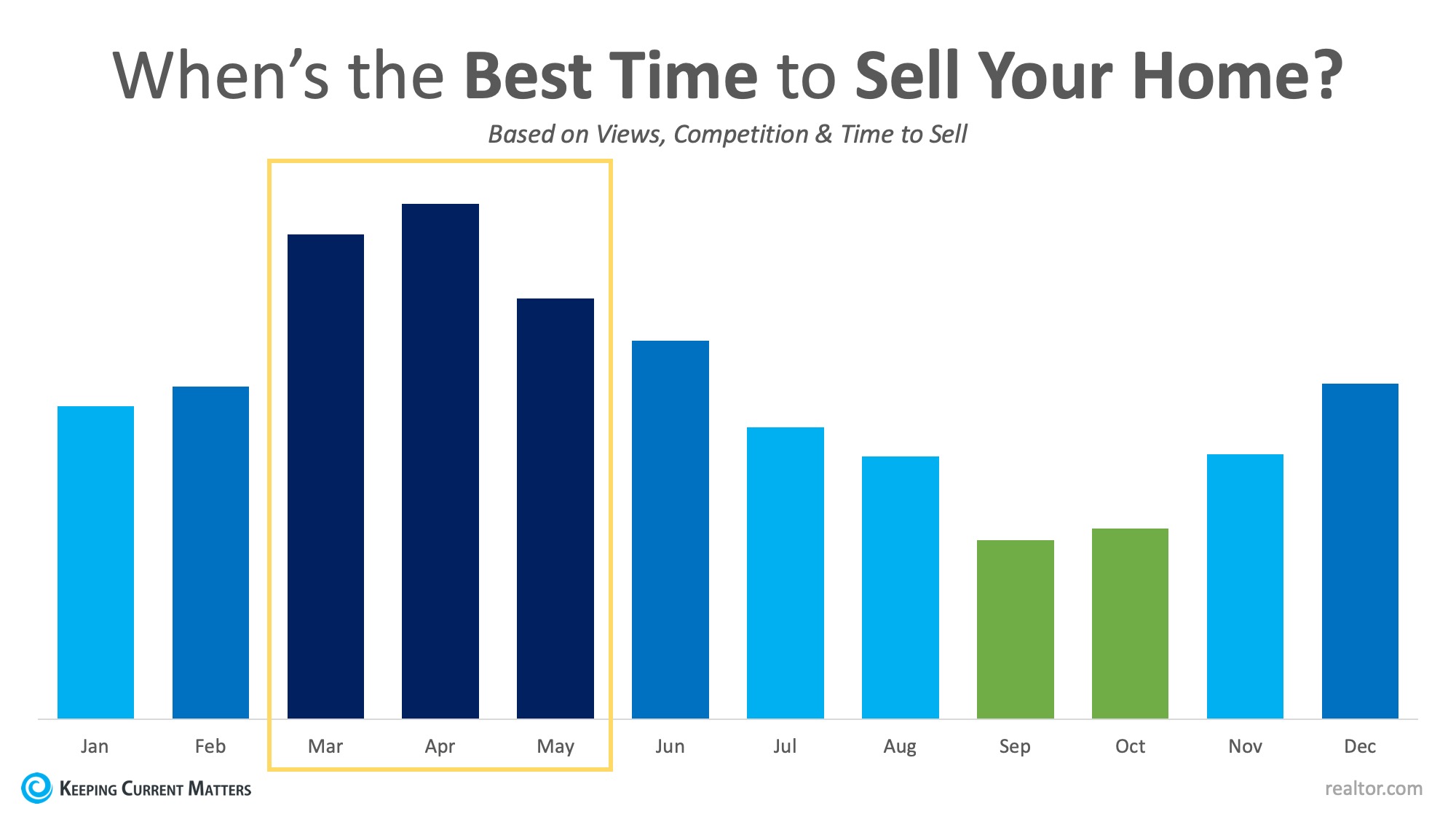 And if you have a home to sell and are concerned about finding your next home and timing your transactions to avoid a double move and the need for temporary housing, or an expensive bridge loan. We have a solution that that not only allows you to time your transactions, while typically simultaneously allowing us to sell our client's home for more money!
The Days on Market Fallacy
Another erroneous belief is that homes listed in the fall and winter will languish on the market because of reductions in traffic. The suggestion is that the increased days on market and attendant price reductions are caused by the timing of the sale.
This is a half truth as while activity does begin to decline in the fall going into October, this as buyers begin to focus on the coming holidays, home purchase activity doesn't stop and in fact if you aren't willing to invest the money into doing all of the things required to fully and effectively prepare your home for market, now is a good time to list your home. By late fall the vast majority of homes listed tend to be with sellers who weren't necessarily planning their move, and frequently life circumstances have prompted this decision, for example a job relocation, a promotion, a divorce, etc. Thus these homes tend to be less well prepared for market, and because buyers shop by comparison inferior competition will allow your less well prepared home to better compete in the market.
When tracking the numbers and comparing those price-reduced listings to properties that sold close to list price, it's clear that the difference was not when the house was listed, but how well it was priced. A poorly-priced home will languish on the market until price reductions bring it in line with it's competition and the market assessment of value. This is true any time of year.
The Pricing Factor
An analysis of historical sales across all price points considering outcomes and overall buying activity, confirms that if a home was priced appropriately, it would sell no matter what time of year it went on the market—even if there was an overall decrease in market activity.
In today's digital environment, potential buyers don't shut themselves off completely anymore when they go on vacation, prepare for back to school or the holidays. With the prevalence of listing portals and social media, an interested buyer can stay in the loop no matter where they are. That means it doesn't matter if they're sitting on the beach in California, or visiting family for the Thanksgiving Holiday. If the opportunity comes up and the price is right, and the home is desirable, they're going to act on it whenever that is.
Click here for Housing Data and Reports on the Central Ohio Housing Market.
If you, or someone you know is considering Buying or Selling a Home in Columbus, Ohio please give us a call and we'd be happy to assist you!
The Opland Group Specializes in Real Estate Sales, Luxury Home Sales, Short Sales in; Bexley 43209 Columbus 43201 43206 43214 43215 Delaware 43015 Downtown Dublin 43016 43017 Gahanna 43219 43230 Grandview Heights 43212 Galena 43021 Hilliard 43026 Lewis Center 43035 New Albany 43054 Pickerington 43147 Polaris Powell 43065 Upper Arlington 43220 43221 Westerville 43081 43082 Worthington 43235