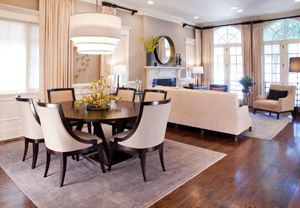 If you've ever been into a model home before, you know how easy it is to fall in love with it and want to move right in. Builders hire decorators who possess a keen understanding of the psychology of homebuyers to stage their models. Here the strategy differs from decorating for a homeowner which is a far more personalized experience ? staging a home for the purpose of selling the property is all about making someone feel comfortable in a space regardless of their personal style. More specifically, the goal is to create and environment that allows the home to appeal to the current general trends, and thus the largest pool of potential buyers.
These same principles can apply to an existing home that is being resold. Your home doesn't have to be shiny and brand new to capture a buyer's attention the same way many model homes do. Much like packaging a product, it's all in how you present it.
Here are some easy home staging tips that will help your home look like a model home, make buyers fall in love with it, and help to ensure your home sells quickly and for top dollar!
Home Staging Tips from Model Homes
1. Zero Clutter
Model homes always feel so light and move-in ready, and a large part of that is due to their complete lack of clutter. Though the fact that no one lives in them makes it easier to avoid clutter and keep things tidy, it's still very achievable in a home where the owner is currently residing.
A completely decluttered home allows buyers to focus on the home itself rather than becoming distracted by the current homeowner's personal items. It also helps each space to feel larger and more open, making buyers feel relaxed.
Leaving the toaster out on the kitchen counter, personal toiletries by the bathroom sink, and DVDs around the entertainment center may seem like small things buyers won't notice, but they do, often subconsciously. Declutter more than you would for regular guests ? try to get it as close to looking like a model home as possible. For many homeowners this may include removing excess furniture pieces which again will help spaces to feel larger and more open, but also to create flow and a more inviting, less busy feel.
2. Neutral Palette with Character
Model homes are usually decorated in a neutral palette with colorful accents so they appeal to the largest number of buyers, but also to lighten the walls which has the effect of brightening the space and making rooms feel larger. This concept works just as effectively on resales.
One of our most important home staging tips is to neutralize your home's color palette to light gray or beige tones so buyers won't be distracted by the décor. You'll want buyers imagining how they will decorate the home when they move in, not getting caught up in what is already there.
Once you've neutralized the palette, it's time to bring some touches of character back in through some colorful accents, artwork, and décor. You'll notice that while model homes are neutral, they're hardly boring. It's always about staging the home with décor that will enhance the appearance of the home, but not steal the show. Color accents can also be used to create a theme and enhance the flow of a home from one space to the next.
Also see Selling a Home: How to Pick the Best Lighting Options for Every Room
3. Every Space Has a Purpose
Many buyers can be left scratching their heads when they see an empty space, such as a loft or bonus room. They may even wonder how to use additional spare bedrooms. Take the guesswork out of the equation by making sure every space in the home has a clear purpose.
A loft, for example, can be staged as a sitting area or home office, a bonus room can be setup as a rec space or media room. Similarly, a spare bedroom can also be staged as a guest bedroom or a home office so buyers that don't have children won't feel like the extra bedroom is a waste.
4. Maximize (or Create) the View
A nice view can be a huge selling point for buyers and a bad one can be an equally strong deterrent. In model homes, you'll notice they are always smart about how they handle either situation.
In a home with a view, you'll want to draw a buyer's eye to it. Instead of assuming they'll find it when they finally peek through the windows or walk outside is leaving opportunity on the table. Instead, arrange your furniture around it and the traffic flow toward it so they notice it straight away. Make sure the blinds are open, the curtains pulled (and not made of a distracting pattern0, the windows spotless, and trim any trees that are impeding it.
In a home without a view, you can deter from it by creating an alternative focal point such as hanging a beautiful piece of artwork on the wall, a nice plant by the window, and pretty curtains around it.
5. Set the Scene
Take your home staging a step further by setting the scene in some key spaces and expressing a lifestyle. In the bedroom, for example, this could mean setting a stylish tray on the bed with two wine glasses and a bottle of wine or two coffee cups and a bag of coffee. In the bathroom, replace the towels with new white ones and roll some hand towels in a basket by the sink, and drape a larger one over the tub. On the deck or patio, entice visitors to take a seat and enjoy the outdoor living space by setting out your patio furniture with a decorative cooler or bowl filled with bottle water and other beverages.
All of these simple ideas may seem frivolous, but they go a long way in making each space feel more inviting and making buyers feel more at home.
If you, or someone you know is considering Buying or Selling a Home in Columbus, Ohio please  give us a call and we'd be happy to assist you!
The Opland Group Specializes in Real Estate Sales, Luxury Home Sales, Short Sales in; Bexley 43209 Columbus 43201 43206 43214 43215 Delaware 43015 Dublin 43016 43017 Gahanna 43219 43230 Grandview Heights 43212 Hilliard 43026 Lewis Center 43035 New Albany 43054 Pickerington Powell 43065 Upper Arlington 43220 43221 Westerville 43081 43082 Worthington 43235