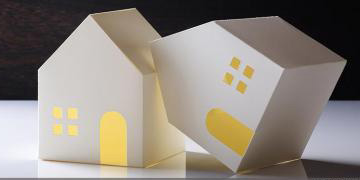 It's easy to typecast the players in the real estate market into two distinct roles: buyers and sellers, however, it's not that simple. In many cases sellers are simultaneously buyers, searching for their replacement home, making their best and highest offer and hoping the timing works out. There is a better way!
Although we are in a "seller's market," how does the notion that everything is rosy for sellers change when we consider that those sellers may also be buyers? According to a recent survey, more real estate agents than ever before agree that now is a great time to sell a home, but finding another home to buy poses a significant challenge.
This survey revealed that 89 percent of respondents believe now is a good time to sell, up from 83 percent last year. This is the highest percentage of agents reporting now is a good time to sell since this survey was first conducted in 2012. On the other hand, the number of agents reporting that now is a good time to buy fell from 45 percent last year to 34 percent in March — the lowest result since 2012.
Prospective Sellers Fear Not Finding Another Home
When agents were asked about the most common reason why prospective sellers are choosing not to list their homes, 45 percent — a vast majority — reported it is because they are worried they will not find a replacement home. A mere 1 percent of agents reported prospective sellers are concerned their home will not sell.
Many of our prospective home-selling clients inform us they'd like to start the process by shopping for a replacement home first before they pull the trigger on listing their home. Once they experience how competitive the market is for home buyers, and that seller's aren't willing to consider offers to purchase that are contingent on the sale of the buyer's current home, it gives them pause and some choose not to sell.
There are options for buyers with a home to sell and while the strategy we employee is not one I will share in this post (as it's an advantage we employ for our clients) I would encourage homeowners who are interested in selling to call or email me for details on this no cost strategy that can actually increase the price at which your home sells, as well as the dollar value our client's net from the sale – while allowing you to locate a home to buy before you sell, and avoiding the need for temporary housing! This is truly a win-win strategy!
While the solutions most agents present to their clients is to take out a home equity line of credit using these funds as a down payment for their replacement home before listing their current home for sale. This is an inferior alternative to our solution as not only does the equity line require more effort on the homeowners behalf, but it also carries significant expenses and risk, where as our strategy allows you to avoid all of this! Our solution also allows us to sell our client's homes for more money without putting them into a position that requires they carry two mortgages and a situation that requires they sell their current home quickly.
Low Inventory is a Major Challenge for Sellers
One out of three agents named low inventory, or a lack of homes for sale, as the greatest challenge sellers currently face. That is up from one in six agents surveyed in November of 2015 — a significant change in sentiment in just four months.
The lack of existing and new homes for sale has fed a vicious cycle of low supply for the past year. Builders still aren't providing enough new construction to satisfy demand, which means the market is desperately relying on homeowners to decide to sell.
The least of all challenges for sellers, is finding a buyer. When one considers these two results in tandem, many sellers feel they can't take advantage of the fact that the market favors them. However, we have an effective solution that allows us to located a home for our clients before locking themselves into a contract to sell their current home while helping to ensure their homes sell for top dollar!
If you, or someone you know is considering Buying or Selling a Home in Columbus, Ohio please give us a call and we'd be happy to assist you! We offer professional real estate advice and look forward to helping you achieve your real estate goals!
The Opland Group Specializes in Real Estate Sales, Luxury Home Sales, Short Sales in; Bexley 43209 Columbus 43201 43206 43214 43215 Delaware 43015 Downtown Dublin 43016 43017 Gahanna 43219 43230 Grandview Heights 43212 Galena 43021 Hilliard 43026 Lewis Center 43035 New Albany 43054 Pickerington 43147 Polaris Powell 43065 Upper Arlington 43220 43221 Westerville 43081 43082 Worthington 43235