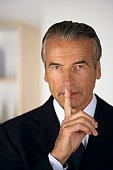 Over the past several years, "pocket listings" have become a more mainstream option for quietly marketing a home. You probably haven't heard this real estate term before but here's what today's home buyers and sellers need to know about pocket listings.
A pocket listing is an unofficial, off-market listing

Also known as a "quiet" or "off-market" listing, a pocket listing is a property that is marketed by the real estate listing agent directly, and discreetly to qualified buyers and other elite, top producing real estate agents who work with luxury home buyers. Though the seller has a signed listing agreement with the Realtor, the property for sale is withheld from the general market and isn't officially listed in the MLS. Other traditional forms of marketing may be downplayed as well.
Pocket listings are a way for high-profile individuals, or expensive luxury homes to be quietly marketed. They were seen as exclusive because they were listed under the radar of mainstream agents, buyers and even the press.
Pocket listings are growing in popularity

As the real estate market has become more challenging, pocket listings have become more mainstream.
In many markets, there are few good properties and low inventories, coupled with buyers who are motivated to see more homes. You'd think that would be a perfect reason to push homes on to the market.
And yet, there are sellers who have been interested in selling but aren't comfortable with current home values. These sellers may sit on the sidelines and will only sell if they can get the price they want.
As soon as a home is listed in the MLS, the infamous "days on market" clock starts ticking. The longer your home sits on the market, the more "stale" it becomes and the less money you're likely to be offered. Buyers, seeing that a home has been for sale for 30 or 60 days or even longer, will inevitably make low-ball offers. And so, instead of going on the market, a seller who wants a certain price may engage their real estate agent and put the listing out there as a "pocket" listing.
Pocket listings let sellers test the market

With a pocket listing, a seller and their agent can quietly test the market without adding it to the MLS. They can gauge reaction to the price they're asking and see what kind of traffic they get and how the market receives the property without the MLS clock ticking.
The agent can get the word out about the home using various marketing methods with the exception of the MLS — maybe even holding a small open house, doing a private broker's tour, and stimulating word of mouth with other agents.
Sometimes, pocket listings eventually get entered into the MLS. But in other cases they're sold without ever making it into the database.
If you, or someone you know is considering Buying or Selling a Home in Columbus, Ohio please contact The Opland Group. We offer professional real estate advice and look forward to helping you achieve your real estate goals!
The Opland Group Specializes in Real Estate Sales, Luxury Home Sales, Short Sales in; Bexley 43209 Columbus 43201 43206 43214 43215 Delaware 43015 Dublin 43016 43017 Gahanna 43219 43230 Grandview Heights 43212 Hilliard 43026 Lewis Center 43035 Marysville 43040 43041 New Albany 43054 Pickerington 43147 Powell 43065 Upper Arlington 43220 43221 Westerville 43081 43082 Worthington 43235