Believe it or not the housing market has started even stronger this year than it did last year. Lower mortgage interest rates have been a driving force, this as the average 30-year rate in 2019, according to Freddie Mac, was 3.94%. Today that rate is closer to 3.5%.
The Census Bureau also just reported the highest homeownership rate since 2014 for people under 35. This is evidence that owning a home is becoming more important to Millennials. This shouldn't come as a surprise given where millennials are age wise. They're hitting milestones like landing good paying jobs, promotions, moving out on their own, or moving in with a partner, or settling down and having kids.
According to the latest Realtors Confidence Index Survey from the National Association of Realtors (NAR), buyer demand across the country is strong. That's not the case, however, with seller listing activity, which remains weak throughout most of the nation. Here's a breakdown by state: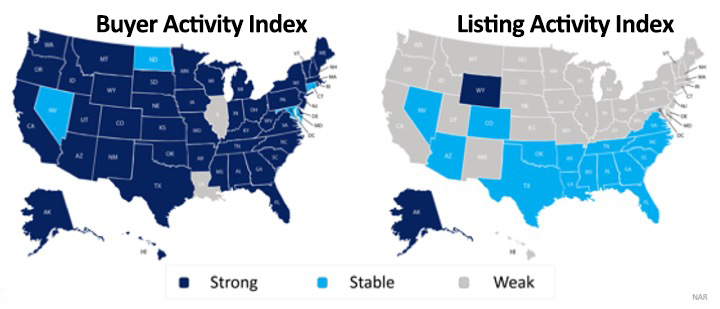 Demand for housing is high, but supply is extremely low, specifically in the first-time buyer, starter home segment of the market. NAR also just reported that the actual number of homes currently for sale stands at 1.42 million, which is one of the lowest totals in almost three decades. Additionally, the ratio of homes for sale to the number purchased currently stands at 3.1 months of inventory. In a normal market, that number would be nearly double that at 6.0 months of inventory.
How does our local market compare to these national averages? Locally there were 3,445 homes available for sale in Columbus and Central Ohio in January, a 9.8% declined over January 2019. The year started with 2,407 new listings hitting the market in January, a 10.4% increase over last year, and a 61.9% increase over December. In January 2,704 home were put into contract in January, 15.8% more than last year, and 1,745 home sales were closed, almost 9% more than last year and a record for the month of January.
During the month of November, homes under $350,000 sold in an average of 30 days. Homes sold between $350,000 and $500,000 took about 63 days to sell. Homes in the $500,000 to $700,000 price range sold in an average of 83 days, and homes over $700,000 were on the market for an average of 95 days.
Currently, the inventory of Central OH homes priced under $200,000 stands at just 1,056. Here's how the this breaks down across our local Columbus suburbs: Dublin 12, Westerville 3, Worthington 4, Hilliard 2, Upper Arlington 2, Gahanna 2, Clintonville 7, Lewis Center 1, Delaware 10, New Albany 0, Powell 0. To successfully compete for a home, higher incomes help.
What does this mean for buyers and sellers?
Buyers need to remain patient in the home search process. At the same time, buyers must be ready to act immediately once they find the right home.
Sellers may not want to wait until spring to put their houses on the market. With demand so high and supply so low, now is the perfect time to sell your house for the greatest dollar value and the least hassle.
Bottom Line
The real estate market is entering 2020 strong and there's no indication it will lose velocity anytime soon, assuming inventory continues to come to market giving buyers homes to buy.
As a seller there are strategies you need to employ to time your transactions (and avoid a double move or a costly bridge loan), and to ENSURE YOU GET MAXIMUM EXPOSURE FOR YOUR HOME AND AVOID LEAVING ANY MONEY ON THE TABLE.
If you, or someone you know is considering Buying or Selling a Home in Columbus, Ohio please give us a call and we'd be happy to assist you!
The Opland Group Specializes in Real Estate Sales, Luxury Home Sales, Short Sales in; Bexley 43209 Columbus 43201 43206 43214 43215 Delaware 43015 Downtown Dublin 43016 43017 Gahanna 43219 43230 Grandview Heights 43212 Galena 43021 Hilliard 43026 Lewis Center 43035 New Albany 43054 Pickerington 43147 Polaris Powell 43065 Upper Arlington 43220 43221 Westerville 43081 43082 Worthington 43235