The pandemic drastically changed how we lived our lives over the last year and a half. We changed how we worked, how we socialized, and even how we educated our children. But perhaps more than anything, it forced many of us to rethink where and how we want to live.
City dwellers fled for the suburbs. The market for second homes skyrocketed. Unshackled by jobs that formerly required you at the desk—and made possible by significant improvements in remote work technology—people could now move wherever they desired.
For those of us who stuck it out in the same place (or for whom moving was not an option), we renovated. We converted spare bedrooms into Zoom-friendly offices, added pools to our backyards and upgraded technology. It has been reported that 76% of homeowners made at least one home improvement during the pandemic.
Recently, the American Institute of Architects released their AIA Home Design Trends Survey results for 2021. The survey reveals the following:
70% of respondents want more outdoor living space
69% of respondents want a home office (48% wanted multiple offices)
46% of respondents want a multi-function room/flexible space
42% of respondents want an au pair/in-law suite
39% of respondents want an exercise room/yoga space
If you're a homeowner who wants to add any of the above, you have two options: renovate your current house or buy a home that already has the spaces you desire. While sixty percent of Americans agree that moving is the most stressful life event — is living in a construction zone any easier? But the decision you make could be determined by factors including:
A possible desire to relocate
The difference in the cost of a renovation versus a purchase
Finding an new or existing home or designing and building a home that has exactly what you want (versus trying to restructure the layout of your current house)
Timing… is it a good time to sell, and the right time for you (and your family).
In either case, you'll need access to capital: the funds for the renovation, or the down payment your next home. The good news… the money you need probably already exists in your current home in the form of equity.
Home Equity Is Skyrocketing
The record-setting increases in home prices over the last two years dramatically improved homeowners' equity. The graph below includes data from CoreLogic reflecting the average home equity gain in the first quarter of the last nine years: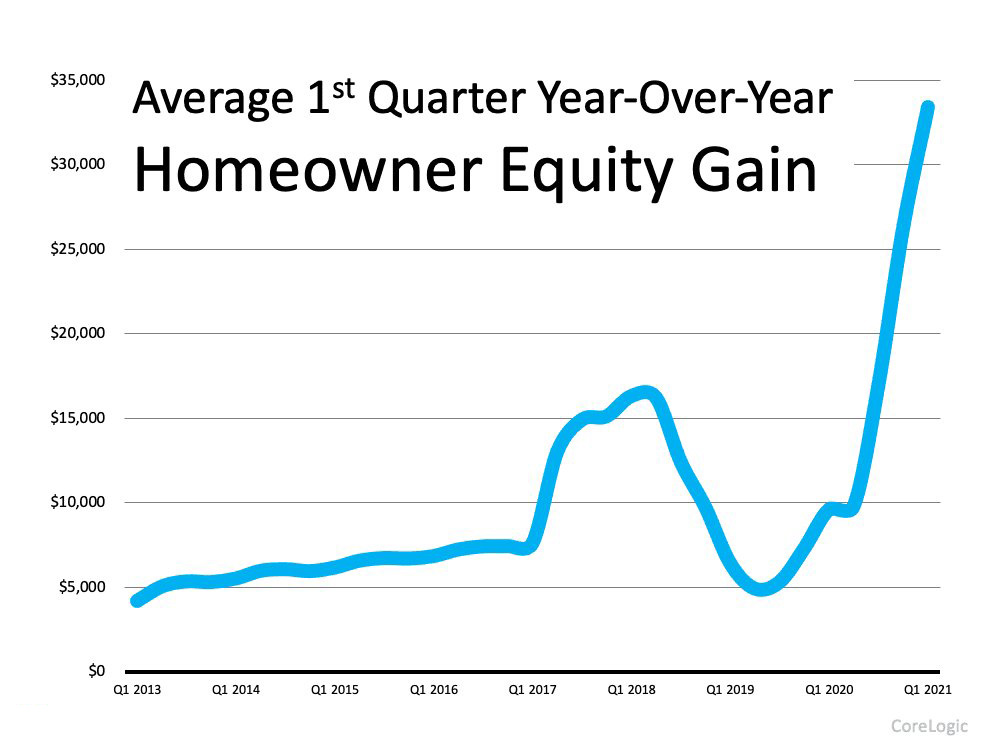 U.S. households now own nearly $35 trillion in owner-occupied real estate, just over $11 trillion in debt, and the remaining $24 trillion in equity. In inflation adjusted terms, homeowners in Q2 had an average of $280,000 in equity- a historic high.
Thus as an existing homeowner, the money you need to purchase a new home or renovate your current house may be right at your fingertips. However, waiting to make your decision may increase the cost of tapping that equity.
If you decide to renovate, you'll need to refinance or take out an equity loan to access your home's equity. Alternatively, if you decide to sell and purchase a replacement property and use your equity as a down payment, you'll still need to finance the difference between the down payment and the cost of your next home.
Mortgage rates are forecasted to increase over the next year and the Fed has announced it will begin tapering it's bond purchases through March of 2022, and expectations are they will begin raising the Fed Funds Rate shortly, if not immediately there after. Thus waiting to leverage your equity will likely result in higher costs.
According to the latest data from the Federal Housing Finance Agency (FHFA), almost 57% of current mortgage holders have a mortgage rate of 4% or below. If you're one of those homeowners, you can keep your mortgage rate under 4% by doing it now. If you're one of the 43% of homeowners with a mortgage rate over 4%, you may be able to do a cash-out refinance or buy a more expensive home without significantly increasing your monthly payment.
First Step: Determine the Amount of Equity in Your Home
If you're ready to either redesign your current house or find an existing, or newly constructed home that has everything you want, the first thing you need to do is determine how much equity you have in your current home. To do that, you'll need two things:
The current mortgage balance on your home
The current value of your home
You can probably find the mortgage balance on your monthly mortgage statement. To find the current market value of your house, you can pay several hundreds of dollars for an appraisal, or you can contact us for a free, no obligation Comparative Market Analysis (CMA) to determine the value (and thus the equity) of your Central Ohio home.
If you're interested in renovating your current home we can still be of assistance as our partner network includes a range of top local professionals including: mortgage lenders, architects, interior designers, general contractors, etc. We are can also provide guidance on market trends including further information on what today's buyers are looking for, and what trends we expect to see in the years ahead.
Moving
Most Americans don't want to move, but if you're ready for a big change, it may be your best option. Whether you've outgrown your current property, see a good sales opportunity, or simply think the grass may be greener on the other side, there are plenty of reasons to consider putting your home on the market — but check out this list of moving pros and cons first.
Pros of Moving
Purchase a new investment
Selling your current home and purchasing a new one can be a great opportunity to upgrade if you've got equity on your side. If your home is now worth more than what you owe, it may be a good time to sell. Ideally you want to have enough equity to pay off your mortgage, cover your closing costs, pay moving expenses, and put down a new (possibly more expensive) down payment.
Or maybe your current investment is no longer affordable, and you're looking to downsize. If so, you're not alone. A study found that 53% of Americans have struggled to make housing payments and been forced to make trade-offs to make ends meet. Downsizing can help alleviate financial strains and let you kick outstanding debts to the curb.
Gain a new perspective
Are you feeling stuck or complacent in your current home? Sometimes the grass really is greener on a new lawn. A change of perspective could be an exciting opportunity to expand your horizons and improve your mental health and wellbeing (once the stress of moving subsides.)
Jot down a list of things you like and don't like about your current home and neighborhood. Doing so will allow you better articulate to your agent of what you're looking for in your new home and to be mindful of amenities you'll enjoy.
Cons of Moving
Pay for moving costs
While selling your home helps build equity it isn't free by any means. There are numerous costs to consider on top of the cost of the new house. Hiring movers, home inspection costs, real estate commissions, and home repairs are just some of the expenses you could face once you put your home on the market.
Add stress to your search
Six out of 10 people find moving to be the most stressful life event — beating out divorce or a break up. While a skilled real estate agent can help to reduce much of the stress associated with selling a home and moving, you should take this into consideration if you're still on the fence about moving. Do you have work or family obligations that need your attention first? Could you juggle the stress of moving along with other upcoming life events? If not, it may be a good idea to delay the move and consider a remodel instead.
Compromise or spend more time looking
Just because you want to move out of your current home doesn't mean it's going to be easy to find a new one that meets all of your criteria. In this low inventory market, it can be incredibly difficult to find a house that is in a desired location that also fits your budget and needs while timing your transactions. That said, we do have strategies to help time your transactions and make this process easier and more convenient.
Avoid the stress of renovations
Moving allows you to get a house that fits your needs and wants without requiring you to live in a construction zone. For some, that's reason enough to start packing up the boxes and saying your neighborhood goodbyes. With the average renovation in the U.S. costing $46,503 and the average gut and remodel a whopping $150,000, moving could save you time, hassle and headaches in addition to saving you money.
Renovating
While renovating is a popular means of home improvement, it does require sacrifice from the homeowner and residents. Below, we break down the pros and cons of this alternative, while also identifying some risks that come with a remodel.
Pros of Remodeling
Customize to fit your needs
If you already have a house in a location and a community that you love, remodeling allows you to stay in the home and community you love. Remodeling also lets you customize your current home without the hassle and stress of a big move, although you will be living in a construction zone and dealing with all of the hassle and stressors associated with this.
Increase the value of your home
Renovating is one of the best ways to strategically improve your home value, which means more money in your pocket when you eventually sell. Grow your house's value with smart, high-impact projects and additions, and your net profit could skyrocket down the line. It's also critical that you locate and hire the right team to execute your vision. This team could include: an architect, interior designer, general contractor, and/or subcontractors / tradesmen.
Keep in mind that renovations do require up front costs, but if you have money in savings (or are willing to take out a loan), these immediate costs are often worth it.
Save money on moving
Moving is stressful — and it can be expensive. If you live in a home you love, why spend $10,000 on moving costs if you could spend this on cosmetic renovations that would allow you to refresh your home and extend the love affair?
Bottom Line
If the past 18 months have refocused your thoughts on what you want from your house, now may be the time to either renovate or make a move to the perfect home.
If you, or someone you know is considering Buying or Selling a Home in Columbus, Ohio please give us a call and we'd be happy to assist you!
The Opland Group Specializes in Real Estate Sales, Luxury Home Sales, Short Sales in; Bexley 43209 Columbus 43201 43206 43214 43215 Delaware 43015 Downtown Dublin 43016 43017 Gahanna 43219 43230 Grandview Heights 43212 Galena 43021 Hilliard 43026 Lewis Center 43035 New Albany 43054 Pickerington 43147 Polaris Powell 43065 Upper Arlington 43220 43221 Westerville 43081 43082 Worthington 43235