Home design trends that are expected to loom large in 2022 are an evolution of what started during the pandemic when life was disrupted and more homeowners started reevaluating their surroundings. Cases in point: the rise of home offices and outdoor living spaces.
Other hot trends started years earlier, professional grade appliances, Smart Home features, as well as energy efficiency and conservation of natural resources..
In addition, across the range of buyers, each has its own wish list—baby boomers want lower maintenance and millennials want strong broadband connectivity.
One caveat: Know that there's no universal agreement about what's in and what's out.
1. High-Speed Internet and Broadband: A home office or workspace remains essential for many home buyers, and if a house doesn't have a good digital infrastructure, it likely won't be an option for work-from-home buyers.
2. Quality, Quality, Quality: Location is still king (though proximity to the office is now less of a concern for many), but today's buyers want quality in building materials, systems, and appliances as they know how difficult it is to secure materials due to supply chain disruptions, and to find a contractor who's available and can get the work done right and at a reasonable cost. They don't want inexpensive gray and white vanities with a composition top.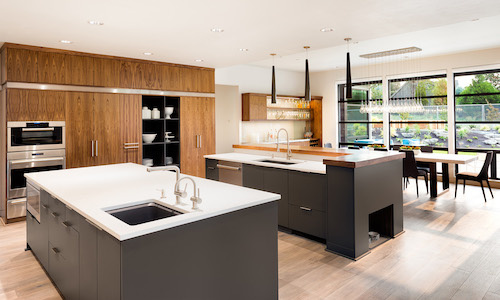 3. Trending In Kitchens: Homeowners are entertaining and cooking even more at home, and the price tag reflects their exuberance. Those who can afford to do so spend upwards of $100,000 on kitchen upgrades.
Kitchen colors are changing. Although white cabinets remain the most popular choice, the trend is moving toward additional color and warmth to give the room more personalized. Medium green cabinetry is becoming popular, as well as dramatic quartzite countertops and backsplashes.
The use of green is part of a bigger trend dubbed "forest bathing," which means being surrounded by natural materials and spending time among nature to calm oneself.
Some homeowners consider a steam oven today's "it" appliance choice because allows for healthy cooking. These ovens allow for optimal nutrient retention and flavor and often work as a steam, convection, and combi-steam cooking unit. Smart appliances that can be paired with a smartphone via download apps are also desirable among homeowners. Smart refrigerators, for example, alert homeowners when they're low on items so groceries can be ordered. Smart ovens can be turned on via an app to preheat so it's ready when owners arrive home.
Large-format flooring tiles are also the new trend in the kitchen—as big as 30 by 60 inches instead of plank styles. With the backsplash and countertop it's all about going seamless. The same material is being used for both areas to offer a less choppy, seamless look.
In luxury homes, one island is considered great, but now two are twice as good. It's a twin to the existing island," says Norman, whose clients are willing to take down a wall to make it feasible. The second island can also function as a barrier between a less open kitchen and adjoining living space, as well as a breakfast bar.
4. An Encore for Home Theaters, and a Welcoming to Yoga Studios and Sophisticated Lounges: After losing appeal because they took up too much space, home theaters are popular again as homeowners seek more at-home entertainment. Most are constructed on the first floor or a finished lower level. A newcomer to the trends list is a yoga studio as homeowners look for ways to unwind and stay fit at home.
5. More Outdoor Changes: Having a yard or balcony gained ground during the pandemic and remains a big draw for buyers. As homeowners spent more time outdoors, their wish list for that space evolved. Buyers want a flat yard that's more usable than a hilly one. More buyers than perhaps ever want a pool, and as a result most installers are booked into next year and beyond. A fire pit is also still high on wish lists, but an elaborate outdoor kitchen with a pizza oven has waned in popularity—many found they rarely use these bells and whistles. What's needed is a good 42-inch grill with storage capacity.
Many of today's buyers also favor less-manicured gardens and yards with native grass seed blends. In climates where bugs are prevalent or homeowners want to extend their outdoor enjoyment, there's greater interest in screened porches. Outdoor lighting is also important to buyers who want to improve the aesthetics of the space and extend it's utility. Finally to connect outdoor or quasi-outdoor spaces to indoors, more homeowners are replacing windows with movable glass walls.
6. Mid-Century Modern + Contemporary Chic: Design styles vary, but there's agreement that a house with Mid-Century Modern architectural details and home furnishings stay a favorite, followed closely by contemporary, so long as the latter is warm and inviting rather than cold and spare.
7. First-Floor Bedroom: Yes or No? Some experts say a house without a first-level bedroom is challenged. Not so, says Hoffman, who says it depends on who's sleeping there. "It's more important to boomers. My younger buyers considering a two-story home want all the bedrooms to be together on the upper level," she says.
8. Open Floor Plans Still In Vogue, But … While there's no single plan that appeals universally, most buyers still want an open concept plan. A choppy plan with rooms broken up takes longer to sell, and the kitchen has to open to some sort of family room. However, the dining room is the exception and can be its own separate room. When there's a separate traditional living room, buyers ask, "What do I do with this room?" Others say the openness between rooms is closing a bit. Homeowners still want sight lines from a kitchen to family room, but they no longer need rooms in a row and prefer some separation, maybe, with pocket doors or an island.
9. Maximalism: The minimalism of the last few years is fading, while maximalism is soaring. What that means is rooms are being filled with comfortable furnishings, rugs, art, and collections with character. The fresh look doesn't mean crowded, overstuffed spaces. One way to achieve the look is by mixing materials, like stones, metals (lots of bronze and less polished chrome and brushed nickel of recent years), fabrics with a nubby feel, different woods, and trendy matte black hues. It's a way to add richness and character. We find clients want cocktail tables with several metal finishes or sofas with a metallic base. Another way to inject the look is to use curved elements instead of straight lines, such as arched openings, barrel-vaulted ceilings, and curvy furniture and walkways. There's also more architectural detail like fluting.
10. All-Electric Homes: More homeowners understand the importance of "decarbonizing" everything from products to transportation, and especially their homes. The way we can best do this is by eliminating fossil fuels use from houses by including induction cooktops rather than gas for cooking, which offers safer, faster, and more even cooking, as well as electric water heaters. For HVAC an air-source heat pump (mini-split) for the system or a ground source system (geothermal). The big payoff, he says, is that renewable energy has become the cheapest form of electricity generation.
If you, or someone you know is considering Buying or Selling a Home in Columbus, Ohio please give us a call and we'd be happy to assist you!
The Opland Group Specializes in Real Estate Sales, Luxury Home Sales, Short Sales in; Bexley 43209 Columbus 43201 43206 43214 43215 Delaware 43015 Downtown Dublin 43016 43017 Gahanna 43219 43230 Grandview Heights 43212 Galena 43021 Hilliard 43026 Lewis Center 43035 New Albany 43054 Pickerington 43147 Polaris Powell 43065 Upper Arlington 43220 43221 Westerville 43081 43082 Worthington 43235