"Sell your home. Skip the hard parts."
In many ways, Opendoor seems to good to be true. They send an all-cash offer in less than 24-hours, provide a free home inspection (this is a buyer expense by the way), and completely eliminate the hassle of selling a home.
But what exactly is Opendoor, is their offering really as great as they claim, and are they the best solution?
What is Opendoor?
Officially known as Opendoor Technologies Inc., the company was established in 2014 and offers homeowners a home trade-in program in the form of an all-cash offer on their homes within 24-hours of submitting a request for an offer via their website. They currently operate is over 45 markets, including Columbus and Central Ohio. You can sell your home to Opendoor, and in about half of the markets they operate you can also buy a home with them.
Opendoor is an iBuyer — short for Instant Buyer. iBuyers are companies who use websites and technology platforms to offer cash for homes. These companies are known for making quick offers, within days or even hours of you reaching out to them. Their offers are typically non-negotiable, although they will add in additional fees if an inspection shows your home needs repairs.
When it comes to closings, iBuyers move quickly. Once you receive an offer from an iBuyer, you'll have a set timeframe for accepting and signing the agreement, usually between 5 and 7 days. Closing can be quick, with some iBuyers closing in as little as 24 hours, although 14 to 30 days is more typical.
How Opendoor Works
You can request an offer on Opendoor's website by simply providing your address, a photo of your home, and some basic information about your property's size, condition, and features.
Opendoor will use that information to make you a preliminary offer within minutes using their formula for pricing homes. If you want a more accurate offer, you can send pictures or conduct a video walk-through of your home.
If you choose to accept their offer, Opendoor will schedule an inspection. Their inspector will determine if your house needs any repairs, and, if so, estimate the associated costs. Opendoor will then send you a revised final offer, reducing the price based on the cost of repair work.
You can negotiate with Opendoor over the offer, but it's not likely they will update the offer unless they missed a big selling point or made an error in the local market valuation.
Should you decide to accept Opendoor's offer, you can pick your closing date. Typically Opendoor requires a closing date in 14 to 60 days of the signed contract, although other options might be available in your market.
What Types of Houses does Opendoor Buy?
Opendoor only makes offers on homes on which they can be competitive, yet still make a profit. Because of that, most homes don't qualify. Here is the general criteria your house must meet.
Type of House: Opendoor only buys single-family homes, townhomes, duplexes (some markets) and condos (some markets).
Value: They prefer homes listed between $100,00 and $600,000, but that range can vary by market. Opendoor will actually go as high as $1.4 million in higher cost markets.
Lot Size: In most markets, Opendoor will only buy properties with a maximum lot size of 2 acres. In some markets, however, that may be reduced to 1 acres.
Age: They typically buy homes built after 1930. This can vary by market.
Location: Opendoor will buy homes in gated communities or age-restricted communities. They don't currently purchase homes in flood zones. Opendoor only buys homes in their active markets.
Ownership/Occupancy: Any home bought by Opendoor must be owner-occupied or vacant. The seller must have clear ownership to sell to Opendoor.
There are other restrictions based on the materials and conditions, including foundation issues, fire/flood damage, asbestos siding,, solar panels, well and septic systems.
Opendoor will not present an offer for your home if it is a mobile/prefabricated home or located in a flood zone.
Does Opendoor have Hidden Fees?
Convenience always comes with a cost and homeowners should be aware of Opendoor substantial fees.
While Opendoor claims they don't charge the typical Realtor commissions of 5% to 6%, they simply re characterize this as a "Service Charge". It's important to note that these fees are not included in their offer, so they will be deducted from the purchase price of your home.
Service Charge: 5%
Estimated Closing Costs: 1-3%, although this can vary by location
Repairs -: this will depend on the condition of your home and will also include a carry expense based on the estimated time it will take to complete the repairs: 1-5%+
Total: 7-13%+
Selling to an iBuyer comes with some potential drawbacks. When you sell a home in the traditional way, it's likely you'll have interest from multiple buyers, which can drive up the price, sometimes dramatically. When you sell to an iBuyer, this competitive aspect is completely absent; Opendoor's offer is final and static.
The service charge and closing costs are in line with what you might have to pay the real estate agents in a traditional transaction. However, the estimated cost of repairs will eat into your profit.
Opendoor suggests you'd have to pay for repairs anyway, to sell your home. But in a hot seller's market, your agent can typically find buyers willing to overlook some, or even all of these and purchase the house in spite of its condition and pay for repairs themselves. You should also be able to find a contractor to do the work for less than Opendoor's estimate, an option here would be Improvio.
Improvio is a company that will not only complete repairs accepting payment when your home sells, but they will also make recommendations for high-impact updates that are proven to maximize your homes sales price and reduce its time on market. Improvio gives sellers the ability to make needed improvements to their home that will make it ready for market and attractive to today's buyers. Even better, there are no upfront costs – No Hidden Fees, No Interest Charges or Markups.
Is Opendoor Worth It?
Selling to an iBuyer comes with some potential drawbacks. When you sell a home in the traditional way, it's likely you'll have interest from multiple buyers, which can drive up the price, sometimes dramatically. When you sell to an iBuyer, this competitive aspect is completely absent; Opendoor's offer is final and static.
Opendoor's offers are reflective of their carrying and resale costs; after all, their business model is to turn around and sell your house. Every day Opendoor owns a home while it looks for a buyer costs money in taxes, marketing, utilities, and other expenses.
Opendoor vs. Realtor Costs
If you use a real estate agent to sell your home, you'll end up paying about 5-6% for listing agent commission, and another 1–3% for closing costs. This works out to about 6–9% vs. 7–13% with Opendoor.
However, selling on the open market could result in multiple buyers driving up the price with competing offers, leading to a higher sales price, and higher net earnings from your home's sale.
You pay an iBuyer like Opendoor for a quick, reliable offer. You pay a real estate agent for their expertise and marketing skills to sell your home for as much as possible.
If you want to make more money on your home sale, working with a Realtor is your best option. A Realtor can suggest, but not insist on, repairs or improvements that'll enhance your home's value. And with access to sales data, a Realtor can help assess your home's market value and the appropriate pricing strategy that will get you top-dollar for your home.
The potential for multiple offers, or even a bidding war, can help you get a higher sale price than you would with a cash offer and a skilled agent will have strategies to reduce the inconvenience typically associated with selling a home, as well as timing your transactions and finding you a replacement property if you're also looking to buy a replacement property.
PROs and CONs of Selling to Opendoor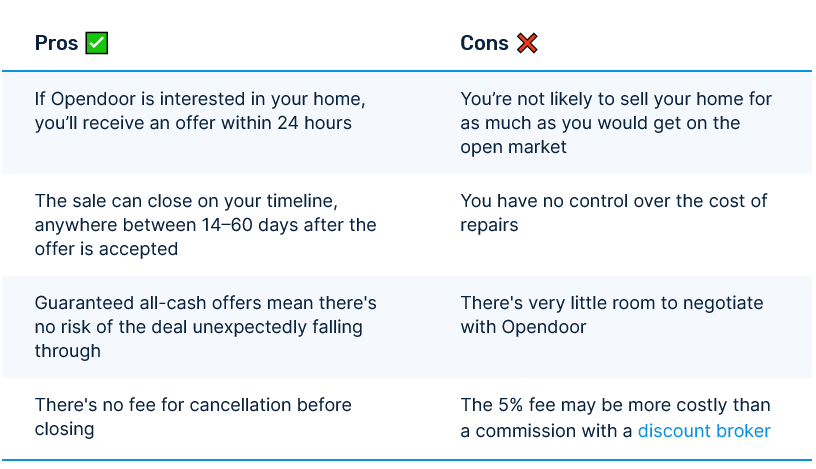 An offer from Opendoor is valid for seven days. You can use that time to compare their offer to other potential options.
If there are other iBuyers in your area, get offers from them to compare. You can also consult with a local real estate agent who can perform a competitive market analysis on your home to give you an idea of what your home might get on the open market.
When Does it Make Sense to Use Opendoor
If obtaining top dollar for your home is not a priority, and your sole objective is to offload your home as quickly as possible and you are willing to pay a hefty premium for this convenience, Opendoor may be for you.
It's worth pointing out that using our novel and effective marketing strategies, we typically obtain an offer for our client's homes within the first 3 days of showings. In the current market we are also able to secure "as-is" offers allowing our clients to avoid repair costs entirely. Buyers are also willing to be flexible as it relates to timing however, we have strategies we employ to align our clients transactions and allow them to avoid a double move and/or costly bridge financing.
If obtaining top dollar is higher on your priorities list, it's best to work with an experience and reputable Realtor.
Opendoor Reviews
To help you decide if selling to them is your best choice, let's look at some Opendoor reviews.
Some of the positive Opendoor reviews discuss how easy and stress-free the process is. Several reviewers also mention they felt Opendoor's offer was competitive.
The negative Opendoor reviews focus on low offers and high estimates for repairs.
Opendoor Complaints
Opendoor has received 95 complaints through the Better Business Bureau website (this was in Tempe, AZ as they don't post listings in most of the markets they operate in).
Surveying the complaints, some recurring themes are from buyers who:
Find allegedly sub-standard repairs in their new Opendoor renovated home
Claim their sale fell through at the last minute
Used the Opendoor app and claim their information was sold to third parties
Generally complained about high fees.
The Take-Away
There are ways to make selling simple and convenient without forfeiting a considerable chunk of your profit.
Working with us to sell your home can be customized to fit your needs, and you won't lose the money that's yours!
If you, or someone you know is considering Selling a Home in Columbus, Ohio please give us a call to discuss how we can fetch you top dollar for your home while ensuring the process is as convenient and stress-free as possible!
The Opland Group Specializes in Real Estate Sales, Luxury Home Sales, Short Sales in; Bexley 43209 Columbus 43201 43206 43214 43215 Delaware 43015 Downtown Dublin 43016 43017 Gahanna 43219 43230 Grandview Heights 43212 Galena 43021 Hilliard 43026 Lewis Center 43035 New Albany 43054 Pickerington 43147 Polaris Powell 43065 Upper Arlington 43220 43221 Westerville 43081 43082 Worthington 43235
For more information about the Central Ohio housing market, visit https://blog.jasonopland.com/category/market-reports/.
FAQs
Is Opendoor a ripoff?
If selling fast is your top priority, Opendoor can close on your home in as little as 14 days, and it charges lower services fees than many of its competitors.
However, if you want to earn as much money as possible, your best bet is to work with a Realtor who can sell your home for top dollar on the open market.
But Opendoor is a modern, tech-savvy company with national reach, and is much more legitimate than the companies who put up "We Buy Houses for Cash" signs on telephone poles.
Does Oendoor charge any fees for reviewing a property?
Requesting an offer from Opendoor is free with no obligation, so there's no risk in signing up to see if you qualify and how much you could get for your house.
If you do qualify, you'll likely be trading convenience for price. While Opendoor usually pays more than other iBuyers, you'll still probably walk away with less than if you sold with an agent on the open market.
Does Opendoor pay a fair price?
Opendoor typically offers you less money than you would make selling your home through a Realtor on the market. Their fees allow them to generate a profit while also covering their overhead and expenses as they update/repair and wait to resell your home. Are their prices in keeping with the convenience they offer? Perhaps, but again a seller will net more by listing their home with a Realtor. If the convenience of the Opendoor Business Model is appealing, there are other options that allow a homeowner to net more from the sale of their home.
Does Opendoor make good offers?
Opendoor offers less than what a home is worth. Opendoor is a house flipping company that generates their profits by buying low and selling high. They make fair offers, taking into account their potential for profit, the convenience they provide by allowing homeowners to avoid the costs and hassles associated with updates and repairs, avoiding the hassle of showings and timing their transactions but again a skilled Realtor can accomplish all of this while helping you sell your home for more money.