A growing shortage of lots for new homes will push up home prices in many U.S. markets.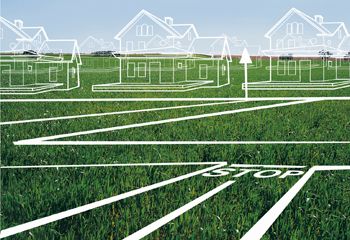 That's the word from the National Association of Home Builders (NAHB), which says the availability of new-home lots is at a historic low. In the NAHB survey for May, 64% of home builders reported the supply of new-home lots in their areas was "low" or "very low." That's the highest percentage since NAHB started collecting this data in 1997.
"As long as the supply remains constrained and demand remains strong, new-home prices will continue to rise," says David Brown, regional senior vice president at Metrostudy, which tracks U.S. housing trends.
In April 2016, the average price of a new home in the U.S. was $379,800, up 13.5% from April 2015, according to NAHB.
Brown attributes the lot shortage to a tight market for real estate loans and high land prices in popular areas.
NAHB says the record-high shortage comes as new homes are being started at a rate of less than 1.2 million a year. In 2005, when housing starts climbed past 2 million, the share of builders reporting a lot shortage stood at 53%.
"The lack of availability of buildable lots has quickly become one of the biggest issues facing our members," says NAHB Chairman Ed Brady, a home builder in Bloomington, Ill. "While labor shortages and regulatory burdens remain struggles as well, lot shortages are preventing our builders from responding to growing demand for housing."
NAHB's Chief Economist Robert Dietz says the lack of lots for new homes "will have negative impacts on housing affordability in many markets."
While the lot shortage is affecting markets across the country, the deficit is most acute in the West, according to NAHB. In that region, 39% of builders surveyed indicated the lot supply was "very low," compared with 23% in the South and 18% in the Midwest and North.
"Since 2010, lot inventory has dropped 25% at the same time that housing starts have increased 90%," Brown says. "Development activity has grown but still has not caught up with the pace that lots are getting absorbed."
For more on this topic see Housing Market in Need of More New Homes and Reasons Behind Limited Housing Inventory
If you, or someone you know is considering Buying or Selling a Home in Columbus, Ohio please contact The Opland Group. We offer professional real estate advice and look forward to helping you achieve your real estate goals!
The Opland Group Specializes in Real Estate Sales, Luxury Home Sales, Short Sales in; Bexley 43209 Columbus 43201 43206 43214 43215 Delaware 43015 Dublin 43016 43017 Gahanna 43219 43230 Grandview Heights 43212 Hilliard 43026 Lewis Center 43035 Marysville 43040 43041 New Albany 43054 Pickerington 43147 Powell 43065 Upper Arlington 43220 43221 Westerville 43081 43082 Worthington 43235