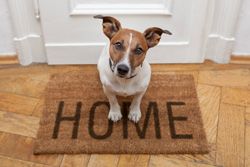 Americans Love Their Pets
According to the American Veterinary Medical Association over 43 million American households own a dog, and over 36 million own at least one cat. While it's uncertain how many of these households are owner-occupied and how many rented, since 65.5% of Americans own their homes, it's probably safe to say that many pet owners are also homeowners.
The various dog-shaming websites prove that pets behaving badly is sometimes funny – especially if it's someone else's pet acting up. When it's your cat or a neighbor's pooch committing the atrocities, though, you may pay dearly with a lowered resale value on your home.
Impact of Pets on Your Home's Value
Time business and money reporter Brad Tuttle claims that pets "can potentially do pretty much the same thing to your home's value that some pets do on the rug." He goes on to credit a New England real estate agent for determining that owning a pet may have a negative impact on your home's resale value.
As evidence, the agent cited a cat owner's condo that sold for up to $30,000 less than it should have because of damage caused by the pets.
Then, there's the noise factor. Whining, barking dogs in a neighborhood can bring down resale home values by between 5 to 10%, Appraisal Institute's Richard L. Borges tells Business Insider.
There isn't much you can do about a neighbor's dog, but there is plenty you can do about your own and if your goal is to sell your home for top dollar follow the tips we've provided below.
De-Pet Your Home
Just as you'll need to clean and declutter your home before it goes on the market, you'll also want to de-pet it. This involves getting rid of not only any damage the pet has caused, but also the hair, stains and, most of all, the odors.
Start by getting rid of the hair. You'll need a heavy-duty vacuum for the job. Consider having the upholstered furniture dry-cleaned, launder or dry-clean the drapes, and shampoo the carpets.
– Carpet: The Stink Magnet
Cat urine in the carpet is one of the hardest odors to get rid of, according to Neeraj Gupta, director of product research and development at ServiceMaster Clean. "Oftentimes you have to remove the carpet, remove the pad and seal the subfloor, and then replace the carpet and the pad."
If this problem is isolated to a minor incident or two you can attempt to remedy the problem by shampooing the carpet, giving extra attention to those areas your pet has used as a restroom. First, though, you'll need to find those spots, however, not all of these will be visible to the naked eye and homeowners should consider purchasing a battery-powered ultraviolet light – also known as a black light. They are inexpensive and, used in a totally dark room, can pinpoint every bodily fluid that has landed on the carpet. Click here for additional tips on How to Remove Though Carpet Stains.
You can use an over the counter, oxidizing pet urine remover such as the Simple Solution Line of Stain and Odor Removal Products, or try some baking soda and vinegar. Pour enough vinegar to soak the stain, then add a small amount of baking soda over top of the affected area. You need to let the spot dry for a day or two before vacuuming up the treated area.
– Other Flooring
If you have a hard-surface floor, you may think you've squeaked by the pet-odor problem. Think again. Even some hard surfaces can absorb urine. You'll need a chemical deodorizer and cleaner to rid the floor of the odor. If it lingers, you may need to strip and repaint, varnish or otherwise seal the floor.
– Walls / Base Boards
If you own a dog, you're probably familiar with how they seem to love rubbing against the walls. Walk through your home with your eyes cast on walls and interior doors at doggy height and you'll no doubt notice discolored areas. Sometimes a Magic Eraser will remove the marks. If you've lived in the home for a long time, you may need to repaint to remove the doggy odor.
Cats like walls too – especially male cats, who tend to spray vertical surfaces, such as the backs of chairs and walls, according to the experts at Cornell University, College of Veterinary Medicine. Ask your veterinarian what she recommends to clean and deodorize the walls.
– Showings
Your real estate agent will suggest that you and your pets not be home during showings. There are a number of reasons for this, but the most significant is that buyers are more relaxed if the homeowner isn't hanging around and the family dog isn't left with what it believes to be intruders. You want to create a relaxing and peaceful environment that makes buyer feel at home and a pet defending it's territory does not help to foster such an environment. Even if a buy has pets, your pets aren't their pets and they imagine yours bit, jump, vomit, claw, spit up hair balls, are hyper or ill behaved — not at all like their perfect pets. Furthermore, according to the Asthma and Allergy Foundation of America 15-30% of individuals with allergies have allergic reactions to cats and dogs. The best way to reduce the risk of a buyer having an allergic reaction is to remove the pets from the home during showings and to vacuum and air out the house prior to the buyer's visit to the home.
The National Association of Realtors® suggests removing the pet from the home during showings as well. If you'll be home, this is easy, just take the dog for a walk or drive.
If you will be working during showings, you'll need to come up with an alternative for your pet. Here are a few places to take your dog during showings:
Doggie Daycare – This one is ideal. The dog gets a day of socializing and playing, and potential buyers get to tour the home in solitude.
Groomer – An obvious win-win.
Veterinarian – Use the opportunity to get the dog or cat a checkup and shots.
Professional Dog Walker – Hire a dog walker to remove the dog from the home during showings.
Again the best option is to remove your pet(s) from the home during showings, however, if this is not an option the best alternative is to put your pets into a carrier and place them in the garage or basement and attach a note warning buyers not to disturb them. The last thing you need is somebody sticking their hand inside the carrier and getting bit or scratched. You can't predict how your pet will react when locked up and alone.
Life is chaotic and full of unexpected events when your house is on the market. It's important to remain flexible and accommodate last-minute showings if you want to get the home sold, and sold for top dollar! While pets may be members of the family, they are distractions to buyers, so it's important to decide beforehand how you'll deal with them while the home is for sale.
If you, or someone you know is considering Buying or Selling a Home in Columbus, Ohio please contact The Opland Group. We offer professional real estate advice and look forward to helping you achieve your real estate goals!
The Opland Group Specializes in Real Estate Sales, Luxury Home Sales, Short Sales in; Bexley 43209 Columbus 43201 43206 43214 43215 Delaware 43015 Dublin 43016 43017 Gahanna 43219 43230 Grandview Heights 43212 Hilliard 43026 Lewis Center 43035 New Albany 43054 Pickerington Powell 43065 Upper Arlington 43220 43221 Westerville 43081 43082 Worthington 43235