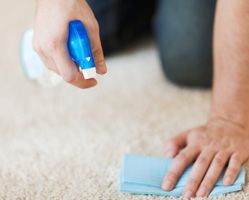 Oops! Whether it be grape juice, a little present from Fido, or finger-paint artwork from your 3-year-old, it seems whatever is not supposed to get on the carpet always does. All stains are not created equal, so we've compiled a list of some of the toughest stains to get out of carpet and how to handle them.
A note on warranties: read before cleaning. Some warranties will cover stains of all sorts but may be rendered void if you attempt to clean it with products other than those recommended. For all liquid spills, blot up (don't rub) as much of the liquid as possible starting from the outside in, rinse thoroughly and then blot again. Use a towel or paper towels and stand on top of them to get as much of the liquid out as possible before adding cleaning solution for the following stains:
Dark or colored soda: Use no more than a quarter teaspoon of liquid detergent in half a cup of water mixed together, or your chosen brand of carpet cleaner. Spray or pour the mixture on the spot and let sit for a few minutes. Blot the carpet again and repeat if necessary. Allow to air dry.
Coffee or tea: If you catch the spill immediately, you may be able to blot all of it up without the need for a follow-up treatment. Follow the directions for soda stain removal if you need further cleaning.
Curry: Blot and scrape up as much of the curry as possible. Use a carpet cleaner or a solution of one tablespoon liquid detergent, one tablespoon of white (only white) vinegar and two cups of water. Sponge, pour or spray the solution on the stain and let soak in for a few minutes. Blot and repeat as necessary.
Lipstick: Scrape up any excess without spreading it, and use the same solution for soda to clean. Try a little bit of WD-40 for tough stains.
Sharpie/Ink: Try hairspray! Rubbing alcohols and hairsprays that contain alcohol can effectively remove permanent marker. Spray or pat on and then blot the stain out. Use water to blot and clean any remaining residue.
Wine: Use enough water with baking soda to create a paste and apply to the stain. Let it dry and vacuum the area well before using a traditional carpet cleaner to remove any residual staining.
Wax: If you don't know how to remove wax, it can be difficult. Scrape the wax up with the back of a butter knife. Then, place a few paper towels directly over the stain and apply a warm iron to it. The iron will melt the wax and the paper towel will absorb it.
Blood: Cold water and a sponge. Apply, blot and rinse repeatedly. Alternatively, try a tablespoon of salt or ammonia in a half a cup of water.
Urine / Pet: Follow the directions on an over the counter, oxidizing pet urine remover such as the Simple Solution Line of Stain and Odor Removal Products, or try some baking soda and vinegar. Pour enough vinegar to soak the stain, then add a small amount of baking soda over top of the affected area. You need to let the spot dry for a day or two before vacuuming up the treated area.
Grease residue: Blot and scrape away excess grease. Use powder of baking soda to soak the grease, and vacuum up. Then use the rubbing alcohol technique for sharpie/ink, and if needed, follow that with the solution for curry.
Hair dye: Use the technique for curry. If the stain remains, follow with the same solution again, but replace the vinegar with ammonia.
Rust: Remove excess rust with a vacuum. Then use straight vinegar or lemon on the stain (spot test first to make sure it won't hurt your carpet) and rinse with water and a sponge.
Gum: Use ice to harden it and chip ogg with your hands or the back of a butter knife.
The best solution for stains is prevention. But sometimes, things happen. Use these strategies to remove the toughest stains from your carpets.
Ongoing Maintenance
Even if you don't have any mishaps, you should always have your carpet thoroughly cleaned every 12 to 18 months. There are many professional carpet cleaning services, or you can rent a steam carpet cleaner. They are usually available at your supermarket.
If you decide to do it yourself rather than hire a pro, you need to keep a few things in mind.
• Make sure the cleaning equipment you choose has enough vacuum power to allow the carpet to dry in 6 to 12 hours or you may risk damage from getting it too wet.
• Use fans or a dehumidifier to expedite drying time after cleaning. Be aware that if your carpet is wet for more than 24 hours, you risk mildew and bacteria growth.
• Choose a cleaning solution that has a pH of 10 or less, and make sure you remove all detergent after cleaning.
• Double-check your warranty. Carpets with stain resistance must be cleaned with products formulated for them or you risk impairing their effectiveness and voiding your warranty.
If you, or someone you know is considering Buying or Selling a Home in Columbus, Ohio please contact The Opland Group. We offer professional real estate advice and look forward to helping you achieve your real estate goals!
The Opland Group Specializes in Real Estate Sales, Luxury Home Sales, Short Sales in; Bexley 43209 Columbus 43201 43206 43214 43215 Delaware 43015 Dublin 43016 43017 Gahanna 43219 43230 Grandview Heights 43212 Hilliard 43026 Lewis Center 43035 New Albany 43054 Pickerington Powell 43065 Upper Arlington 43220 43221 Westerville 43081 43082 Worthington 43235