Mortgage rates held near their recent lows this week, with 30-year, fixed-rate loans averaging 3.59%.
Last week, the average rate was 3.58%. A year ago it was 3.65%, according to Freddie Mac.
Policymakers at the Fed raised short-term interest rates in December, causing people to worry that mortgage rates would rise, too. Thus far they have not. Fed Chair Janet Yellen and her team meet next week, but they're not likely to raise rates until later this year and current expectations are that the Fed will raise rates two more times this year.
The Fed is worried about weakness in overseas economies, including Europe, where central bankers today said they would keep their own interest rates below zero. Negative interest rates, which make saving more expensive than borrowing, are meant to stoke spending and give a lift to the flagging economy.
So what?
Cheap borrowing has given a lift to the U.S. housing market and buyers aren't taking any chances with the threat of raising rates, in fact appraisal volume shot up 20.1% last week! One of the three major credit bureaus reported that a whopping $1.82 trillion in first mortgages were originated in 2015, a 42.9% jump over 2014's $1.27 trillion total. There were also 7.71 million new first mortgages originated in 2015, a healthy 31.6% more than the 5.86 million originated in 2014. While low interest rates are a significant factor driving the current market, continued gains in employment and consumer confidence are also playing a key role.
Despite low inventory levels which are severely holding back sales, there were 2,362 central Ohio homes and condos sold last month, a 46.7% gain over the previous month and a 6.3% increase over one year ago. These low inventory levels are restraining our local housing market as house hunters simply can't find a home to buy (search the MLS). The inventory of homes for sale has been well below what are considered healthy levels for more than a year, leaving buyers in a bind. As such buyers aren't wasting any time committing themselves to the purchase of a new home when they find a property that meets their needs.
There were 3,496 central Ohio homes and condos added to the market during the month of March, a 33% increase over the month of February, and a slight increase of .6% from the same time the previous year. That said, even with over 3,500 homes added to the market, inventory continued its downward trend as demand continues to outpace supply.
Even though home values have crept up in recent years and continue to rise, mortgages are still incredibly cheap and they'll probably stay that way for at least a few more months. Buyers who are considering waiting to buy a home are encouraged to remember this chart. For a buyer looking to finance their purchase, a relatively minor 1% increase in mortgage interest rates effectively increases the cost of a home by 10%! Buyers are encouraged to take advantage of these once in a lifetime low mortgage interest rates while they last!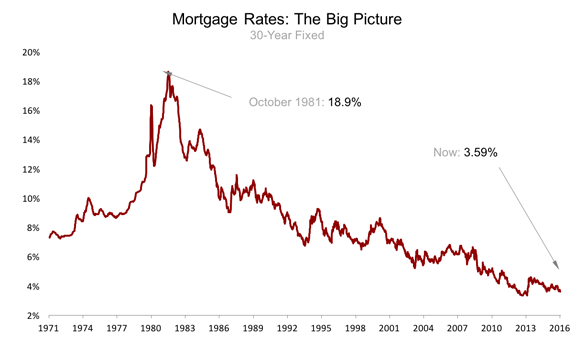 If you, or someone you know is considering Buying or Selling a Home in Columbus, Ohio please contact The Opland Group. We offer professional real estate advice and look forward to helping you achieve your real estate goals!
The Opland Group Specializes in Real Estate Sales, Luxury Home Sales, Short Sales in; Bexley 43209 Columbus 43201 43206 43214 43215 Delaware 43015 Dublin 43016 43017 Gahanna 43219 43230 Grandview Heights 43212 Hilliard 43026 Lewis Center 43035 New Albany 43054 Pickerington Powell 43065 Upper Arlington 43220 43221 Westerville 43081 43082 Worthington 43235