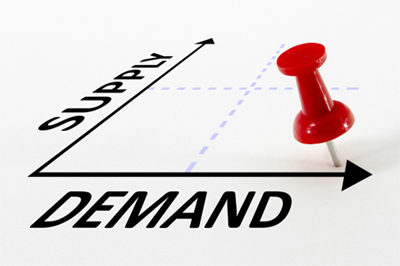 Low inventory levels are a defining characteristic of the current housing market. While it is not a universal condition, a low inventory of homes on the market seems to be prevalent in many desirable areas including right here in Columbus.
As you've probably heard the real estate market is thriving and in fact activity has sky rocketed! In fact inventory has contracted to its lowest level in 16 years! With 5,030 homes on the market in Central Ohio, at the current sales pace, supply will be exhausted in just two months. In a normal market, a healthy supply level is about six months.
Buyer traffic remains high, while seller traffic (ie. new listings) is beginning to pick up demand far exceeds supply. In fact, buyer traffic is 30% above a year ago, so there is plenty of demand but insufficient inventory to improve sales more strongly. We're in a seller's market in much of the country and in most Central Ohio markets and price points.
The resurgence in housing and resulting rapid decline in inventory is helping to push home prices higher. Low inventory levels are also forcing buyers to compete for top listings and multiple offers have become almost as common as foreclosures and short sales use to be. The expectation is that as prices continue to increase more homes will come to market, this as more prospective sellers gain confidence to make major life changes.
With less supply to satiate growing demand, the length of time homes have been spending on the market has also decreased dramatically. During the month of March, homes spent an average of 59 days on the market which is 17 days shorter than the same month last year.
But what does this all this mean for buyers and sellers? Should sellers line up to sell to take advantage of this? Should buyers sit at home and wait until the crowds die down? That entirely depends on the motivation of both the buyer and seller and their reason for buying or selling.
Typically a low inventory market means that a seller will be able to sell their home for more AND a buyer will be forced to pay more (this specifically applies to well maintained properties in desirable areas). Does this mean then that a buyer shouldn't be buying right now? ABSOLUTELY NOT! With current interest rates hovering near their all-time lows home affordability remains at all time high and it is still a fantastic time to buy a home. While most buyers might cringe at the price they may have to pay if competing in a multiple offer situation, they are likely to cringe far more if they wait to buy and interest rates go up (as is expected to occur in the very near future – from a cost perspective a 1% increase in mortgage interest rates is equal to approximately a 10% increase in the cost of a home).
In a market like the current one, buyers and sellers should consider the pros and cons of being in the market now. A seller might ask why would they want to list now if the inventory is so low… Doesn't that mean home prices will rise because of the lack of inventory? While this seems like a good assumption there are many variables that make that kind of speculating just that … speculation. Nobody knows for sure when interest rates are going to start their ascent or just how quickly they will rise, or if and when builders will begin building more spec homes and thus buyers and sellers need to look at their individual situations very carefully.
If a seller needs to sell but they want to hold off in the hopes inventory level get even lower they may also be holding off long enough to see an increase in interest rates which could cause the buyer pool to diminish significantly or prove extremely costly if they are a move up buyer purchasing a more expensive home. The question becomes whether or not that seller wants to speculate and risk missing the opportunity that exists in the current market. A "sure thing" today may not get sellers a speculated increase tomorrow. Perhaps home values will continue their steep ascent and tomorrow might be a better day to sell, however, today's market is a sure thing.
Sellers and buyers are encouraged to look at an analysis of what it looks like to buy or sell today, and what it could look like to buy or sell in the future – looking at how differing market conditions (such as changing interest rates and inventory) might affect the market and home values.
Buyers need to understand that a home's COST is dramatically impacted by mortgage interest rates and this combined with reduced home values has pushed home affordability to some of the highest levels ever seen! Interest rates remain at historic lows and affordability is still close to an all-time high. While home values are off of their bottoms and buyers may be paying more than they might have a year or two ago, or if they haven't been forced to compete in a multiple offer situation, buyer should take comfort in knowing they will save tens of thousands by locking in these low interest rates and that they will quickly make up for that premium over time. (another benefit of buying now and with a fixed rate mortgage is that most lenders are offering assumable loans, these assumable loans are going to enhance the marketability and serve as a major selling feature for today's buyers when they are ready to sell in the future when interest rates are back near their historic averages of 7-9%!)
Don't waste time with a low-ball offer. Yes, home prices are rising in most markets, and the days when you could scoop up a house for 20% less than the list price are long gone. The typical home sells for pretty close to what the asking price, and in some markets above list.
The average sales-to-list-price ratio in Columbus, for example, is 97.9%.
Sellers need to know that while the market is in their favor right now, it does not mean that this is going to last forever … or that things could improve even more as higher interest rates will negatively impact demand. The decision to sell needs to be about more than just speculation and playing the market.
Ultimately both buyers and sellers are winning right now in what appears to be the perfect storm for both buyers and sellers. As an agent giving advice, present the facts about the market now and help paint a picture of a future with a number of scenarios so buyers and sellers can check their tolerance for risk and make a decision.
Is the Columbus Real Estate Market a Buyers Market or a Sellers Market?
Is Now a Good Time to Sell a Home?
How to Get the Best Mortgage Interest Rate
If you, or someone you know is considering Buying or Selling a Home in Columbus, Ohio please contact The Opland Group. We offer professional real estate advice and look forward to helping you achieve your real estate goals!
The Opland Group Specializes in Real Estate Sales, Luxury Home Sales, Short Sales in; Bexley 43209 Columbus 43201 43206 43214 43215 Delaware 43015 Dublin 43016 43017 Gahanna 43219 43230 Grandview Heights 43212 Hilliard 43026 Lewis Center 43035 New Albany 43054 Pickerington Powell 43065 Upper Arlington 43220 43221 Westerville 43081 43082 Worthington 43235