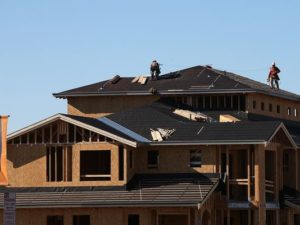 Equity versus profit. That's the difference in what's being negotiated when purchasing a home from an existing homeowner, and the builder of a new home. There is less chance of striking a deal on the purchase price of a newly built home, as most of the costs associated with building it are fixed. Only about 8% of the final list price is profit for the builder. When you're looking at new home construction, you can get more bang for your buck by negotiating items other than price.
If you're hoping to get the most out of your deal with a builder, you'll need to be proactive.
Get an Agent
Your first step before even looking at homes in a builder's neighborhood is to get a real estate agent. As the buyer, you pay nothing to the agent, and the agent is paid by the builder (as the builder will tell you, if you don't have a real estate agent the commission they would have paid the Realtor is simply rolled back into the builders marketing budget and they will not reduce the cost of the home for a buyer who elects to represent him or herself). Having an agent is this case is free for you, and you benefit in the form of professional representation and the considerable knowledge that real estate agent brings to the table. Seek out an agent familiar with the area and one who specializes in new builds before proceeding with any discussions with builders.
Once you have a Realtor on your side, let he or she handle as much of the discussion as possible. Builders like to deal with inexperienced consumers. Real estate agents know how to handle the builders on your behalf and if there's wiggle room, the agent will help you find it.
Research the Market
If you absolutely love a particular house plan from a certain builder, by all means get excited about it – on the inside. Just like buying a car, buying a home is an emotional purchase and the builder rep will attempt to gauge your emotional response and level of interest in their product. Look around at the comparable properties from other builders. How much are they selling for? Why is the one you want priced the way it is? What bonuses are being offered with your builder of choice and with the competition?
Builders want your business, especially if you're a solid buyer with good credit and a down payment. They are much more willing to play ball if you can show them you know the house is overpriced for the market. Or you may be able to negotiate a bigger upgrade bonus, or rate buy down if the competition is offering one. You can only really negotiate if the seller doesn't know you're practically salivating to sign paperwork, so play it cool. Act like you're unsure of which builder to work with (or let your agent play this game) and see what sort of offers you can land.
Buy the Spec Homes
Many builders are scaling back on spec homes, or homes built on speculation of a sale. These homes are gambles for builders who are hoping the right buyer might come along. Why not become that buyer? The home is already built and sitting on the market, and it's costing the builder money every month to hold it, just like a traditional seller. Step in and grab it after negotiating a price, just like you would on an existing home. You get a negotiated price and still get your brand new home.
You may not have made the choices in the home, but features and colors will likely be neutral. As an added benefit, the builder who sells homes on spec may be willing to add extra upgrades as part of the deal, even with a lower price. The only trick here is you'll need to be willing to compromise on floor plans since you're not able to pick the one you love the best – you may have to pick the one the builders chose six months earlier.
Instructions
1 – Get to know the competition before submitting a purchase proposal. Research similar homes by other builders in adjacent neighborhoods. Note price differences and keep track of what other builders are offering that differs from your house of choice.
2 – Time your home purchase if possible. Negotiate on a home price at the beginning or end of a development project. Ask for a reduction in home price at the beginning of a project, as the builder is eager to get his homes sold and lived in. At the end of the project, the remaining unsold homes become expensive inventory for the builder.
3 – Submit an initial offer that includes all your desired extras. Ask for items such as light fixtures, better carpets and improved cabinets. Query whether or not the builder will include appliances, such as stove/oven, refrigerator and dishwasher in the purchase price. Point out to the builder what the competition is offering.
4 – Include landscaping in your purchase offer if the home is already built and is sitting as unsold inventory.
5 – Keep your emotions hidden when discussing the purchase of the new home with the builder. Leverage yourself by acting like you're unsure about new or existing homes, which builder to purchase from, etc.
6 – Be prepared to let go of some extras as the negotiating goes back and forth between you and the builder.
The typical builder has the following expenses that all add up to 100%… land 18%, materials 50%, overhead expenses 15%, marketing 6%, permits, fees, warranty 3% and profit 8%. So, for a $200,000 house, the profit is only $16,000, not the windfall that most buyers think a builder makes. All the other costs are essentially fixed, meaning that the only place to negotiate for the builder is their profit line.
If you are looking at a home that has to be built, be mindful that the builder is less likely to discount the base price of the home since they are building it to current values. Instead of jumping the negotiating gun, ask about the incentives being offered that have been factored into the pricing. This is a good place to get the biggest bang for your buck. Builders have a markup on options so giving them away has less impact to their bottom line than reducing the overall base price. Furthermore it helps preserve appraised values that reflect general value in the neighborhood and are important to you when you are getting your loan and when you go to sell.
If you are looking at an existing inventory home, your negotiating strategy may be a bit different. First, determine when the house was completed. This is importance because builders factor in some interest (overhead expenses) to carry the house until sold. When that runs out, builders start to eat into their profit, so they may be more willing to negotiate. Dropping the bottom out of the price even on aged inventory is still not a preferred strategy due to degrading appraised values. You may want to suggest items that can be added to the home that you would purchase anyway after you move in…additional landscaping, appliances, decorator items such as shutters, blinds or special paint colors.
In closing, keep in mind that even though builders are eager to sell their homes; they also need to turn a profit. In your house hunting travels you may find that the builders that are still in business today have survived because they offer a good value at a fair price and they stand behind their product when you need them!
If you, or someone you know is considering Buying or Selling a Home in Columbus, Ohio please contact The Opland Group. We offer professional real estate advice and look forward to helping you achieve your real estate goals!
The Opland Group Specializes in Real Estate Sales, Luxury Home Sales, Short Sales in; Bexley 43209 Columbus 43201 43206 43214 43215 Delaware 43015 Dublin 43016 43017 Gahanna 43219 43230 Grandview Heights 43212 Hilliard 43026 Lewis Center 43035 Marysville 43040 43041 New Albany 43054 Pickerington 43147 Powell 43065 Upper Arlington 43220 43221 Westerville 43081 43082 Worthington 43235