Prepare yourself by knowing the less-obvious costs of owning a home. Insurance, maintenance and more add up faster than you think.
Buyers too often focus on a home's list price or mortgage payment to determine what they can afford. However, the less-obvious costs associated with homeownership can affect the monthly bottom line.
To help home buyers budget more accurately, we've compiled several common but often overlooked home expenses and calculated what homeowners around the country could expect to pay for them. The analysis also included utility cost estimates from UtilityScore.
While each extra expense might seem small, together they cost U.S. homeowners, on average, $9,080 a year, according to the report.
Unavoidable costs
Nationally, homeowners pay an average of $6,059 a year in unavoidable costs, which include homeowners insurance, property taxes and utilities. Since nearly half (47 percent) of home shoppers today are first-time buyers, many of these extra costs may come as a surprise.
Property taxes are the primary driver here and a factor home shoppers should pay close attention to when considering where to buy.
Maintenance expenses
Nearly all homeowners (96 percent) have made some kind of improvement to their homes, according to the 2016 Zillow Group Report on Consumer Housing Trends. While many complete these projects themselves, those who pay professionals can expect to spend an average of $3,021 for the six most common hired home projects: carpet cleaning, yard work, gutter cleaning, HVAC maintenance, house cleaning and pressure washing.
Budget planning
More than a third of buyers go over budget on a home purchase. Buyers are encouraged to talk to their Realtor to better understand the total cost of homeownership and to consider their "All-In Monthly Price" of owning that home.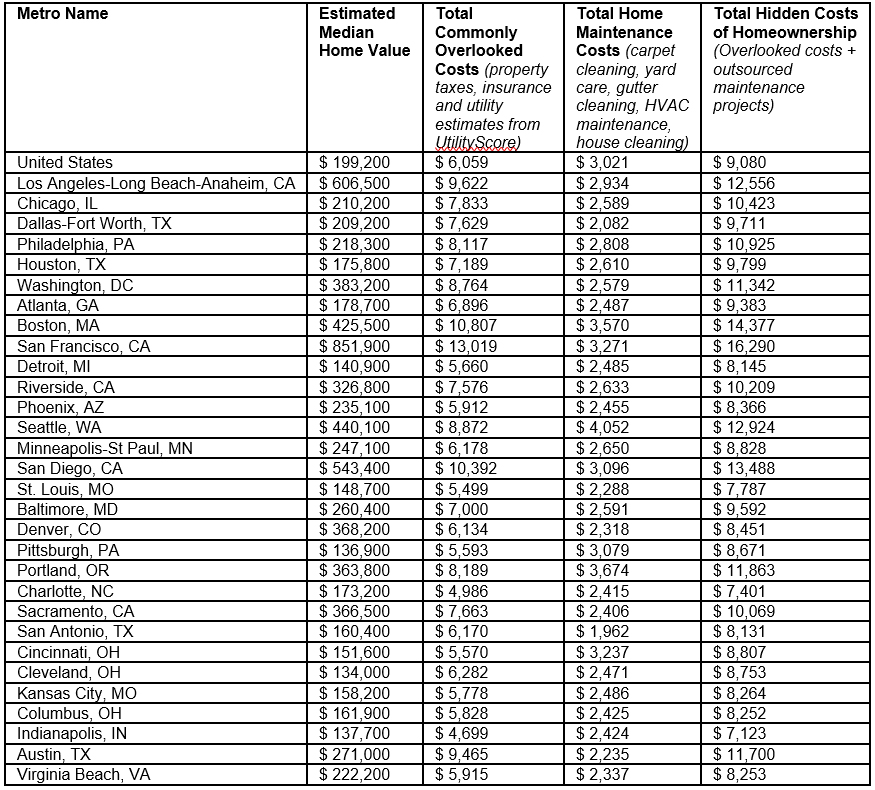 If you, or someone you know is considering Buying or Selling a Home in Columbus, Ohio please contact The Opland Group. We offer professional real estate advice and look forward to helping you achieve your real estate goals!
The Opland Group Specializes in Real Estate Sales, Luxury Home Sales, Short Sales in; Bexley 43209 Columbus 43201 43206 43214 43215 Delaware 43015 Dublin 43016 43017 Gahanna 43219 43230 Grandview Heights 43212 Hilliard 43026 Lewis Center 43035 Marysville 43040 43041 New Albany 43054 Pickerington 43147 Powell 43065 Upper Arlington 43220 43221 Westerville 43081 43082 Worthington 43235