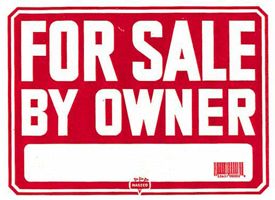 You might be surprised to hear that after six months of running online classified ads and promotions on FSBO sites, the founder and former CEO of ForSalebyOwner.com, Colby Sambrotto opted to hire a real estate agent to list his home, a 2,000 square foot New York condominium.
After giving up on the DIY route, Sambrotto's decision to hire a real estate agent led to attracting multiple offers, and closing for $150,000 over the original asking price. The Wall Street Journal reports the listing sold for $2.15 million including a 6% commission.
This news serves as an enormous validation of the real estate profession and while some may find this ironic, it is no laughing matter and the former FSBO CEO made a wise financial decision.
Homeowners considering an attempt at selling their home For Sale By Owner (ie. FSBO) should be aware that well over 90% of FSBO's eventually list their home with a real estate agent to get their house sold. According to the 2013 Profile of Home Buyers and Sellers, while 9% of homeowners are able to sell on their own and without the assistance of a real estate agent, 40% of successful do-it-yourselfers sell directly to a friend, family member, or a tenant who's already living in the home. The rest of successful do-it-yourselfers fall into the category of highly experienced home sellers, and those with a friend or family member that's a real estate agent who assisted them through the process and with the marketing of their home. These circumstances are the exception, not the norm, and for most a for-sale-by-owner (FSBO) transaction simply isn't in the cards. Here are five reasons why.
1. FSBOs can't list their home in the MLS. FSBOs aren't permitted to put their home in the multiple listing service (MLS) without the assistance of a licensed real estate agent. These industry membership organizations are open only to licensed real estate brokers and agents. FSBOs are also locked out of many home search engines and Web sites, including the gigantic Realtor.com. Sure, a determined FSBO can put a for-sale sign in his or her front yard and run an advertisement in the local newspaper, but today's buyers are online and these antiquated marketing efforts account for less than 3 percent of sales and the home won't receive nearly as much exposure as it would through the MLS or sites like Realtor.com.
For Sale By Owners can list their home in the MLS by working with a real estate agent who offers a Flat Fee MLS Listing Program. Our For Sale By Owner Listing Package includes three separate packages with prices ranging from $299 to $899 based on the level of assistance the homeowner prefers. All packages include listing your home in the MLS, the top real estate search websites including Realtor.com, Zillow, Trulia and Homes.com, the websites for almost all of the local real estate companies including Better Homes and Gardens, Coldwell Bank, ERA, Century 21, Sotheby's, and Keller Williams as well as hundreds of additional real estate websites. Our FSBO sellers are also provided a Better Homes and Gardens For Sale Sign which not only gives prospective buyers and their agents piece of mind, knowing they'll be dealing with an educated seller as opposed to the typical FSBO seller whose inexperience could put the transaction in jeopardy, or at the very least result in delays as the seller stumbles through the transaction (learning as they go) and in all likelihood overlooking important aspects of the sales process.
2. Real Estate agents won't show FSBO homes. In a typical home sale, the buyer's agent receives a percentage of the commission that the seller pays the listing agent. Without a listing agreement, there's no guarantee that the buyer's agent will be compensated for his or her services, unless the buyer has signed a buyer's brokerage agreement that specifically provides for such compensation. Even if a FSBO offers to pay the buyer's side of the commission, most agents won't want to go through a transaction with an unsophisticated self-represented seller across the table. That means the pool of potential buyers for FSBO homes is limited primarily to unrepresented and probably unqualified prospects.
3. FSBOs usually overprice their home. Like most homeowners, most FSBOs honestly believe their own home is worth more than comparable homes in the same neighborhood. Usually, they're wrong. A real estate agent can provide an update on market conditions, an assessment of the likely selling price of the home and tips for improving the home's buyer appeal. Overpricing a for-sale home is a sure way to deter potential buyers. Our Gold and Platinum For Sale By Owner Flat Fee MLS Listing Programs include a Market Analysis service to help FSBO sellers determine the appropriate list price for their home, and formulate the appropriate pricing strategy.
4. Buyers don't like working directly with Sellers. Potential buyers will spend less time in a for-sale home if the owner is present during the showing. Buyers will also be less inclined to make an offer if they know they'll be negotiating directly with the seller. Having an agent on each side creates an effective emotional buffer between the seller and buyer.
5. FSBOs are likely to stumble into legal trouble. Real estate transactions are fraught with potential liability for unwary sellers, particularly in states that have extensive disclosure requirements (e.g., Ohio). A FSBO who overlooks even one required form or legally mandated disclosure could face a protracted and expensive buyer lawsuit after the transaction closes.
If you, or someone you know is considering Buying or Selling a Home in Columbus, Ohio please contact The Opland Group. We offer professional real estate advice and look forward to helping you achieve your real estate goals!
The Opland Group Specializes in Real Estate Sales, Luxury Home Sales, Short Sales in; Bexley 43209 Columbus 43201 43206 43214 43215 Delaware 43015 Dublin 43016 43017 Gahanna 43219 43230 Grandview Heights 43212 Hilliard 43026 Lewis Center 43035 Marysville 43040 43041 New Albany 43054 Pickerington 43147 Powell 43065 Upper Arlington 43220 43221 Westerville 43081 43082 Worthington 43235
The Real Estate Business Explained
The Services We Perform For Our Sellers