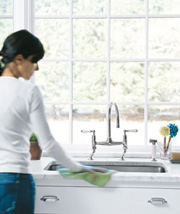 When preparing to sell your house, the lists of things to do can be daunting. Should you stage your home? Should you make repairs? Upgrade that carpet? The kitchen? Overhaul your front and back yard to impress prospective buyers? You want to maximize your return on investment but you also don't want to dump a bunch of money into a home you are looking to leave. If you are interested in fetching top dollar, while also making the selling process smooth, quick and easy, there are some things you should do before you list your home for sale. Here is our list of the top 3 things to do before you list your home for sale!
Refresh those walls (and ceilings if needed) with a fresh coat of paint
Painting all the walls of your home is one of those upgrades that won't cost a lot but which can make a big impression on prospective buyers. Freshening up the walls of your home will make your home look cleaner, and a lighter paint can make rooms appear larger and the overall layout look more streamlined. New paint is especially important in rooms where there is any visible wear on the walls, or in rooms which have unique / loud or dark colored walls.
Declutter. Then declutter some more
Buyers want to envision themselves and their stuff in your home – so don't crowd their vision with your personal items and stuff. Clutter makes homes look busy and crowded and can be a turn-off to buyers. Clutter and excessive furniture can also make homes appear smaller than they are. While renting a storage unit is a great idea, if that's not something you can afford, move additional furniture and items into one single room – ideally an attic or a basement. You want to send the message to prospective buyers looking at your home that the house is large and spacious, and ready for their stuff!
Have your home professionally cleaned before you show it
This is one of the most important tips we can offer – and it's one that Realtors and mortgage professionals find is ignored the most! Prospective buyers don't want to clean up your mess. Don't give anyone viewing your home any reason to be turned-off or distracted while viewing and touring your home. We highly recommend having a professional cleaner come in to perform a deep cleaning of your space. If that is outside your budget then you'll need to dedicate several hours to thoroughly cleaning your home from top to bottom. Make sure you clean out-of-the-way areas and spaces like the inside of ovens, microwaves and drawers. A dirty home can send the message to some buyers that you don't care about taking the best care of your house, which may make them wonder if you've skipped on any other home maintenance.
For additional guidance including whether specific repairs or upgrades are recommended, if staging makes sense and if so which rooms are the most important to stage, give us a call!
Search Homes For Sale in Columbus OH – MLS Search
Home Finance Blogs
Home Selling Blogs
Home Buying Blogs
Columbus OH Blogs
The Opland Group Specializes in Real Estate Sales, Luxury Home Sales, Short Sales in; Bexley 43209 Columbus 43201 43206 43214 43215 Delaware 43015 Dublin 43016 43017 Gahanna 43219 43230 Grandview Heights 43212 Hilliard 43026 Lewis Center 43035 Marysville 43040 43041 New Albany 43054 Pickerington 43147 Powell 43065 Upper Arlington 43220 43221 Westerville 43081 43082 Worthington 43235