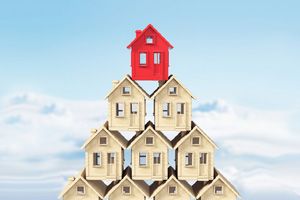 When you're house hunting, finding an amazing house in your location of choice that is turn key and doesn't require much additional investment seems like a major score.
But is it really? Before making an offer on that picture-perfect home, take a look at the surrounding houses. If they're all in disrepair—or fall far short of the one you're considering—you might be buying the most expensive house in the neighborhood.
Maybe that seems appealing because you'll get bragging rights and price of place! But more than likely, it's going to hurt you and here's why.
Someday you'll need to sell it
When you're in the throes of buying a home, it's easy to forget that the place you're busy buying will someday be the place you're trying to selling. And when it comes time to sell, unloading the most expensive home on the block is likely to be a challenge.
Often times buyers forget a home is an investment. The world changes, things happen…. usually unexpectedly, people get transferred, lose their jobs, experience health issues, etc. Now imagine yourself as the seller of that home.
So you're hanging by a thread: As it is, someone might buy it—after all, you did—but there's no way to increase your equity in the home. With your house already significantly nicer than its neighbors, any upgrades (however minor) will send it outside of the neighborhoods value range. For homes that have been over-improved and substantially superior to neighboring properties, the surrounding properties will negatively impact the value of the subject property. This is known as the Principle of Regression and it's a concept appraisers are very familiar with and one they will take into consideration when assessing the value of home's that exceed the general standards of the neighborhood. This quality mismatch between your home and the surrounding homes will typically also lead most buyers to pass on it as if they're going to spend that much money, why wouldn't they buy a home in a more desirable neighborhood?
The best you can hope for is your home holding its value…. in the worst-case scenario, you can't sell it.
You can change your house, but you can't change your location.
You need to leave room for improvement
As previously stated, a home is an investment—and the best investments have the most room for improvement. Ideally, you'll be adding to the home during your ownership, building equity in hopes of a payoff when you eventually sell.
That's why it can be advantageous to purchase the worst house (or an inferior house) in the best neighborhood. Yes, you read that correctly.
You can add value on your own and if you're choosing between an outstanding house in a poor location, or a home in need of updates and improvements in a great location, it can make financial sense to choose the latter.
Note that "improvement" doesn't necessarily entail a complete renovation. Even the small changes that happen when you—a responsible person—move in will increase its value. We're talking about things such as regular maintenance, refreshing the paint, and fixing the odds and ends that might go ignored by another occupant. But if your home is already priced well above the rest of the neighborhood, those tiny changes won't make a lick of difference.
You can't bet on the neighborhood to improve
If you're buying the nicest house on the block hoping the neighborhood will improve, you're putting a lot of stake in a volatile market. It can take years, and even decades for a community to truly turn around.
Ideally, the chain of events goes like this: You buy your nice home in an up-and-coming neighborhood. Over time—thanks to gentrification—the homes around you improve until all of your neighbors are pretty much on the same footing. Because the area has improved so drastically, your home's value will still increase.
It's a wonderful idea, and it is certainly realized occasionally, however, for each time this strategy works, there are a dozen others in which homeowners end up with an overpriced, unsellable home in a middling neighborhood.
If you're eager to live in a neighborhood with potential, buy a house in need of improvement and not the nicest house in the community. In this case you can improve the interior and enhance the home's appeal, and in turn is marketability and value. If that neighborhood doesn't actually 'up-and-come,' your expensive home is already as viable as it can be.
Sometimes, betting on your home can pay off—but risking your home? That strategy might sacrifice everything.
If you, or someone you know is considering Buying or Selling a Home in Columbus, Ohio please contact The Opland Group. We offer professional real estate advice and look forward to helping you achieve your real estate goals!
The Opland Group Specializes in Real Estate Sales, Luxury Home Sales, Short Sales in; Bexley 43209 Columbus 43201 43206 43214 43215 Delaware 43015 Dublin 43016 43017 Gahanna 43219 43230 Grandview Heights 43212 Hilliard 43026 Lewis Center 43035 New Albany 43054 Pickerington Powell 43065 Upper Arlington 43220 43221 Westerville 43081 43082 Worthington 43235