Almost all landlords agree that their primary consideration when assessing a new tenant is protecting their property and the rental income. A TransUnion survey found that payment problems ranked as the top concern by 84% of independent landlords. They have a good reason to be concerned: the cost of eviction resulting from nonpayment can total as much as $10,000 in court costs and legal fees, not including the time and expense to fill an unexpected vacancy. It's easy to see how landlord could find themselves in a costly and time-consuming situation if they haven't done their due diligence during the tenant screening process.
To that end, landlords typically look at their prospective tenant's credit score to help them determine the level of risk, and to help them understand the financial story of an applicant before signing a lease. TransUnion SmartMove have introduced a new tenant screening option with the ResidentScore.
At first glance, a typical credit score and SmartMove's ResidentScore might appear to be similar however, there are critical differences between the scores that allow landlords to better assess and screen a potential tenant thereby reducing their risk.
Below I will discuss how a typical credit score works, the difference between a credit score and ResidentScore, and why landlords should use ResidentScore over a credit score when making a leasing decision. Let's take a closer look.
THE COMPARISON
Both a typical credit score and SmartMove ResidentScore can help minimize risks when screening an applicant. However, ResidentScore is explicitly engineered for rental screening and is designed to provide a more accurate assessment of risk for your future rental property income than a typical credit score. Below are the advantages of the ResidentScore over a standard credit score:
Identifies 15% more evictions and 19% more skips than other typical credit scores
Scores more applicants who have thin files (can score all applicants with at least one account on their credit report)
Built specifically to identify the likelihood of eviction
With ResidentScore, you aren't stuck basing your decisions on the same limited algorithms that a bank would use in determining the credit worthiness of an applicant. Instead, you're using a score that specifically analyzes predictors of a bad tenant and poor rental outcome.
"A common misconception people have today about credit/risk scores is that they are all intended to predict the same type of credit quality and bad outcomes," says Ryan Nichols, Senior Analyst at TransUnion. "Banks and other financial institutions have been developing and maintaining industry-specific models for decades. There is no one score to predict all potential outcomes. Models exist to predict how likely you are to repay a student, mortgage, auto loans, and more. By using a model specifically intended to predict rental industry outcomes, you will be more likely to identify good tenants than using a typical credit score."
According to TransUnion's research, ResidentScore predicts evictions 15%* more often in comparison to a typical credit score in the bottom 20% score range where risk is highest.
To understand how ResidentScore can more effectively predict evictions than a traditional credit score, we need to examine how typical credit scores and ResidentScore are calculate.
TYPICAL CREDIT SCORES
What is a typical credit score? Put simply, it is a numeric representation used to predict the likelihood of repayment.
Typical credit scores are usually designed to rate a consumer's ability to repay debt. At the most basic level, lenders are trying to understand if there are any potential risks to establish the terms of an account consistent with the particular level of risk.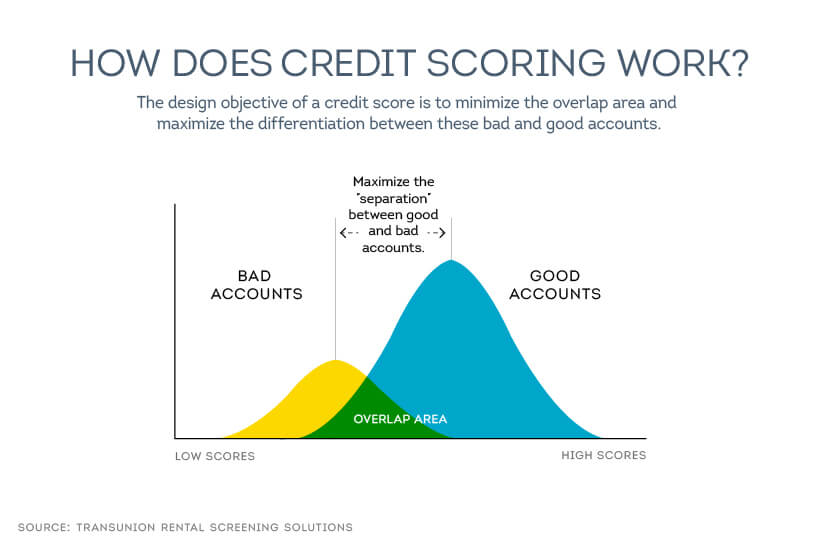 Did you know that there are hundreds of credit scores in the market?
Those scores vary based on the source's criteria, ranking system, and proprietary models. Generally, two significant factors that typically go into determining a credit score are:
Payment history
Amount of money a person owes
Payments that are 30, 60, or 90 days late, as well as those that have fallen into collections, often will negatively impact a credit score. Other factors can include the length of credit history, types of credit, and new credit applications. In general, a credit score can help to give a good indication of the type of behavior a lender can expect from a borrower. Taking this information into consideration, it makes sense that landlords would look at a person's financial status as part of their decision whether or not to lease to a potential tenant. As a landlord or property manager, you should use a variety of information about your prospective tenant to help make that decision, such as:
Credit history
Background and criminal history
Eviction and rental history
Income Insights
Keep in mind that the rental industry calculates risk using different predictors than the credit industry. Just as auto insurance risk models attempt to predict the likelihood of an insurance claim and mortgage risk models are designed to predict the likelihood of foreclosure, SmartMove's ResidentScore is designed to predict negative outcomes in the rental industry – more specifically:
The risk of an eviction (predicts eviction 15% better than a traditional credit score
3+ late rent payments
Insufficient funds (i.e., paying less than the total amount owed)
A risk model specific to the rental industry can help to give you more accurate results, which is why ResidentScore works better for tenant screening. Now, let's take a closer look at the details of ResidentScore.
SMARTMOVE'S RESIDENTSCORE
ResidentScore is specifically built to look at the outcome of a lease, using the compelling data and analytics of TransUnion. TransUnion has collected rental results of over 3.7 million individuals across the nation and identified the crucial pieces of credit data that are most indicative of adverse. We combined those outcomes with thousands of TransUnion credit, demographic, and eviction characteristics to create a statistically-based model explicitly designed to predict adverse outcomes for the rental industry.
Based on a TransUnion Rental Screening Solutions analysis, bad outcomes occur on 24% of residential property rentals. If a landlord's primary concern is to protect their rental income, it is vitally important that a property owner screens their prospective tenant thoroughly and with the right tools to help reduce the risk of a bad outcome.
ResidentScore is tailored to the unique needs of landlords and built to predict evictions more accurately than a typical credit score. As we stated, not all credit scores are the same. We've analyzed more than 2.9 million residents with payment history taken into account, and identified pieces of their credit data that is more indicative of evictions. The chart below depicts at a high-level the kinds of inputs ResidentScore leverages.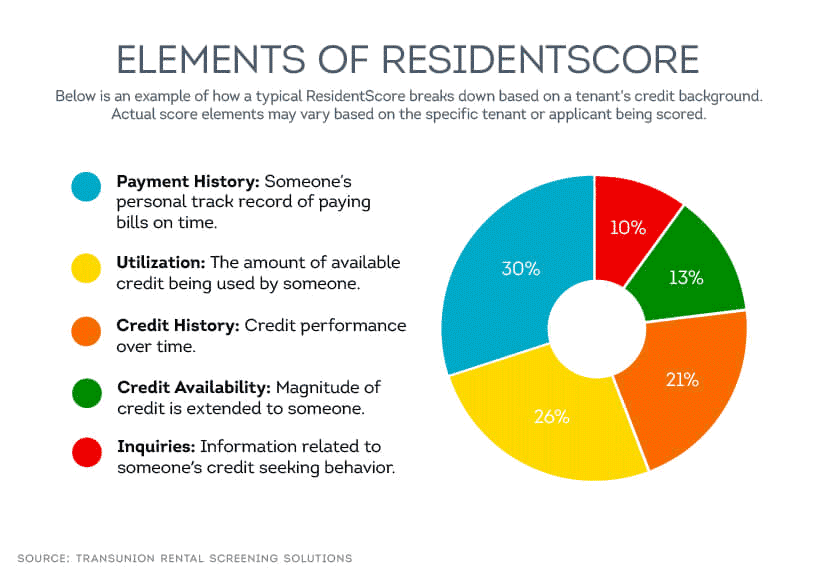 ResidentScore looks at a typical lease term of 12 months and is designed to predict the risk of bad tenant-related outcomes during that period:
Evictions and
3+ late payments and
Insufficient funds
Using a scoring range that is common in typical credit scores, prospective tenants are awarded a rating from 350-850, with 850 being the best possible score. The score is designed to offer landlords a rental recommendation, using a specific analytic scoring model that assesses the reliability and level of risk a tenant may bring.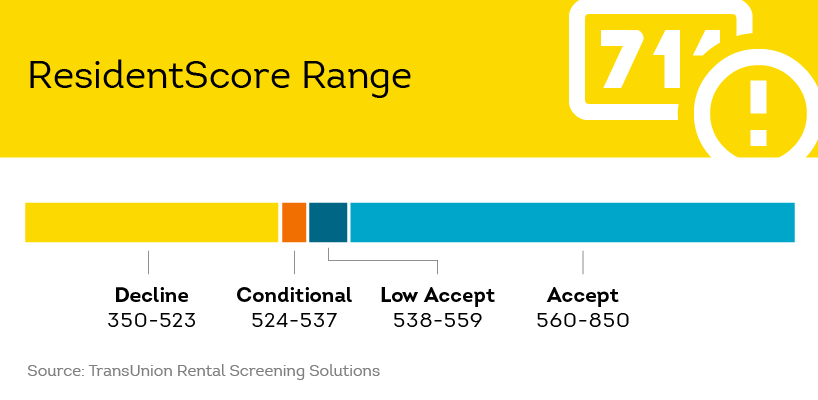 How landLords can benefit from ResidentScore, and other SmartMove reports
SmartMove is designed to offer landlords great reports, great convenience, and great tenants. By using ResidentScore in combination with a full SmartMove tenant screening package, which includes background and criminal, eviction, credit, and Income Insights reports, you can get an in-depth look at an applicant's background.
Credit Report: With a SmartMove credit report, landlords can see the details of their prospective tenant's payment history. Does the tenant pay late? How late? How much was late? Does the tenant have a large amount of debt? SmartMove credit reports are explicitly formatted for rental screening and are available without a physical inspection.
Background and Criminal Reports: It's important to . With SmartMove, 200+ million criminal records are searched, from both state and national databases. We use advanced filters and industry best practices to search 45 state criminal background checks, Most Wanted databases, and the National Sex Offender Public Registry. Our credit-bureau strength record matching delivers fewer false positives and more accurate results.
Eviction Report: On average, to complete the eviction process. Checking your applicant's eviction report is one of the best ways to avoid future evictions. Ordering a national eviction report from SmartMove can provide an in-depth view on information such as unlawful detainers, failure to pay rent, and tenant judgments for rent and possession.
Income Insights: For many landlords, dealing with renter payment problems is one of the most significant stressors of the job. TransUnion SmartMove helps landlords avoid payment problems with , a tool to help landlords quickly and easily evaluate their applicant's income.
Income Insights enables you to:
Save time and effort verifying renter income
Lower your risk of renter payment problems
Approve your rental applicant today
With accurate information that is delivered to you in a matter of minutes, you're more likely to identify a higher quality tenant, faster.
Remember, you can use a typical credit score to evaluate your tenant's financial behavior, but ultimately you'll get a more accurate assessment of risk with ResidentScore – which is designed specifically to predict bad outcomes in the rental industry. Armed with the information provided by SmartMove's ResidentScore in addition to credit, eviction, and criminal, and Income Insights reports, you'll be able to make more informed decisions about your applicants and protect your rental income.
Ready to screen your rental applicants? Get started with SmartMove tenant screening today.