The uncertainties caused by the COVID pandemic kept many homeowners from listing their properties this year.
At the same time more buyers than ever started to look for a new home, hoping to take advantage of the lowest interest rates ever.
This created the perfect storm for an unprecedented real estate boom this summer, which completely depleted inventories giving buyers no option but to pay more than asking price to secure one of the few homes listed for sale.
The latest housing stats show that the summer boom may continue …
Inventory at All-Time Lows
The central Ohio housing market saw record home sales in August 2020 as almost 3,400 homes and condominiums changed hands, an increase of almost 5% over last year, and the highest number of sales documented in August.
The number of homes closed during the first three quarters of 2020 is now just 1.3% behind 2019.
While sales are up, listing activity remains low and as a result the inventory of active listings continues to fall. At the end of August, Central Ohio inventory was down to just 2,748 homes listed for sale. That's 47% lower than a year ago.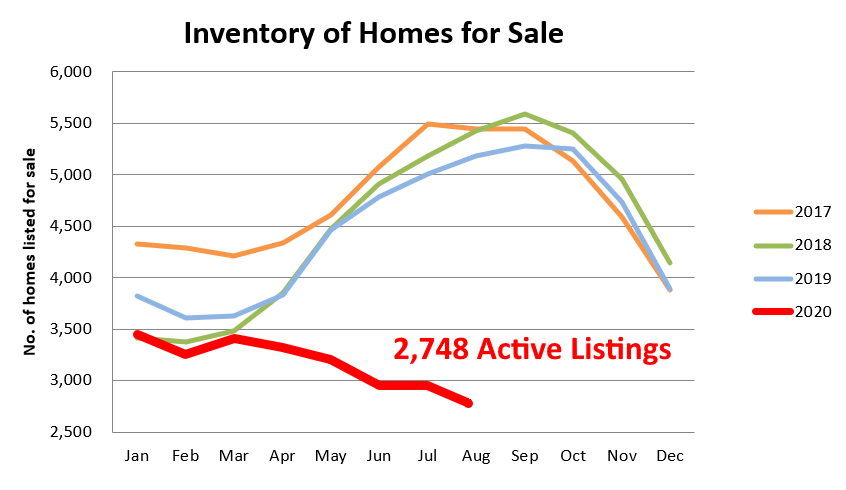 Average Sales Price Keeps Rising
The average sale price in August was $279,134, up 12.8% from last year.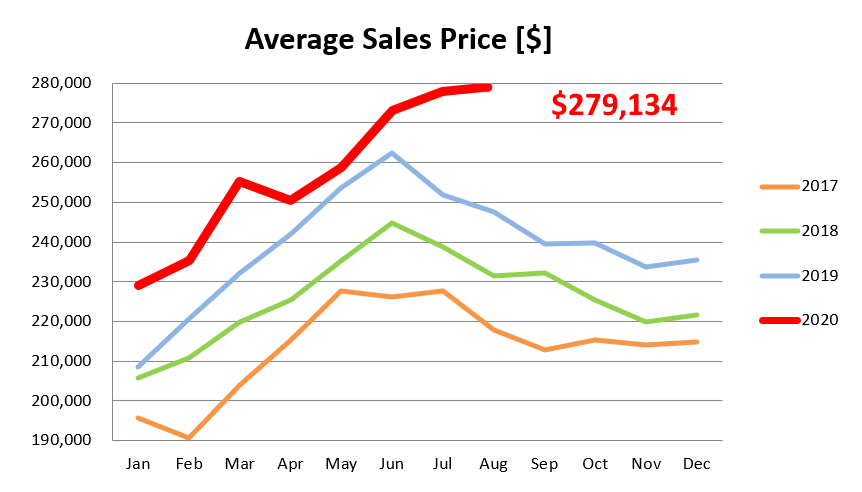 Buyers Pay More Than List Price
For the second month in a row, the average sales price exceeded the last list price. Many buyers decided to pay $10,000 or even $20,000 above list price, with appraisal gap coverage to secure a property.
Appraisals often fall short of the higher contract price. With appraisal gap coverage, buyers agree to bring cash to closing to cover some portion of the difference between the appraised value and the contract price.
Home Under $350,000 Sell Quickly
Homes sold in August went into contract even more quickly than in months past. Homes under $350,000 sold in an average of 17 days. Homes sold between $350,000 and $500,000 took about 33 days to sell. Homes sold between $500,000 and $700,000 sold in an average of 52 days and homes over $700,000 took an average of 75 days to sell.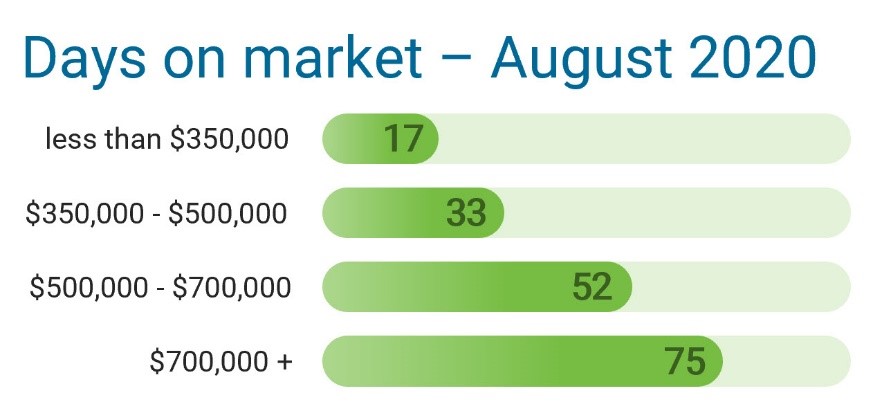 Traditionally we experience fewer sales in August as buyers seek to move into a new home prior to the start of the school year. However, given that so many children are now attending school virtually, or in a hybrid scenario, this has served to open up a broader time frame for families to pursue a move.
August 2020 Housing Stats
Here are the numbers (compared to the same month a year ago):
Closed Transactions – 3,381 – UP 4.7%
Pending Contracts – 4,180 – UP 14.9%
Inventory for Sale – 2,748 – DOWN 47.0%
New Listings – 3,600 – DOWN 2.4%
Days on Market – 22 – DOWN 18.4%
Average Sales Price – $279,134 – UP 12.8%
Current housing report – August 2020
All housing reports
If you, or someone you know is considering Buying or Selling an Investment Property in Columbus, Ohio please give us a call and we'd be happy to assist you!
The Opland Group Specializes in Real Estate Sales, Luxury Home Sales, Short Sales in; Bexley 43209 Columbus 43201 43206 43214 43215 Delaware 43015 Downtown Dublin 43016 43017 Gahanna 43219 43230 Grandview Heights 43212 Galena 43021 Hilliard 43026 Lewis Center 43035 New Albany 43054 Pickerington 43147 Polaris Powell 43065 Upper Arlington 43220 43221 Westerville 43081 43082 Worthington 43235