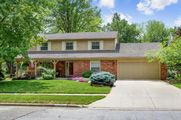 Olde Sawmill in Dublin Ohio is situated just off the Sawmill Parkway and just minutes from downtown Dublin as well as downtown Powell. This neighborhood is close to major shopping and restaurants and much more!
Powell OH was recently ranked number 16 in the Business Insider's 50 Best Suburbs. A new survey out by Movoto Real Estate ranks Dublin as the Happiest Place to Live after comparing suburbs of the nation's largest 50 cities. This survey follows a previous Movoto survey this year which ranked Dublin has the fourth safest suburb. In addition, Neighborhoodscout twice ranked Dublin one of the safest 100 cities in America two years running and Safewise lists Dublin as one of the safest cities in Ohio.
The neighborhood truly offers it all from the perfect location just outside of the 270 loop, a highly rated school system with the elementary and middle schools located within the community, as well as an active tight knit community that will make you feel welcome! The community is also home to Olde Sawmill Park, a 8.68 acre park featuring basketball courts, picnicking, a shelter house, and a wooden playground structure built and maintained by the community.
Community residents showcase their pride of ownership through the upkeep of their properties which has further enhanced the desirability of the community contributing to increased demand and in turn elevated rates of appreciation.
Since hosting a Parade of Homes in 1982, Olde Sawmill has matured to a little over one thousand homes. Buyers can expect to find a wide array of styles, designs and floor plans. Homes in the community were built between 1975 and 1987 and range in size from 1,392 to 2,783 with prices ranging from $180,000 to $290,000.
Search for Dublin – Olde Sawmill Homes for Sale
Olde Sawmill Homeowners Association
The quality of a school district is often a top factor for parents considering where to live and Dublin is no exception. Families have several choices in the area for schooling which include Dublin Local School District, rated "Excellent with Distinction" and several private schools in Dublin and other neighboring communities. Olde Sawmill feeds into Olde Sawmill Elementary and Davis Middle School both of which are located within the community, and Scioto High School which is located less than 3 minutes away! Click here for information and ratings on Dublin Schools. The school buses offer convenient pickup locations throughout our subdivision as well.
Olde Sawmill is perfectly situated just minutes from the I-270 outer belt enabling a comfortable 25 minute commute to downtown Columbus, the state's capitol. The community is within minutes of beautiful parks and hiking trails, cultural events, entertainment and fabulous dining options. Just 10 minutes from the 845 acre O'Shaughnessy Dam, 27 minutes from the 8,600 acre Alum Creek State Park, 20 minutes from the 1,050-acre Highbanks Metro Park
Only a short distance from the Port Columbus International Airport, downtown Powell, downtown Dublin, the new Bridge Street District, I-270 and I-71. Everything you need is just around the corner from this exceptional community. You'll never run out of things to do while living here with nearby attractions including those mentioned above as well as local shopping and dining, Tuttle Mall (20 minutes), Polaris Fashion Place (21 minutes) Easton Town Center (25 minutes), Columbus Zoo and Aquarium, Zoombezi Bay (10 minutes). Near by hospitals include Dublin Methodist Hospital. Local grocery stores include Krogers (2 minutes), Giant Eagle, Walmart (1 minute), Whole Foods (8 minutes) and Trader Joe's (10 minutes). The local YMCA is less than 15 minutes away and Lifetime Fitness is just 3 minutes down the road. There are a number of public and private golf courses in the area including those at the Wedgewood Country Club as well as the Muirfield Country Club which plays host to the PGA Memorial Tournament.
New development in the surrounding area and an exceptional public school system has and will continue to keep Olde Sawmill in demand.
Contact us today for help with your Dublin home search.
County:

Franklin

School District:

Dublin

Price Range:

$180,000 – $290,000

Square Feet:

1,392 – 2,783

Home Types:

Single Family
Call for information on homes for sale in this community and showings!
It is important to consider the value of a full time Real Estate Agent that has local knowledge of your search area when buying or selling a home. I would be happy to meet with you to explain all of the benefits. Remember, using me as your buyers agent costs you nothing but assures you that you secured the best purchase terms possible! (see Why Buyers Should Use a Realtor)
Click here for additional information on other Columbus and Central Ohio Neighborhoods and Communities
Homes For Sale in Dublin OH List Your Dublin Home For Sale
If you're already a resident of this Dublin community and considering listing your Olde Sawmill home, contact me for expert home-selling advice!
River Landings includes homes on: Bloomfield Pl, Brigham Dr, Gardenview Pl, Gardengate Pl, Gnarled Pine Dr, Millrow Loop, Olde Sawmill Blvd, Otter Ln, Sable Ct, Samberry Rd, Sanbrooke Rd, Saltergate Dr, Sarahurst Dr, Sarbury Dr, Scottingham Dr, Seddon Dr, Selbourne Ct, Seddington Ct, Sedgebrook Ct, Sethwick Rd, Severhill Dr, Shadeview Ct, Shawnmont Ct, Shermont Rd, Shuford Dr, Simfield Rd, Slateshire Dr, Smokymill Rd, Sonnington Dr, Southwick Dr, Summer Dr, Squirewood Ct, Statham Ct, Stancrest Rd, Stanwick Ct, Starford Dr, Stonehurst Dr, Stowbridge Rd, Stokemont Ct, Stowmont Ct, Strathmoore Rd, Stratingham Dr, Sawnford Dr, Sweetwood Ct and Surrywood Dr