Thinking about moving to Ohio? Consider the great city of Columbus! If you are looking at relocation to Columbus, Ohio, keep reading to learn what all the buzz is about.
Columbus is forecasted to be the 5th hottest housing market in 2022. Central Ohio asking prices and transaction volumes are predicted to be double the national average, with demand for homes remaining elevated due to relative affordability, immigration to the area, as well as the high concentration of millennials and strong job growth.
There are a number of things that make the Columbus a great place to live, and CNBC says Columbus is among the 10 best cities for young and growing families, while WalletHub ranks Columbus is among the best cities to raise a family. real estate market a great place to live, buy and own a home but .
What Makes Columbus a Great Place to Live
Columbus is the capital of Ohio and with a population of 922,000, it is the fifteenth largest city in the nation, and the second largest city in the Midwest, just behind Chicago.
Columbus is also the hot new location in the Midwest, a city experiencing a sudden growth spurt that gives way to a thriving economy. Startups, as well as Fortune 500 companies, find their home here, with ample space to set up their operations while enjoying the convenience of a major city. The economy is diversified with major industries such as technology, finance, and education.
Plus Columbus residents are friendly and they know how to have fun. Lively bars and restaurants, professional sports teams, countless parks and more.
Quality of Life
Columbus ranks as the 28th-best place for business and careers, in the top 74 for job growth, and the top 55 for education. Realtor.com ranks Columbus as one of the best cities for new grads to live, work, and find a mate.
CNBC says Columbus is among the 10 best cities for young and growing families, while WalletHub ranks Columbus is among the best cities to raise a family.
Low Cost of Living
While many major cities have nearly unattainable costs of living, Columbus remains reasonable (although increasing with its newfound stardom). Annual cost of living in Columbus is nearly 10 percent less than the national average ( C2ER, 2018 Annual Average; Columbus Cost of Living Index is 90.8). According to Sperling's Best Places, Columbus's cost of living index is 84, in comparison to the national average of 100. Groceries, utilities, transportation and health costs are all cheaper in Columbus, making its residents salaries stretch much further than in other cities.
A Mix of City and Nature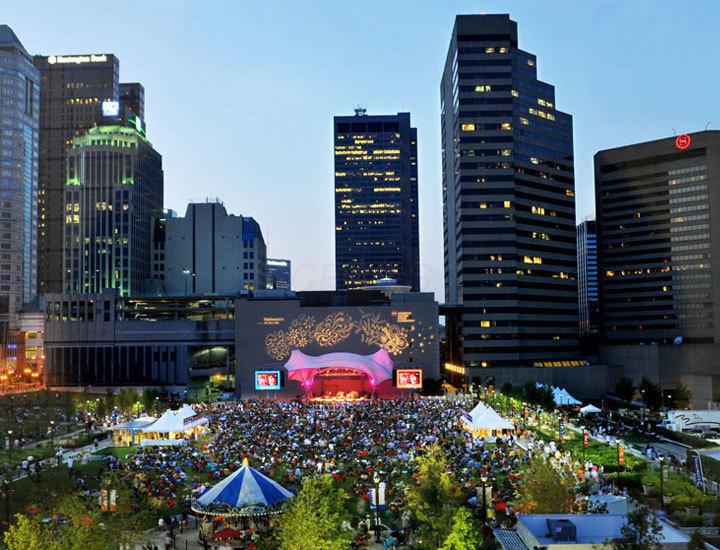 While downtown Columbus is a bustling urban area, the entire Central Ohio area is filled with nature preserves including 19 Metro Parks, 350 parks operated by Columbus Recreation and Parks Department and an untold number of suburban parks spread throughout Central Ohio. There are endless opportunities for outdoor activities in Columbus.
Arts and Culture for All
Arts and culture abound in the city and whether you enjoy art, theater, animals, science, or performing arts, there is something in Columbus to keep you busy. Among the myriad of arts and cultural exhibitions in town are COSI (Center of Science and Industry), the Columbus Museum of Art or the Wexner Center for the Arts, the Columbus Zoo and Aquarium, or enjoy a performance by BalletMet and the Columbus Symphony. Looking for something a little more casual? Stroll the Short North Arts District and take in a show at Shadowbox Live.
Vibrant Food Scene
Columbus' incredible food scene features top-ranked chefs, a rich farm-to-table movement, one-of-a-kind restaurants and creative takes on classic dishes. From fast-casual to fine-dining, you won't have a problem finding something to suit every taste in the city that Food & Wine named one of the 32 Places to Go (and Eat) in 2019.
With farms, heritage livestock, and artisan producers just minutes away, restaurants have amazing access to fresh, local ingredients.Some of the city's top local restaurants include: The Top Steak House, Kitchen Social, Lindey's, The Avenue, Hyde Park, Fireproof Restaurant, Mitchell's Ocean Club, 3rd & Hollywood,
Columbus also has a budding brew scene. Of the 46 breweries in Columbus, more than half of them have opened within the last five years. They're so much a part of the city, that there's even a craft beer corridor downtown—Brewer's Row.
Here, distillers experiment with bold new flavors and processes in both liquor distilling and food preparation. Built around celebrating watershed moments, Watershed Distillery has grown from its portfolio of vodka and gin to include bourbon, apple brandy and specialty spirits like Nocino black walnut liqueur. Brothers Drake is the city's star meadery, producing spirits from raw Ohio honey and other flavor varieties while patrons enjoy a live music line-up.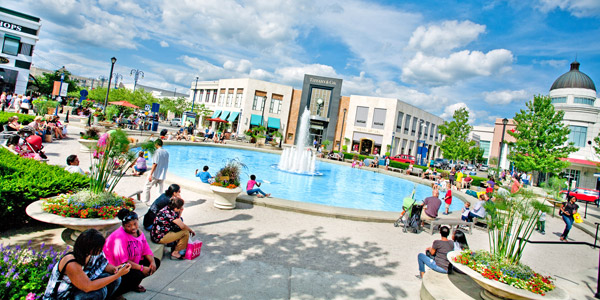 A Premier Shopping Experience
There are some serious shopping options in Columbus! With dozens of shops, restaurants, and entertainment venues, Easton Town Center is a one-stop shopping destination. Located 15 minutes east from Downtown Columbus, this indoor-outdoor shopping center is designed to look like a small town. For a smaller shopping experience (but by no means small!), check out Polaris Fashion Place, or hit the shops in the Short North for truly unique and sometimes vintage shopping.
It's Diverse
Columbus is also one of the most diverse Midwestern cities. It's been steadily increasing over the years, and that includes diversity in the suburbs. 82% of new residents are foreign-born, and the city has the second largest Somali population in the U.S. There's also thriving Japanese, Korean, and Indian populations.
Commuting Is Easy
Many Columbus residents opt to get around by car, and it is relatively easy to drive anywhere around the metro area. Those without wheels of their own can rely on local buses. The Central Ohio Transit Authority bus system runs through most of the city proper and surrounding suburbs, and the CBUS provides service through Columbus' more touristy areas, such as the Brewery District, Arena District and German Village. Columbus also offers CoGo Bike Share, not to mention a variety of taxi services.
If you prefer to walk, you'll find certain neighborhoods are more pedestrian-friendly than others, including the Short North, German Village, University District and Schumacher Place.
About 7 miles northeast of downtown is the John Glenn Columbus International Airport, which connects Columbus to a variety of destinations. The metro area is also serviced by the Greyhound bus company.
What Makes Columbus a Great Place to Buy a Home
Read on to discover why Columbus ranks as one of the top real estate markets in the U.S and a great place to live and work!
Population Growth
While historic population growth in Columbus has been robust, it has surged in recent years with the metro area gaining nearly 60 new people per day. Strong population growth is a key market metric used by real estate investors looking to identifying target markets poised to provide above average rates of return (as larger population translates to greater housing demand). It is equally relevant for home buyers looking to identify opportunities including communities where home price appreciation is likely to local and national averages.
Key Population Stats:
The City of Columbus has a population of over 905,748 residents, a 15% rise over the last decade (compared to the national average of 7.4%, and the 2.3% growth in Ohio)
Central Ohio cities that grew the most include: Dublin 18.1%, Delaware 18.8%, Grove City 16%, Hilliard 30.5%, Westerville 15.7%, Pickerington 26.3%, Powell 23.2%, New Albany 40.1%, Canal Winchester 28.2%, Sunbury 50.7, Commercial Point 94.6%)
Median household income in Columbus is $67,207 while per capita income is $36,285.
Median age in Columbus is 36.4 years, with 42% of the population between the ages of 20 and 49.
Columbus is one of the youngest cities in America, blending big city amenities with Midwestern hospitality.
Columbus' location in the country is hard to beat: the city is within a one-day drive or one-hour flight to 41% of the U.S. population, 80% of the corporate headquarters in the U.S., and 43% of U.S. manufacturing.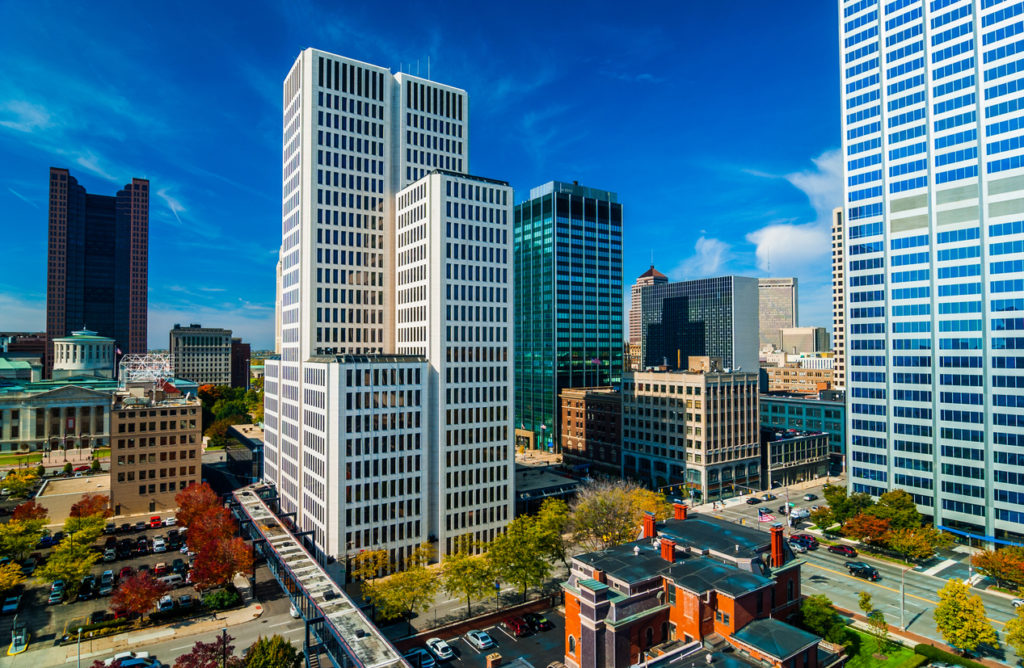 Job Market
The job market in Columbus is in the midst of a staggering growth spurt. Columbus ranked #14 in Glassdoor's "25 Best Cities for Jobs", a higher ranking than that of Atlanta, Chicago, and San Antonio.
Over the last 10 years, the unemployment rate in Columbus has nosedived from about 9.5% in 2010 to just 3.5% in October 2021, according to the Bureau of Labor Statistics. Taking a look at the pie chart of employment by sector and it's easy to understand why the job market in Columbus remains resilient.
The diverse economy based on education and government, banking and insurance, steel and logistics, retail, medical research and technology helped Columbus' job market to grow by 3.58% while still maintaining a cost of living that's 5% below the national average.
Key Employment Stats:
GDP of Columbus is $137 billion, an increase of over 50% in the last ten years.
Employment growth in Columbus is 3.58% year-over-year.
Five Fortune 500 companies are headquartered in Columbus: American Electric Power, Cardinal Health, L Brands, Nationwide, and Big Lots.
Columbus is home to some of the world's largest businesses: private research and development foundation Battelle Memorial, chemical information clearinghouse Chemical Abstracts Service, and NetJets, with the largest fractional ownership of jet aircraft fleets in the world.
Business Facilities ranks Columbus as one of the leading fintech cities in the country.
Columbus is one of the 10 rising cities for startups, according to Forbes and one of the 20 best cities in the U.S. for startups, according to Commercial Cafe.
High tech plays a major role in the Columbus economy: both Fortune and Lending Tree rank Columbus the #1 city for tech jobs, Smart Asset calls Columbus the #1 American city to work in tech, and Wallet Hub says Columbus is the 8th-best city for STEM (science, technology, engineering, and math) jobs.
Nearly 92% of the people in Columbus have a high school diploma or greater, while almost 38% hold an undergraduate or advanced degree.
Columbus is home to The Ohio State University, with one of the largest campuses in the U.S.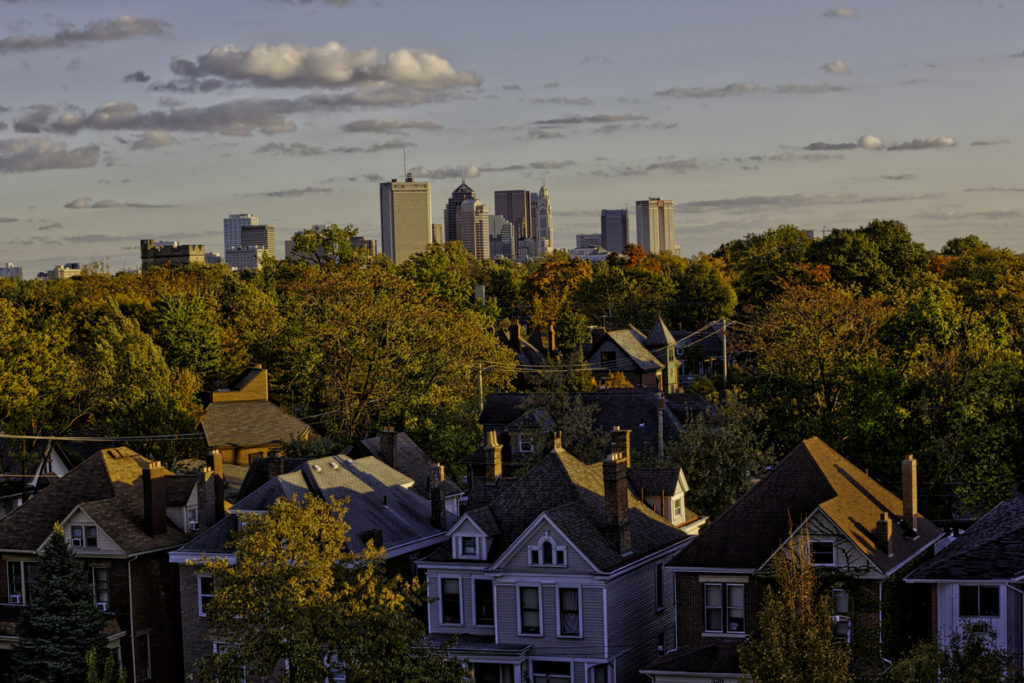 Strong Housing Market
While many major cities have nearly unattainable costs of living, Columbus remains reasonable (although increasing with its newfound stardom). In fact, its real estate market is surprisingly affordable, with a median sales price of $261,835 and an average price of $175 per square foot. In terms of prices and share of income required to purchase, Columbus is one of the more affordable markets in the country.
Realtor.com predicts home sales will surge by 13.7% and prices will grow by 6.3% in 2022 and has ranked Columbus has ranked one of the top 10 housing markets best positioned for growth this year.
Despite Columbus' high ranking, the projected price hike would be a big drop from what the region has seen since the start of the pandemic. Through the first 10 months of this year, Columbus-area sale prices are up 12.6%, twice Realtor.com's forecast for next year.
Columbus is less crowded than other major metros, with a limited supply of housing, a strong jobs market, good schools, and healthy economy helping to keep the demand for housing hot in Columbus.
Key Market Stats:
Zillow Home Value Index (ZHVI) for Columbus is $219,064 through November 2021.
Home values in Columbus increased by 17.5% year-over-year.
Over the past five years home values in Columbus have increased by more than 84%.
Median sales price of a single-family home in Columbus is $261,835 based on the most recent report from ColumbusRealtor.com (Nov. 2021).
Sold-to-list price ratio is 101.86%, which means that on average homes in Columbus are selling for more than the asking price.
Months supply of inventory in Columbus is 0.9 (less than one month), an indication that Columbus is in a strong seller's market, according to Columbus Realtors.
Strong Renters' Market
Columbus is one of the best cities for renters, according to a recent report from WalletHub. The rental market in Columbus receives high rankings for activity in the marketplace, affordability of rental property, and overall quality of life. In fact, demand for rental property in Columbus is so strong that nearly half of the people in the metro area rent rather than own.
Key Market Stats:
Average rent in Columbus is $1,650 per month, based on the most recent research from Zumper (December 2021).
Rents in Columbus increased 14% year-over-year.
Renter-occupied housing units in Columbus make up 52% of the occupied housing units in the metropolitan area.
Most expensive areas of Columbus to rent include Downtown Columbus, Short North/Italian Village, and West Albany where rents range between $2,400 and $4,000 per month.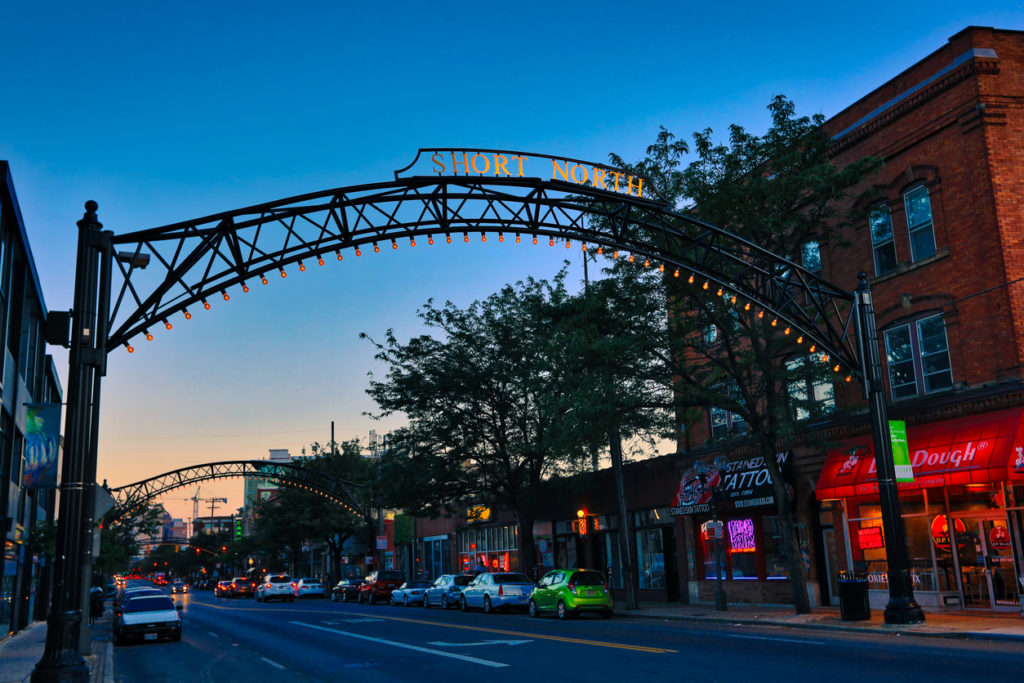 Historic Price Changes & Housing Affordability
Tracking historic price changes and measuring the affordability of housing are two of the many techniques real estate investors use to decide if investing in a specific market makes sense.
Historic price changes help predict future trends, while housing affordability is one metric to help anticipate potential demand.
Each month the Columbus Board of Realtors publishes its Central Ohio Housing Report. The reports reveal:
One-year change in home prices: 12.7%
5-year change in home prices: 52.5%
Using research from ATTOM Data Solutions, Kiplinger conducts a regular review of home prices and affordability in the top 100 housing markets in the U.S.:
Since the last real estate cycle market peak in May 2006, home prices in Columbus have increased by 38.7%.
Since the last real estate cycle market bottom in March 2012, home prices in Columbus have increased by 93.9%.
Columbus has an affordability index of 4 out of 10, meaning the metro area is one of the more affordable places to own a home in the U.S.
Top Central Ohio Real Estate Markets
Columbus covers over 233 miles, allowing for a variety of neighborhoods and mini-regions where you might choose to live. The city really has it all. You'll find everything from the most rural suburbs to an ever-growing downtown condominium market for peak urban living.
Where to begin your search? We've created a heat map of Columbus to help enable you to make informed investment decisions by measuring school district quality, home values, employment rates, income levels and other vital investment criteria.
DARK GREEN: 4-5 star neighborhood (Dublin, Plain City, Lewis Center, New Albany, Upper Arlington, Blacklick, Hilliard, Westerville, Worthingtion, Grandview, Clintonville, German Village, Short North / Italian Village)
LIGHT GREEN: 3.5-4 star neighborhood (Delaware, Gahanna, Grove City, Marysville, Olde Towne East, Bexley)
YELLOW: 2.5-3 star neighborhood (Groveport, Franklinton, Whitehall)
ORANGE: 2 star neighborhood
RED: 1 star neighborhood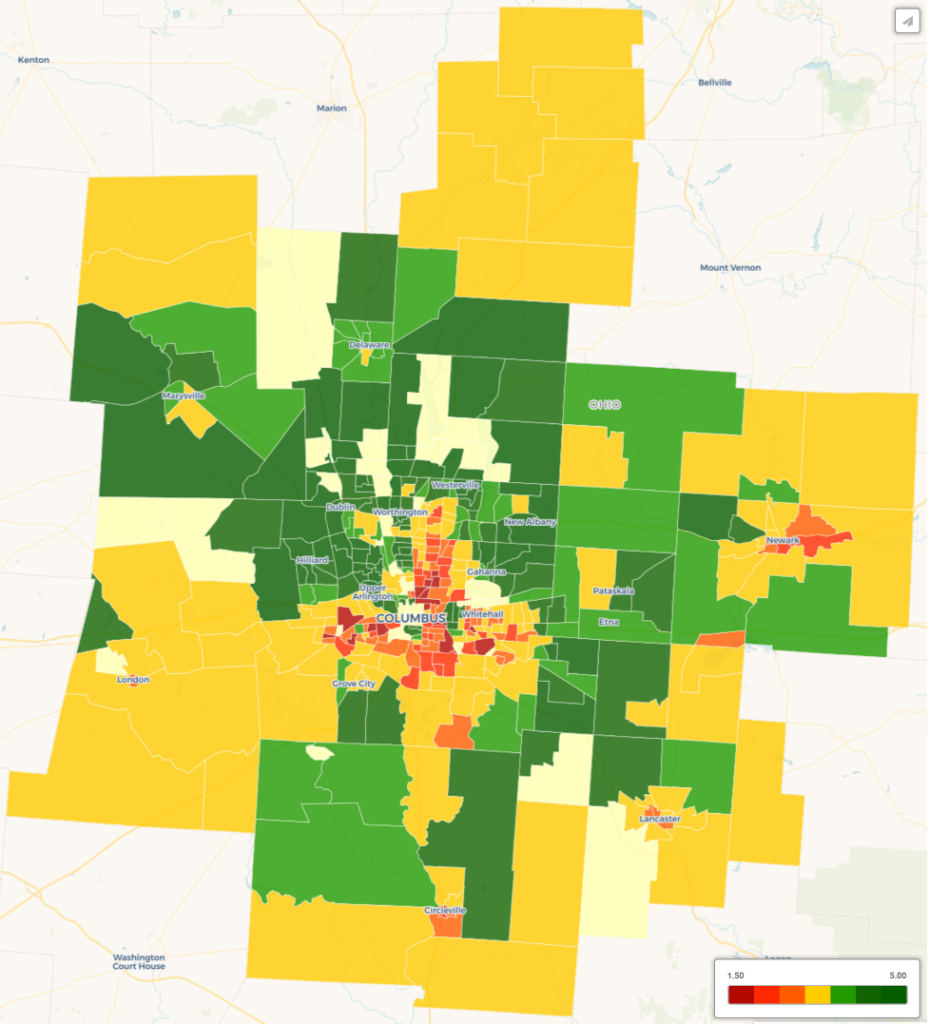 If you, or someone you know is considering Buying a Home in Columbus and Central Ohio please give us a call to discuss how we can help you get the home you want without paying too much over today's real market value.
Click here for more information about the Central Ohio housing market.