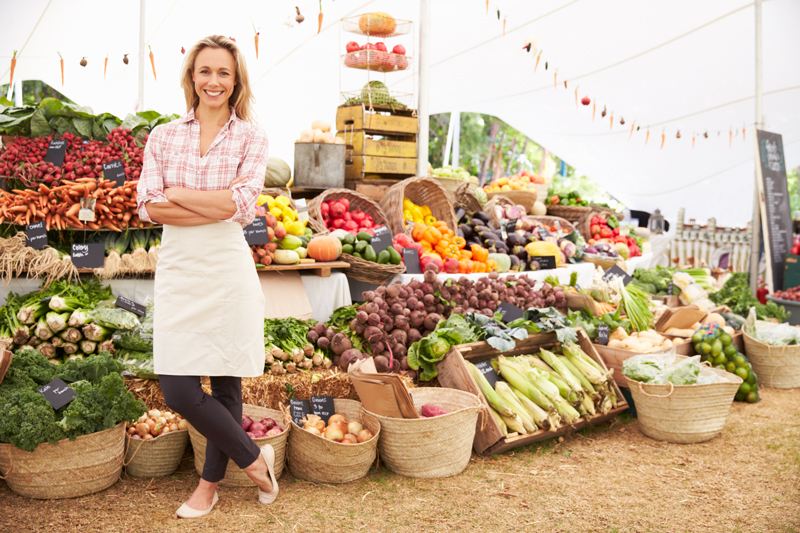 Columbus has many nicknames – Cbus, Capital City, Arch City – but maybe we can add Market City to the list. Every corner of the city boasts a fabulous farmers' market where local vendors sell meats, cheeses, fruits, vegetables and breads alongside crafts, sodas, soaps and so much more.
Battelle Plaza Farmers' Market: (375 N. Front St.) A relatively new market entering its second year, the Battelle Plaza Farmers Market brings locally produced goods to the Arena District. The cash only market is still growing, but includes vendors of fresh produce, honey and beeswax products, and even locally made jams and jellies. Every Saturday starting July 11th from 11 a.m. to 1:30 p.m.
Bexley Farmers' Market: (508 N. Cassady Ave.) The Bexley market operates Thursdays from 4-7 p.m. on East Main Street. In addition to buying all the classic market goods, visitors can experience live music, children's events and food trucks.
Canal Winchester Farmers' Market: (36 S. High St) Located in downtown historic Canal Winchester, the CWFM features plenty of Ohio fruits and vegetables, as well as breads, clothing, soaps, fudge, wood products and much more. Every Saturday 9 a.m.-noon.
Clintonville Farmers' Market: (High St. Between Orchard Ln and W. Dunedin Rd.) "Where you can meet the farmers!" The Clintonville Farmer's Market is an outdoor market in the heart of Clintonville, meeting on Saturdays from 9 a.m. – noon from late April to late November, and additionally on Wednesdays from 4-7 p.m. from early July to mid September.
Delaware's Farmers' Market: (downtown Delaware) The sidewalks of Historic Downtown Delaware fill up with seasonal produce and baked goods at the Delaware Farmers Market. Vendors also offer flowers and plants both live and cut and crafts like soap and pottery. The market runs on Wednesdays from 3-6 p.m. and on Saturdays.
Dublin Farmers' Market: (4261 W. Dublin Granville Rd.) Dublin's market runs every Wednesday, May through September, from 3:30-6:30 p.m. in the Oakland Nursery parking lot. Bakeries, fruit farms, beekeepers, knife-sharpeners and more all set up shop here.
The Dublin Market, The Dublin Market will be held from 9am-12pm at Bridge Park in Dublin, every Saturday from June through September. Rain or shine. It will include delicious baked goods, fresh produce, flowers, live entertainment, numerous nearby establishments, and the convenience of free parking.
Easton Farmers Market To-Go, Easton has teamed up with local Yellowbird Foodshed for a new experience. Yellowbird is a Weekly Food Box program that partners with a network of small, sustainable Ohio farms to provide Central Ohio with fresh, quality food that is grown with intention. They want you to know where your food is coming from and to provide a clear connection from farm to fork. Sign up at yellowbirdfs.com.
400 Farmers' & Makers' Market: (400 W. Rich St.) Every second and fourth Saturday, arts enclave 400 West Rich in Franklinton plays host to vendors who create and sell everything from pies and jams, to clothing and woodwork.
Franklin Park Conservatory & Botanical Gardens Farmers' Market: (1777 E. Broad St.) Every Wednesday Franklin Park Conservatory hosts vendors with seasonal fruits and veggies, baked goods, meats, dairy and home products like candles and soap. Local food trucks are usually present and families can enjoy kid's activities and cooking demos. Every Wednesday 3:30-6:30 p.m.
Franklinton Produce Market: (1003 W. Town St.) This market prides itself on featuring local fresh foods at very low prices. Throughout the season, the produce stand offers various berries and greens grown in the Franklinton Urban Gardens. Every Tuesday 3-7 p.m.
German Village Makers Market, NEW! Opening day is Sunday, April 29 from 11 a.m. to 4.p.m. Join us at the corner of City Park and Thurman for an Artisan Outdoor Market. Artists, designers, growers. A wide variety of products available. Like them on Facebook.
Grandview Avenue Farmers' Market: (Grandview Ave.) With more than 60 vendors, the Grandview Avenue Farmers Market has an incredible array of options. This year, the market will provide fresh produce from numerous farms, consciously-raised beef, to more specialized fare like gluten-free baked goods, and even an apothecary. Every Saturday starting July 5th 10 a.m. – 1 p.m. Like them on Facebook.
Granville Farmers' Market, Saturdays, May 5 to October 27; 8:30 a.m. to noon; North Main Street and Broadway, although please check the calendar for dates where the location will move to St. Edward's Catholic Church. Celebrating 25 years. Has been called the "best in Central Ohio." Located 30 miles east of Columbus. More than 60 vendors this year. In addition to the weekend market, the Granville Area Chamber of Commerce also sponsors a Tuesday market beginning June 12, 2018 and runs thru September 25, 2018 in the parking lot of Ross's Granville Market (IGA). Like them on Facebook.
Grove City Farmers' Market: (4035 Broadway) Trek along Broadway in downtown Grove City to find all the market goods like gifts, produce, honey and crafts. Every Saturday June 5th through September 11th from 8 a.m. to noon.
Hilliard Farm Market: (Main and Center St. Downtown Old Hilliard) The Hilliard market meets Tuesdays from 4-7 p.m., June 5th through September 8th. Vendors have sold everything from cakes, sauces and root beer floats to flowers and garden plants, to honey, fish and cheese. Like them on Facebook.
Jefferson Community Farmers' Market: (6540 Havens Corner) Jefferson Community Farmers Market recently moved locations to the grounds of the Blacklick Elementary School, which reinforces the community-centric feel of the market. Opening in late June, they are excited to offer fresh produce, grass-fed meat, and locally collected honey and syrup. Every Saturday starting June 20th from 9 a.m. to noon.
Lancaster Farmers' Market: (239 W. Main St.) From May 5 to October 6, the Lancaster Farmers Market showcases over 30 vendors, offering everything from fresh produce to artisan soaps and lotions. Vendors from all over Central Ohio convene at the Lancaster Farmers Market, providing a wide variety of goods. Every Saturday from 8 a.m. to noon. Like them on Facebook.
Merion Village Farmers' Market: CANCELLED FOR 2019. Group is looking for volunteers to help run the event to come back in 2019, If you'd like to be involved in a planning committee for a future South Side Farmers Market, please reach out to president@merionvillage.org. The Merion Village market typically runs Saturdays from 9 a.m. to noon. Enjoy live music, grab a treat, visit a local bakery, then pick up fresh produce from the market. Like them on Facebook.
New Albany Farmers' Market: (200 Market St.) The New Albany Farmers' Market has a mission to bring "the Farm to Market Square" and provide a venue that promotes community health by providing access to locally grown and produced goods. They are proud to offer local breads, fruits, vegetables, and greens. This outdoor market features live music, food trucks and plenty of fresh goods every Thursday, 4-7 p.m., from June 21 through September 6.
North Market: (59 Spruce St.) Billing itself the "Original Farmers' Market," North Market's Saturday event features local farms selling honey, fruits, vegetables, flowers, herbs, and more. Enjoy live music at the market, and when you're done – head inside for lunch! Every Saturday 8 a.m. to 1p.m. and Sunday 10 a.m. to 3 p.m. starting June 3rd and through the growing season.
Pearl Market: (Pearl Alley Between Gay and Broad St.) Pearl Market offers a variety of farm fresh produce from all over Central Ohio in the heart of Downtown Columbus. With its various lunch options, live music offerings, and diverse produce selection, Pearl Market enriches downtown every Tuesday and Friday from 10:30 a.m. to 2 p.m from May 25 through October 12.
Pickerington Farmers' Market: (89 North Center St.) Heading into their third season and located in Olde Pickerington Village, the Pickerington Farmers Market is proud to provide close to two dozen local vendors the opportunity to sell their wares to the citizens of Pickerington. Vendors at the market showcase produce, meats, dairy products, baked goods, and more every Thursday, 4-7 p.m.
Powell Farmers' Market: (240 N. Liberty St.) The Powell Farmers Market will be entering its sixth year providing the greater Powell Area with access to fresh locally produced food. The Market includes vendors that offer homemade soaps, salsas and seasoning rubs, homegrown produce, and home baked goods. Every Saturday from May 19th through October 27th 9 a.m. to noon. Preseason Markets starting Saturday, April 28.
Plain City Farmers' Market: (S. Chillicothe and S.R. 161) Plain City Farmers Market prides itself on offering fresh fruit, vegetables, baked goods, artisan cheeses, and hot sandwiches. They will have a special opening for Plain City's Independence Day Parade, where they will have crafts and live music as well as their normal wares. Every Thursday, 4:30-7 p.m., starting July 9th.
Reynoldsburg Farmers' Market: (1520 Davidson Dr.) Reynoldsburg Farmers Market is an expanding market providing local produce to their city's residents. This year they will offer fresh produce including berries and greens while also providing space to vendors like Ohio City Pasta and Olde Village Meats. Every Thursday, 3:30-6:30 p.m., starting June 18th.
Sunbury Farmers' Market: (Sunbury Square) The Sunbury Farmers Market offers various homegrown and hand-made products. A growing vendor community, this summer the market will showcase gluten-free baked goods, chutneys and jellies, grass-fed beef, and more. Every Saturday from 9 a.m. to noon May 19th through October 13.
Upper Arlington Farmers' Market: (1945 Ridgeview Rd) Upper Arlington's market runs every Wednesday from 3-6 p.m. May 16th through September 26th. It meets in front of the UA Senior Center, 1945 Ridgeview Road and includes all the market stands and hand-made goods. Celebrate the peak of the growing season Wednesday August 15th with expanded activities at the Market, including live entertainment, tasty samples of market offerings and fun for the kids.
Uptown Westerville Farmers' Market: (Corner of N. State and E. Home St) The market in Uptown Westerville takes place Wednesdays May 2 through October 31 from 3-6 p.m. A number of farms and vendors are represented.
Westerville Saturday Farmers' Market, NEW! May 19 through October 13, Saturdays, from 9am – 12pm on Grove Street on the Otterbein campus. Westerville Saturday Farmers Market will bring Central Ohio grown food and farm products to the Westerville community.
Worthington Farmers' Market: (Corner of N. State and E. Home St.) Vendors line the streets of Old Worthington, selling fresh produce and flowers, baked goods, meats and cheese and other homemade goods. Local shops often run specials, too. The summer market runs every Saturday from May 5th thru October 27th from 8am-12pm in June, July and August the Worthington Farmers' Market will be pen until 1 pm. Established in 1987, it's one of the largest and most respected markets in Ohio.
Experience Columbus and the Columbus Dispatch also provide a database of Columbus farmers' markets, and pick-your-own markets around Ohio which you can search by name, location or day.