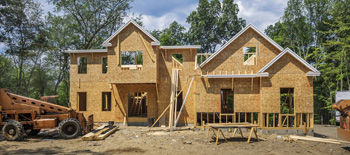 Do I need the services of an experienced real estate agent when buying a new home? This is a question we often get from home buyers who are only interested in considering new construction. The answer is yes, and here's why.
When you buy an existing home, what you see is what you get for the asking price. When you buy an as-yet-unbuilt home, what's presented in the builder's furnished model is not what you get for the advertised base price.
That's because a furnished model is filled with upgrades that enhance the basic house. The to-die-for kitchen with the granite counter tops and stainless steel appliances, the four-foot extension that makes the family room feel so spacious, the handscraped hardwood floors, and the stone facade with the covered porch that give character to the front of the home and enhance it's curb appeal are all optional upgrades. When their cost is added in, the seemingly affordable $400,000 advertised base price quickly balloons up to $500,000, far more than you can afford.
When you check out a more affordable version of the model — a nearly completed spec home down the street that has only $30,000 worth of upgrades — it's not the same house that has become the stuff of your dreams.
Had you been working with an experienced real estate agent, you would have avoided such a disheartening experience, because the agent would have directed you to new construction that fit your budget in the area where you want to live. As you toured models together, the agent would have helped you distinguish the upgrades from the basic house and pointed out the options that are prudent choices, and those worth the investment.
Though option choices never come up in a resale transaction, they are central in a new-home purchase because the buyer has the opportunity to make selections and the basic house is almost always very spare. The challenge is to keep option choices to an affordable limit, which we recommend buyers cap at 15 to 20% of the home's base price (these ranges actually vary based on price range). For example, if your total budget is $500,000, as in the example above, you should be looking at houses that are base-priced about 15 to 20% lower, or about $400,000. That would give you $100,000 for options, an amount that would seem to cover everything you might want, but, in fact, will not go very far. If you're not careful, the final sticker price that you are trying to keep at $500,000 will quickly balloon up to $575,000 or even $600,000.
When choosing specific options, we advise our clients to select those features that will be difficult or costly to add later; this could be the four-foot family room extension mentioned in our earlier example or a walkout lower level. The to-die-for kitchen with the granite counter tops and stainless steel appliances, finished basements, patio or deck, etc. can be added as future remodeling project. Some builder options should be nixed outright because they will not translate into a better resale price. No one will pay extra for a fireplace in the basement.
In addition to helping buyers determine which builder options and upgrades are worth the investment, a real estate agent will also assist you in negotiating the purchase price of your new home. To better understand how a real estate agent can help stretch your housing dollar to ensure you get the best price possible, read our post on How to Negotiate on a New Home.
Your buyer's agent will also raise critical issues that you might not think to ask, such as; special financing programs  available through the builder's preferred lender(s) which may include buying down the interest rate on your mortgage or the builder paying a portion of your closing costs, does the builder perform a punch out visit to make repairs for issues that occur within your first year of ownership, are the tap fees included in the price, the terms of the builder's warranty and what items are covered, what if any future amenities are planned for the community, if there is a Homeowner's Association what the HOA Fee will be and what it covers, determining what's planned for the acreage adjacent to the community, etc.
Why don't all new-home buyers use real estate agents to help them navigate a brand-new house purchase?
The first and most common reason is that buyers mistakenly believe they will save money by working directly with the builder and not engaging the services of a real estate agent. This is a false assumption.
As the buyer, you pay nothing to your buyer's agent, and rather the agent is paid by the builder (as the builder will tell you, if you don't have a real estate agent the commission they would have paid the Realtor is simply rolled back into the builder's marketing budget and they will not reduce the cost of the home for a buyer who elects to represent him or herself). Having an agent is this case is free for you, and you benefit in the form of professional representation, and the considerable knowledge that real estate agent brings to the table. ** As an added benefit, if you have a home to sell and agree to buy and sell with your buyer's agent, they may offer to reduce the cost of listing your current home, thus resulting in additional savings. **
Be sure to seek out a real estate agent who specializes in new builds and is active assisting buyers and sellers in the area you are looking before proceeding with any discussions with builders.
Once you have a Realtor on your side, let he or she handle as much of the discussion as possible. Builders like to deal with inexperienced consumers. Real estate agents know how to handle the builders on your behalf and if there's wiggle room, the agent will help you find it.
The builder's sales agents are paid to represent the builder, regardless of what they may tell you. Many will use high pressure tactics to persuade you to sign the contract.
Your buyer's agent will represent you, act as your fiduciary and disclose the positives as well as the negatives about the transaction. Builder's agents don't discuss drawbacks.
In addition, the inclusion of a real estate agent requires planning ahead, and most new-home purchases begin spontaneously when the buyers chance upon a "Grand Opening" for a new-home development, find a home online or drive past the model and decide they'll stop in to take a peak. When asked to "register" by the model sales agent, they fill out a card with their name and contact information and neglect to insert the name of their real estate agent due to the fact they forgot the agent's name or simply haven't selected an agent yet. Should the buyers decide to bring an agent on board after this initial registration, the builder may demand that the buyer pay the agent's fee, usually 3% of the base price.
To receive the real estate agent's help and have the builder pay the agent's fee, the buyers should register their agent with the builder on their initial visit. But if you visit the model and decline to register, you should be able to return later with an agent in tow.
Related Articles
Understanding Home Construction Loans
Sources for Your Downpayment
How to Choose the Best Mortgage Lender or Broker
How to Compare Mortgage Loan Offers
How to Get the Best Mortgage Interest Rate
If you, or someone you know is considering Buying or Selling a Home in Columbus, Ohio please give us a call and we'd be happy to assist you!
The Opland Group Specializes in Real Estate Sales, Luxury Home Sales, Short Sales in; Bexley 43209 Columbus 43201 43206 43214 43215 Delaware 43015 Downtown Dublin 43016 43017 Gahanna 43219 43230 Grandview Heights 43212 Galena 43021 Hilliard 43026 Lewis Center 43035 New Albany 43054 Pickeringto, 43147 Polaris Powell 43065 Upper Arlington 43220 43221 Westerville 43081 43082 Worthington 43235