Inventory breaks 91-month streak
The fall season is cooling down more than the temperature outside; it's also putting a much-needed chill on hot housing markets, as in many markets home prices have become unaffordable to the average buyer. Across the country more than one in four home sellers dropped their asking price last month. With inventory starting to inch up, sellers are facing stiffer competition in the market and adjusting their price expectations, according to a recent report.
Locally, the number of homes and condominiums for sale here in Columbus and the greater central Ohio area has increased to 5,589 in September which is up 2.6% from one year ago. This breaks a 91-month streak of year-over-year declines in inventory according to the Columbus REALTORS® Multiple Listing Service.
This slight increase in inventory is a healthy correction for the Central Ohio market.  For ninety-one straight months inventory was declining and favored the sellers while discouraging buyers in some price points.  This slight supply shift may encourage buyers to get into the market and start their Columbus home search in an effort to take advantage of interest rates while they are still low.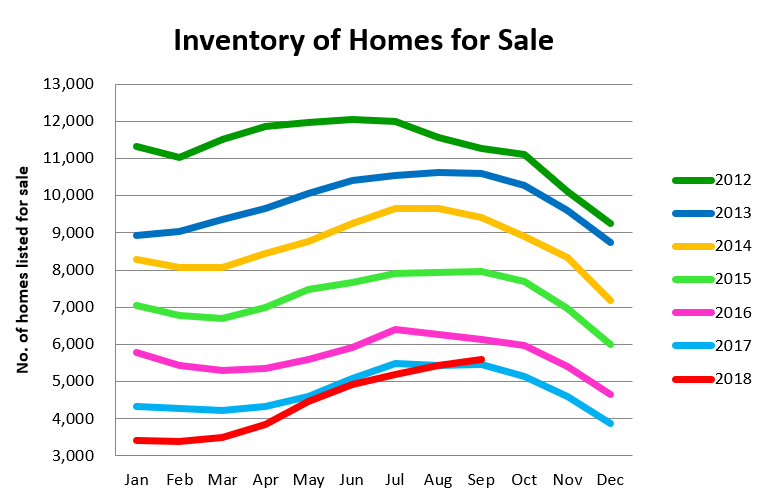 Here is the bad news… inventory levels increased as a result of fewer homes sales. There were 2,593 homes and condos sold in September, which is down 11.4% from the same month a year ago leaving 2018 central Ohio home sales 2.3% behind the first three quarters of 2017. This should come as no surprise as considering we are entering the fall / winter season when activity typically drops, however, this year an additional contributing factor is rising mortgage interest rates and demand that was pushed forward in prior months as buyers rushed to lock in a mortgage rate before the Fed's advised increase. An additional culprit is ever increasing home values that are exceeding annual inflation rates putting home values out of reach for some buyers, as well as a slow down in the luxury market resulting largely from savvy buyers taking advantage of low interest rates.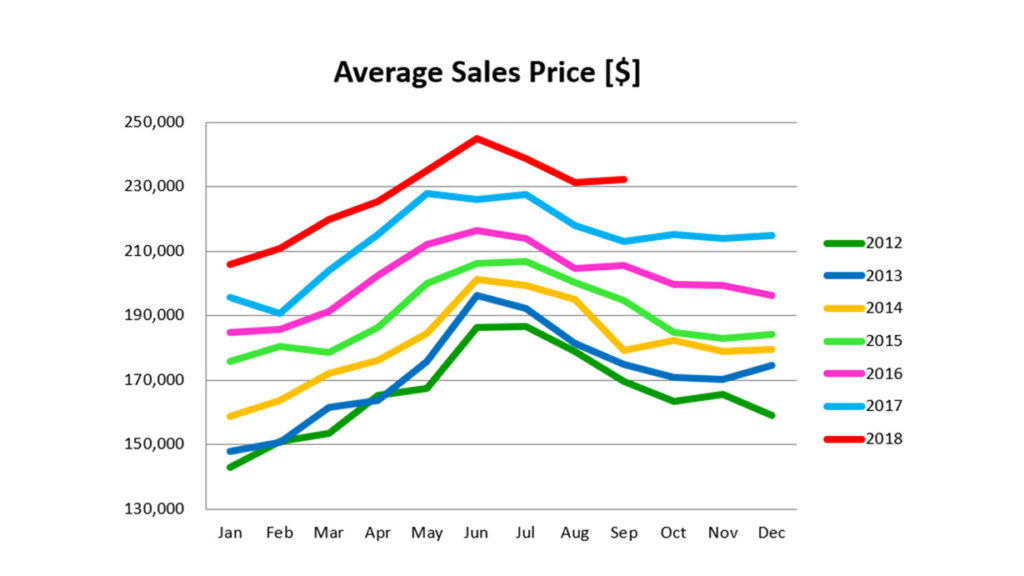 The average sales price of a home during the month of September in central Ohio was $232,228, which is 9.8% higher than one year ago and a 6.7% increase year-to-date. The median sales price was $195,000 which is an increase of 7.7% year-to-date.
There were 3,039 homes and condos added to the market in September, which is just 1.0% below September 2017 and down 20.5% from August.
It's typical for listings activity to begin to taper off as the temperature drops and although it's getting cooler, real estate remains a hot commodity.  Homeownership provides not only an investment vehicle and shelter but also the stability of being part of a community and is not typically as volatile as stock.
To summarize the numbers for September 2018 (compared to the same month a year ago):
Closed Transactions – 2,593 – DOWN by 11.4%
Pending Contracts – 2,945 – DOWN by 6.2%
Inventory for Sale – 5,589 – UP by 2.6%
New Listings – 3,039 – DOWN by 1.0%
Days on Market – 29 – UNCHANGED
Average Sales Price – $232,228 – UP by 9.8%
Our recommendations… as you can see from the graphic above, home prices in Central Ohio tend to peak in June (the graph however, exaggerates the degree of this trend as this is also the time of year the bulk of the higher dollar sales tend to occur this as families with children attempt to make their move during the summer months when the kids are out of school).
That said, if you are looking to sell your current home and finance the purchase a new home we would suggest listing your home now as the Fed has suggested it is likely to raise rates again in December of this year which will impact your cost of borrowing and would more than likely offset any gains you would typically see by waiting until Spring to put your home on the market.
If you are a seller who intends to make a cash purchase you may benefit from buying this winter if you are able to find the right home to purchase despite the reduced inventory and fewer homes to choose from. Sellers who leave their homes on the market during the holidays tend to be motivated and often need to sell due to job relocations or other circumstances. A seller lease back could be an option however, don't forget that your first mortgage payment isn't due until the first day (actually the 15th day if you include the grace period) of the month after the first full month that you've owned the home. For example, if you close the sale of your new home on January 25, the first full month you spend in the home will be February, so your first payment will be due on March 1. For more on this read When Is My First Mortgage Payment Due.
Current housing report – September 2018
All housing reports
The Opland Group Specializes in Real Estate Sales, Luxury Home Sales, Short Sales in; Bexley 43209 Columbus 43201 43206 43214 43215 Delaware 43015 Dublin 43016 43017 Gahanna 43219 43230 Grandview Heights 43212 Hilliard 43026 Lewis Center 43035 Marysville 43040 43041 New Albany 43054 Pickerington 43147 Powell 43065 Upper Arlington 43220 43221 Westerville 43081 43082 Worthington 43235