BUYERS WANT TO LIVE IN CENTRAL OHIO
The Central Ohio Housing Market was mostly unchanged in January. Home sales and pending contracts were slightly lower than last year, while home values kept rising by double digits.
While population in the counties served by the Columbus REALTORS® MLS increased almost 13% between the 2010 and 2020 census representing 85.5% of the population growth for all of Ohio, the number of new housing units grew by just over 14% over this timeframe. The lack of inventory is nothing new for Central Ohio and and this bottleneck continues to limit sales.
Home Sales Down – Inventory Remains Low
Home sales and contracts dipped 2.8 percent and 0.8 percent, respectively. Even so, home sales were still higher than any other year according to the Columbus REALTORS® Multiple Listing Service (MLS).
The chart below shows how Pending Contracts (green) and Closed Sales (red) changed from January 2021. The Inventory (blue) was identical to Closed Sales – a consequence of high demand and limited supply of new listings.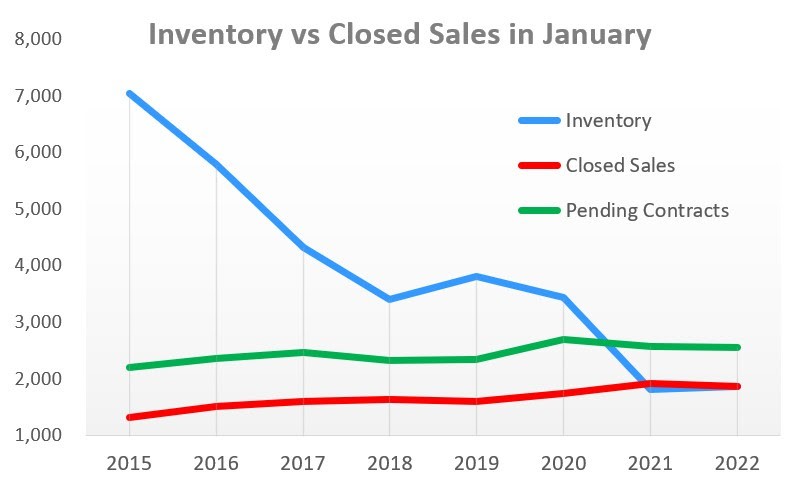 New Listings Activity Inline With Years Past
New listings were up 11 percent in 2021 but ticked down (0.5 percent) in the first month of 2022.
The number of homeowners listing property for sale during the month of January has remained constant over the past 10 years (see chart below).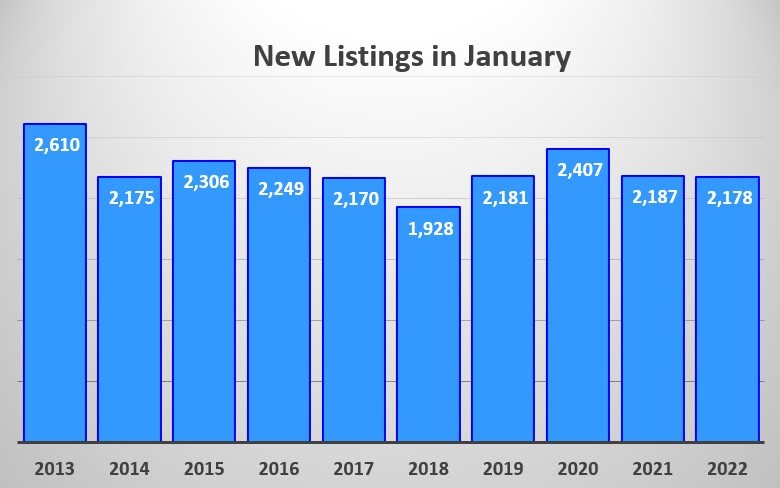 Home Values Continue to Rise
While home value appreciation seemed to slow down in the second half of 2021, the median sales price increased by 11.1% to $250,000, while the average home price increased 10.4% to $290,847 compared to January of 2021.
Home values are expected to continue to rise as supply continues to dramatically outstrip demand. While Columbus-area builders started 6,160 single-family homes in 2021, up 17% from the previous year and the most in 17 years (according to figures released by the Building Industry Association of Central Ohio) we need 14,000 -21,000 new homes per year to meet demand (according to a 2018 study by the Central Ohio BIA).
The study indicates just how significantly we're under building relative to demand — and how the shortfall will worsen over the coming decades if nothing changes.
When compared to its economic competitors, the central Ohio region lagged Austin (45,581 housing permits), Nashville (27,961 housing permits), Charlotte (26,426 housing permits), Raleigh (21,460 housing permits) and Indianapolis (11,482 housing permits) in permitting activity. 
We'll continue to see demand because we've so underbuilt this region for so long, and it doesn't appear to me that the growth is going to slow down. Make no mistake, that's a good thing, but we're going to need an approach that reflects that growth.
Affordability Remains High in Central Ohio
Columbus is forecasted to be the 5th hottest housing market in 2022. Central Ohio asking prices and transaction volumes are predicted to be double the national average, with demand for homes remaining elevated due to relative affordability, immigration to the area, as well as the high concentration of millennials and strong job growth.
Attom Data Solutions recently released their Home Affordability Report which revealed that in 77% of US counties, a median-priced single-family home was less affordable in the fourth quarter when compared to historical averages.
A property is deemed affordable if the average wage earner spends less than 28% of their income on housing payments (assuming 20% down payment on their mortgage).
Despite rising home values and higher mortgage rates, Columbus and the State of Ohio remain among the most affordable places to buy a home.
On average, a homeowner in Franklin County spends just 21.8% of their income on their mortgage payments.
According to Sperling's Best Places, Columbus's cost of living index is 84, in comparison to the national average of 100. Groceries, utilities, transportation and health costs are all cheaper in Columbus, making its residents salaries stretch much further than in other cities.
Central Ohio has so much to offer, from arts and entertainment to parks and recreation. Columbus a great place to live, work, raise a family and buy a home, and it's no surprise that more and more folks want to live here!
January 2022 Housing Stats
Here are the numbers (compared to the same month a year ago):
Closed Transactions – 1,872 – DOWN 2.8%
Pending Contracts – 2,553 – DOWN 0.8%
Inventory for Sale – 1,862 – UP 2.3%
New Listings – 2,178 – DOWN 0.4%
Days on Market – 22 – DOWN 12.0%
Average Sales Price – $290,847 – UP 10.4%
January 2022 Housing Report
All housing reports
If you, or someone you know is considering Buying or Selling a Home in Columbus, Ohio please give us a call and we'd be happy to assist you!
The Opland Group Specializes in Real Estate Sales, Luxury Home Sales, Short Sales in; Bexley 43209 Columbus 43201 43206 43214 43215 Delaware 43015 Downtown Dublin 43016 43017 Gahanna 43219 43230 Grandview Heights 43212 Galena 43021 Hilliard 43026 Lewis Center 43035 New Albany 43054 Pickerington 43147 Polaris Powell 43065 Upper Arlington 43220 43221 Westerville 43081 43082 Worthington 43235
Click here for more information about the Central Ohio housing market.