It's no secret that the central Ohio housing market is hot right now. As demand continues to outpace supply, homes and condominiums are selling in record time.

During the month of April, homes under $350,000 sold in an average of 26 days, while homes sold between $350,000 and $500,000 took approximately 48 days to sell. Homes in the $500,000 to $700,000 price range sold in an average of 65 days, and homes over $700,000 were on the market for an average of 83 days.

Because we have so many buyers looking for affordable homes, and so fewer builders building "start homes" those homes in the lower price ranges are selling more quickly. In fact, five years ago, homes under $350,000 took three times longer to sell than today!

There were almost 500 more homes listed for sale in April compared to the previous month. The jump from 3,200 to 3,700 new listings fueled increased market activity from the buyers looking for homes in central Ohio right now.

As a result, there were over 23% more homes sold and over 13% more homes put in contract in April.

The top ten school districts with the highest home sales in April were Columbus, South-Western, Hilliard, Dublin, Olentangy, Westerville, Pickerington, Worthington, Newark and Upper Arlington. Seven out of those ten school districts averaged homes sales under $350,000.

As market conditions are particularly advantageous for homes in the first-time buyer / starter price ranges, those homeowners should seriously consider listing their home right now. That would also help many folks looking to buy right now, especially our first-time home buyers trying hard to capture the dream of home ownership. It's also critical that these homeowners work with an agent to ensure their home gets maximum exposure in the shortest time possible to ensure they get top dollar for their home. While a low inventory levels might sound like an opportunity to try selling your home For Sale By Owner (FSBO) this is not the case and you will end up leaving money on the table!
The real estate industry would not exist if selling a home were easy. A good real estate agent spends a great deal of time with every transaction, maximizing the appeal and marketability of the home, identifying the target audience and marketing the property to these buyers AND the agents that represent them, negotiating the sale to secure the best possible terms once an offer is received, again after the home inspection has been completed, and the remedy request received and a third time if the appraisal comes in low and the efforts to fight the valuation. Your agent will assist you in avoiding problems before they happen, and solving them when they do. As you can see, finding the right buyer for a home is only one step. A good agent steers a transaction to settlement through a maze of issues arising from home inspections, title searches, appraisals, and financing.

The median sale price of a central Ohio home sold in April was $213,600, up 12.4% from one year ago. The average sale price was $242,063, up 7.4% from 2018.
"Median" means that half of all homes sold for less than $213,600, the other half for more. As there were 2,682 total sales, 1,341 of all Central Ohio homes sold for more than $213,600.
When the median sales price increases, this indicates a larger number of expensive homes were sold.
The average sales price on the other hand was $242,063 – up by 7.4% compared to a year ago. This number is the average of all sales that closed in April 2019.
The chart below shows how the median sales price changed since 2017 (compared to the same month the previous year).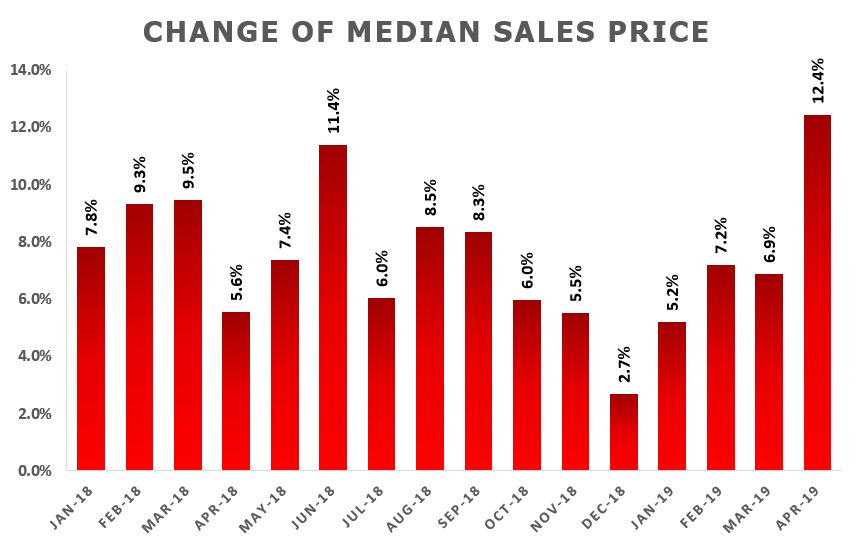 Closed transactions and pending contracts were up by more than 3% year over year. This has put another damper on sales and the already low inventory, which continue to lagger.
Inventory levels can't recover as there simply are not enough new listings. Home owners are not selling largely out of fear of not being able to find a new home to move to.
Here are the highlights (numbers compared to the same month a year ago):
Closed Transactions – 2,682 – UP by 3.6%
Pending Contracts – 3,710 – UP by 3.8%
Inventory for Sale – 3,833 – DOWN by 0.4%
New Listings – 3,711 – UP by 0.4%
Days on Market – 32 – DOWN by 3.0%
Average Sales Price – $242,063 – UP by 7.4%
Current housing report – April 2019
All housing reports
If you, or someone you know is considering Buying or Selling a Home in Columbus, Ohio please give us a call and we'd be happy to assist you!
The Opland Group Specializes in Real Estate Sales, Luxury Home Sales, Short Sales in; Bexley 43209 Columbus 43201 43206 43214 43215 Delaware 43015 Downtown Dublin 43016 43017 Gahanna 43219 43230 Grandview Heights 43212 Galena 43021 Hilliard 43026 Lewis Center 43035 New Albany 43054 Pickerington 43147 Polaris Powell 43065 Upper Arlington 43220 43221 Westerville 43081 43082 Worthington 43235