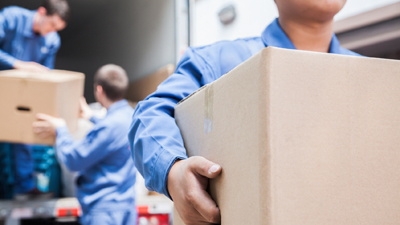 Every year, thousands of people—fall victim to moving fraud, according to the Protect Your Move campaign by the Federal Motor Carrier Safety Administration. We know what you're thinking… As if it wasn't already stressful enough to pack up all your worldly belongings and hire a group of (impressively strong) total strangers to cart them from one place to the next!
But you don't have to fear—just be aware. Check out the most common moving scams and our advice for avoiding them.
Scam 1: The hostage
"A mover will load your items into their truck, drive to your unload location, and demand more money on the spot before unlocking the truck or unloading your items," says Mike Glanz, CEO of HireAHelper. This particular scam "is extremely common and occurs from coast to coast."
Stats from the Protect Your Move campaign show that out of the 36 million people who move every year, one in 10 reports that the moving company held furniture hostage until the customers forked over more money.
To avoid any possibility of a moving company demanding ransom for your family's belongings, there are a couple of things you can do. One, get all fees in writing and upfront. Two, you can stay in the driver's seat, literally, by trying a "hybrid" move that's part DIY and part full-service, says Glanz.
Simply hire local, hourly moving laborers to load and unload a rental truck. Then drive your own rental truck so you're always in possession of your belongings. In addition to circumventing the goods-as-hostage scam, a hybrid move will likely also save you some bucks.
Scam 2: The shifty scale
Glanz explains that larger, interstate movers charge by weight. An unscrupulous company will "quote a customer an unbelievably low upfront price based on their estimate of weight," he says. The scam happens after the movers load and drive the truck to the scale by themselves. "They will report back a much heavier weight" than the original estimate and demand that the difference in price be paid immediately. Luckily, federal law states customers have the right to be present at a reweigh. "So don't pay until you see the weight with your own eyes."
In another weight-based scam: The movers show up with a weight ticket of the empty truck—meaning a gas tank running on fumes and with only one mover inside. After the pickup, the movers weigh the truck again, "this time around with a full tank of gas and the whole crew on the truck."
Even additional weight from items from another job or random packing materials might be added to the truck. The movers will then try to trick the customer into paying for "a higher weight than that of the actual job." To avoid this scam, we advise clients always avoid getting a weight-based quote.
Scam 3: The broken broker
Just like those Nigerian princes who keep emailing you for money, there are many fake moving companies out there. Glanz describes how the scheme works: The scammers, known as brokers, quote and book seemingly cheap moves over the phone or online, charging a deposit upfront. The scammers then sell their customers to other moving operations. The move implodes when that company—let's call it ZZZ Movers—shows up, unaware of the scammers' initial price quote or upfront fee. So "ZZZ demands more money than was originally quoted," says Glanz. When a customer calls to complain, "the broker either cannot be reached or offers no help, claiming that the move is now the responsibility of the actual moving company."
To avoid this nightmare, Protect Your Move advises consumers to search for registered movers and view their complaint histories before selecting them. Make sure that you book with someone that includes insurance. If they don't offer insurance, it may be because they're not licensed to be moving you.
Scam 4: The lowball
Some shady companies deliberately lowball the inventory with an eye toward piling on extra charges on the day of the move.
Most customers fall for it and regard it as a cheaper estimate, not considering the consequences on the move date. And then, surprise! On moving day, charges you never knew existed—because they were deliberately hidden—pop up. They include protection of various items such as wardrobe boxes for hanging clothes, TV boxes, mirror and picture protection. Tolls and fuel charge are another wallet wallop.
Don't be afraid to ask what is included and, more importantly, what's not included in the move. Be on the lookout for evasive behavior.
If someone is saying, 'Don't worry, everything is included,' that's when you need to be worried. Always get written confirmation, not just verbal confirmation."
If you, or someone you know is considering Buying or Selling a Home in Columbus, Ohio please contact The Opland Group. We offer professional real estate advice and look forward to helping you achieve your real estate goals!
The Opland Group Specializes in Real Estate Sales, Luxury Home Sales, Short Sales in; Bexley 43209 Columbus 43201 43206 43214 43215 Delaware 43015 Dublin 43016 43017 Gahanna 43219 43230 Grandview Heights 43212 Hilliard 43026 Lewis Center 43035 Marysville 43040 43041 New Albany 43054 Pickerington 43147 Powell 43065 Upper Arlington 43220 43221 Westerville 43081 43082 Worthington 43235