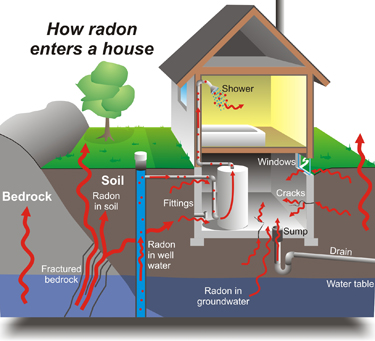 Radon is a cancer-causing radioactive gas that comes from the natural decay of uranium, which is found in nearly all soil types. It can travel upward, through the soil, into the air and into your home through cracks, gaps or the water supply. Radon isn't picky about the homes it enters. It can be found in homes with basements and without, new construction as well as 100-year-old homes.
U.S. Environmental Protection Agency (EPA) and the Surgeon General's Office estimate that radon causes approximately 21,000 lung cancer deaths each year; only smoking ranks higher.
You cannot see, smell or taste radon. It typically takes years of exposure to the gas before health problems become apparent. The EPA estimates that as many as 8 million U.S. homes — across all 50 states — contain elevated levels of radon.
So, how do you know if it's in your home? Testing is the only way to check your home's radon levels. While some states regulate providers of radon measurement and mitigation services by requiring registration, certification or licensing, others have no such regulations.
Visit the EPA website to get information about your state's radon programs. If you're buying and/or selling a home, the EPA recommends radon testing before finalizing any real estate transaction.
Radon levels are most commonly reported as pCi/l, or pico curies per liter. The EPA reports that a level of 4pCi/l or higher is unacceptable. If tests done on your home indicate a higher-than-normal reading, the EPA suggests retesting. If a second test also comes back with an unacceptable reading, you need to take steps to reduce your home's radon levels.
Many states have regulations regarding mitigation, requiring that the task be handled by a licensed mitigation company. If your state does not regulate mitigation, the EPA recommends that work conform to criterion outlined in American Society for Testing and Materials International (ASTM) Standard E2121.
The most common radon mitigation systems rely on fans, located in a home's basement, to draw air out from under a basement, crawl space or concrete slab. The fans reroute gases coming from the soil beneath your house and exhaust them outside the structure, far enough from windows and other openings that they cannot reenter.
Once mitigation work is complete, most mitigation companies will retest to confirm radon levels are below the recommended 4pCi/l threshold.
For information on radon testing or to order a test contact Columbus Radon Mitigation at 614.674.9663 or Benchmark Labs at 614.267.4588
To request a quote on a radon mitigation system, contact Columbus Radon Mitigation at 614.674.9663 or Eco Radon Solutions at 614.848.9411.
If you, or someone you know is considering Buying or Selling a Home in Columbus, Ohio please contact The Opland Group. We offer professional real estate advice and look forward to helping you achieve your real estate goals!
The Opland Group Specializes in Real Estate Sales, Luxury Home Sales, Short Sales in; Bexley 43209 Columbus 43201 43206 43214 43215 Delaware 43015 Dublin 43016 43017 Gahanna 43219 43230 Grandview Heights 43212 Hilliard 43026 Lewis Center 43035 New Albany 43054 Pickerington Powell 43065 Upper Arlington 43220 43221 Westerville 43081 43082 Worthington 43235