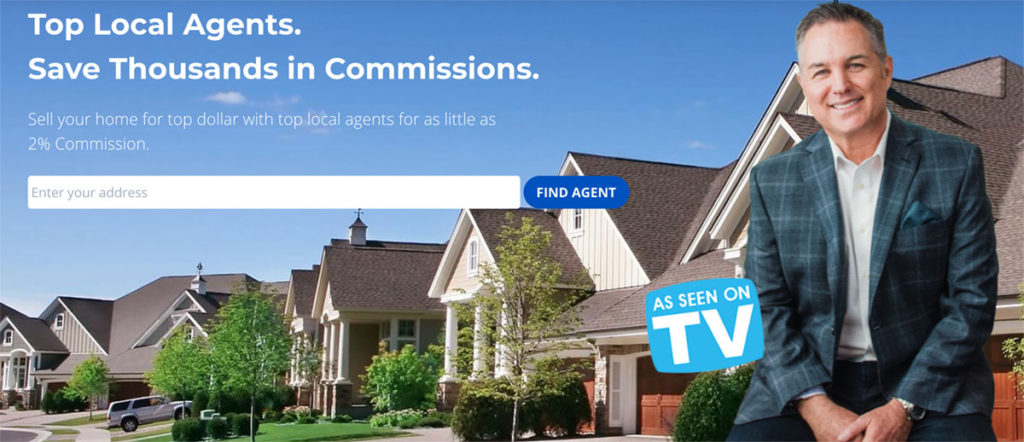 Top Local Agents.
Save Thousands in Commissions.
Sell your home for top dollar with top local agents for as little as a 2% commission.
Sounds compelling right? Unfortunately Ideal Agent blatantly ignores false advertising laws… they do not charge a 2% real estate commission and as always, read the fine print. Here is Ideal Agent's fine print.
"Our agents will list for 2% and offer the typical Buyer's Agent commission in your market ranging from 2% to 3%. The average Buyer's Agent commission nationwide is 2.5%. If a buyer calls on your house directly without an agent, our agents have agreed to do the entire transaction for only 2% total. Homes under $150,000 will have a minimum list side commission of $3,000."
In Ohio, over 95% of buyers in residential real estate transactions are represented by a buyer's agent, so the chances of not paying a buyer's broker commission is highly unlikely. When the chances are that improbable you can't truthfully advertise your commission at 2% by just adding an asterisk with fine print and downplaying the details. It's misleading and is the very definition of false advertising.
The average listing fee rate in Ohio is between 5-6%. Ideal Agent's total commission is reported to be around 4.5%. At first glance this might appear to represent a savings, but this doesn't represent the entire picture and here's what you need to understand.
Ideal Agent and companies like them partner with those agents who are willing to pay them a referral fee of 25-35% of the total commission charged on your transaction side (listing or buying side). Thus in addition to any commission reduction their partner agents provide, they are also kicking back 25-35% of the commission to Ideal Agent. To understand why this isn't beneficial to you as a seller you need to understand how real estate commissions work.
While many consumers assume their agent receives the full 3% commission, this isn't the case and when listing agents attempt to compete on commission, they are actually competing with what would be the marketing dollars for your home, and as a result your home equity! Let me explain.
There is no national conspiracy to set commissions at 6%! Homes sell for top dollar because of extensive, skillful, and highly polished marketing. Some people believe that after a home sells the real estate agents receive checks equal to 3% of the home's value, and deposit it into their respective bank accounts. This is not the case. When we realtors sell a home at 6%, we plan to make about a 1% profit. Generally 3% goes to the buyer's agent, and 3% goes to the listing agent. Of the 3% that goes to the listing agent, approximately 1% of this will be taken by the brokers (that is the company the agent works for), about 1% will be spent on advertising, and the agent will ultimately receive a check for approximately 1% for making the whole thing happen.
When a listing agent pays out a referral fee, and/or reduces their listing commission where would you guess that reduction is drawn from? If you guessed the marketing budget for your home you'd be right.
With this understanding, consider that Ideal Agent already requires its agents agree to a 2% listing commission, an amount equal to what should be the marketing budget for your home! They then take 25-35% (real agent finder services – Ideal Agent referral fee) of the 2% (listing commission). Thus by paying out this referral fee these partner agents are effectively eliminating the marketing budget for your home, while reducing what would be their 1% take home pay!
The simple fact is this… Getting top dollar for your home is about creating demand, and as agents we create demand by generating exposure for our client's home through paid marketing.
In their commercial they state, "We are not a discount brokerage". That is misleading in itself. It's a slick way for them to make themselves sound like a full service brokerage when in fact they are nothing more than a middle man making a profit off of referral fees. Discount brokers are those who charge a reduced fee, but who do little, if nothing to market your home beyond taking photos of your home themselves, inserting these into a template marketing brochure (which they will typically require you print out yourself), before uploading the home into the MLS, and perhaps syndicating it out to sites like Zillow, Trulia, and Realtor.com. Remember, these agents have reduced the listing commission, eliminating the 1% that would be the marketing budget for your home and thus they do not have the ability to cover the range of expenses required to effectively market, and expose a home to today's homebuyers. Examples of these marketing expenses include: hiring a photographer to take professional photos of your home, hiring a graphic designer to edit these photos to create editorial grade photos that will make your home stand out from the competition, shooting and editing a video of your home, running social media ads (studies show U.S. homebuyers spend less than 8 minutes per day on sites like Zillow, but over 2.5 hours per day on social media sites), paying for premium placement on the consumer portals such as Zillow, Trulia, Realtor.com and others, and the list goes on. When you work with Ideal Agent (and other Agent Finder Services) you absolutely are working with agents offering discount brokerage services and it shouldn't be called Ideal Agent, it should be called Slick Agent.
Furthermore, you can find superior agency in Ohio at a 5% rate… and chances are your Columbus, Ohio listing agent will agree to waive, or reduce the buyer's commission in the unlikely chance that the buyer isn't represented… so what exactly is Ideal Agent saving you?
But they have the best agents, the top 1%, that will list my home at a 2% commission. If an agent is in the top 1% of sales why would they agree to a reduced 2% commission, only to further reduce this by an additional 25-35% in the form of the referral fee to Ideal Agent? Their business is already great, why do they need to short change themselves by lowering their commission and then paying Ideal Agent a referral fee as well? That on basis doesn't make much sense.
The simple fact is this, Ideal Agent is a middle man who has found a way to make a profit by generating leads for agents offering discount brokerage services and charging them referral fees. Everything else is marketing. Unfortunately, it's not truthful marketing and meets the definition of false advertising.
If you, or someone you know is considering Buying or Selling an Investment Property in Columbus, Ohio please give us a call and we'd be happy to assist you!
The Opland Group Specializes in Real Estate Sales, Luxury Home Sales, Short Sales in; Bexley 43209 Columbus 43201 43206 43214 43215 Delaware 43015 Downtown Dublin 43016 43017 Gahanna 43219 43230 Grandview Heights 43212 Galena 43021 Hilliard 43026 Lewis Center 43035 New Albany 43054 Pickerington 43147 Polaris Powell 43065 Upper Arlington 43220 43221 Westerville 43081 43082 Worthington 43235