Ohio may have a reputation for being flat farmland, but we've got some great sledding hills around the city. So wait for that inevitable snowfall, grab a sled, and head to the nearest hill. This is going to be fun.
While it's impossible to compile a list of every popular sledding spot in the city, we've picked out a handful of the highlights for your next wintertime adventure, either with the kids, with a date, or by yourself. This is a judgment-free space.
These central Ohio parks have sledding hills of varying degrees – gentle and long, to fast and steep.
Columbus Sledding Hills
As the park offers a range of both steeper and more gentle, slower hills, making it perfect for both kids and teens/adults alike. Check to see if the hill is open here. 
When a sledding hill comes complete with hay bales and helmet warnings, you know it's serious business. Highbanks Metro Park has two sledding hills, a gentle, bunny hill and a massive, not for faint-of-heart, monster of a hill. The gentle hill is great for the little kids. The larger hill is steep and the slope does end in a forested area, but there are bales of hay around trees to protect sledders. The park is located at 9466 Columbus Pike.
Speaking of Metro Parks, there's another that can't be excluded from any respectable list of Columbus-area sledding spots. Located southwest of downtown Columbus, Battelle Darby offers what is likely the steepest–and most intense–sledding hill on our list. This one might not be a great destination if you're taking the little ones out, but if it's speed you're after, you can find it here.
While you may need to carve out a trail of your own to sled in Glen Echo, this park is a great spot to hit the snow with some friends. The often-overlooked park is located in a natural ravine in Clintonville, and because of this, it offers plenty of steep, sloping hills to take advantage of.
While Marysville is a  bit of a hike from downtown Columbus, this unique hill is worth it for those willing to make the trek. Abutting the Marysville Reservoir is a large hill that connects to not only the water, but also Raymond Road where the park is located. The hill makes for great sledding in an interesting environment.
Perfect for the little kids, the sledding hill at Antrim Park is small but fun. Sometimes a giant hill can be intimidating, so this is a great place to take kids (or adults, not judging) who aren't as enthusiastic about sledding. The park is located at 5800 Olentangy River Road, between Clintonville and Worthington.
Big Run Park is one of my personal favorite sledding hills. It's a two for one, package deal. The left side of the hill has bumps and the right side is more smooth. This park does have limited parking and limited access to restrooms, so make the kids go before you load up the car! The park is located at 4201 Clime Road.
Heading out with little kids? Blendon Woods Metro Park has an amazing, gentle starter hill. There is plenty of parking and restrooms to warm up cold fingers and toes! The park is located at 4625 E. Dublin-Granville Road.
Clinton-Como Park may be tucked away, but it's an awesome place to go sledding. The hill is long and smooth, plus the incline isn't too steep. Parking is extremely limited, so if you live in the community, walking may be a better option! The park is located at 301 W Pacemont Road.
Sledding at the Whetstone Park of Roses has been a tradition for decades. There are two designated sledding hills, but there are plenty of other spots around the park that make for good runs as well, as most of the park is sloped. Restrooms are available at the front of the park, and there is plenty of parking. The park is located at 3923 N. High Street.
German Village is always beautiful in the snow. But it's also fun. In Schiller Park, behind the playground, city kids will find a small sledding hill. The ride is short but it steep! There is ample parking in the lot, as well as street parking.
Hidden in Worthington, thrill-seekers will find a sledders paradise. Olentangy River Parklands has a variety of hills. The main hill is a decent size and has a long, smooth ride down. There is a gentle hill for younger sledders near the tennis courts! There is limited parking and there are restrooms available. The park is located at 600 West Wilson Bridge Road.
Fryer Park has an amazing, specially designated sledding hill. It's a good, smooth ride down, though the walk back up can get a little steep. There is ample parking and restrooms are available. The park is located at 3899 Orders Road in Grove City.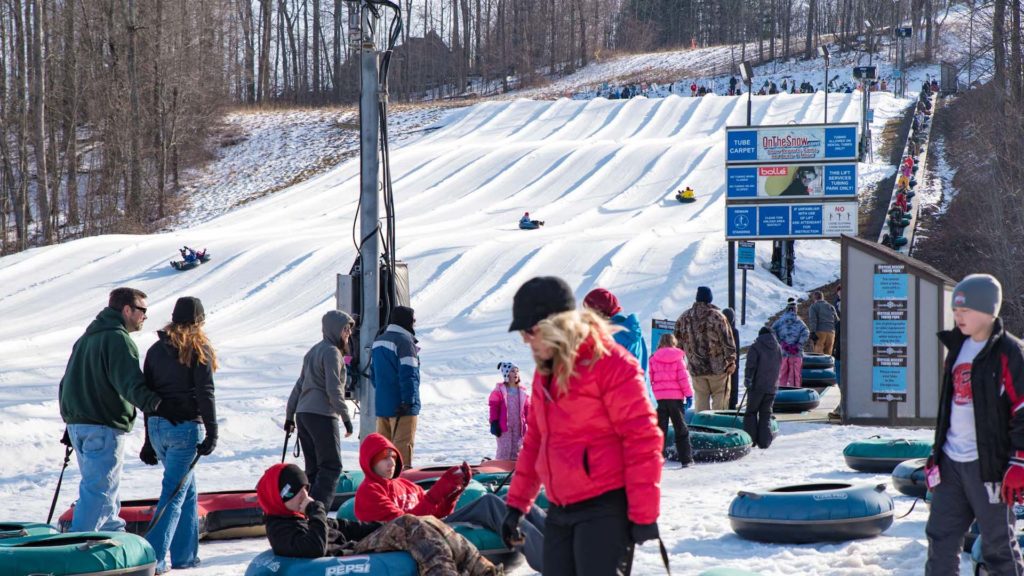 While it's actually located in Mansfield, for those willing to hop in a car for about an hour dirve, Mansfield's Snow Trails offers Complete with up to 7 Tubing Lanes, Conveyor Carpet Lift, and Tubing Lodge with outdoor Fire Pit, Snack Bar, Restrooms, and panoramic view of Tubing Park. are nearly endless. about a 1 hour drive from Columbus.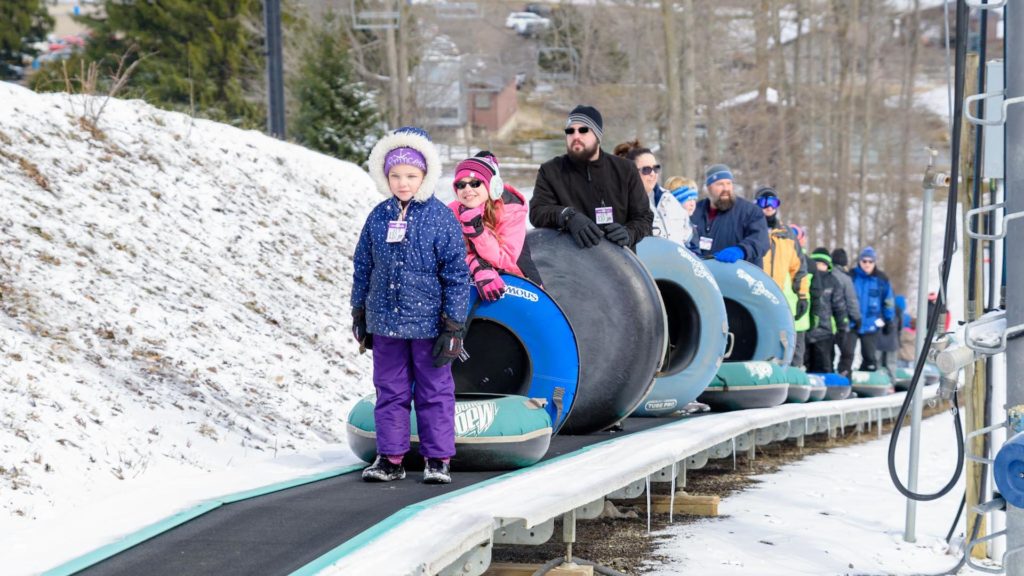 If you are unfamiliar with snow tubing, it is the fastest growing winter sport in the country. To describe the Tubing Park a bit, snow tubing lanes consist of a groomed center surface with snow banks on each side, running from top to bottom. Choose from a variety of lanes with unique rollers and surface conditions from moderate to fast. You'll slide your way down these lanes of snow and then back to the conveyor lift for another ride to the top.
Vertical Descent Tubing Park lanes stretch 1,100 feet from top to bottom at Snow Trails. Your tubing adventure begins with a 100 foot vertical drop down the first 500 feet of your lane, ending with a mellow 600 feet of run-out to slow you down at the bottom.
Glow tubing begins around twilight (approximately 5 p.m.) from Thursday through Sunday and on peak days, and tickets must be purchased in advance. Snow Trails Two-hour tubing passes are $28 per person.  An array of colorful LED lights line the park. Guests can set off at the top of the hill and glide down the snow-packed and LED-lined lanes with a number of guests following along behind them in a train of tubes.
If you're looking to net the best combination of quality, service, and savings, we invite you to email us, or give us call at 614.332.6984!
The Opland Group Specializes in Real Estate Sales, Luxury Home Sales, Short Sales in; Bexley 43209 Columbus 43201 43206 43214 43215 Delaware 43015 Downtown Dublin 43016 43017 Gahanna 43219 43230 Grandview Heights 43212 Galena 43021 Hilliard 43026 Lewis Center 43035 New Albany 43054 Pickerington 43147 Polaris Powell 43065 Upper Arlington 43220 43221 Westerville 43081 43082 Worthington 43235