Expected  Selling Time
It's a fact. Your home will attract the most excitement and attention when it's first listed and specifically within the first 30 days. And all the buzz simply increases your chance for a quick sale for top dollars.
However, no one can promise when your house will sell. It could be one day, two weeks, three months " or longer. Some of it depends on these factors:
local and national economic factors
market conditions
condition of your property
the number of comparable homes for sale in your area
whether or not people are buying new homes, existing homes, or none at all
the agent you select to market and sell your home
the condition of your home and whether it was properly prepared for market
whether your home was properly priced
Any, or all of these factors can speed up (or slow down) the sale of your home. Below you will find three tips for selling your home faster?  For additional tips visit the "For Sellers" section of our Blog.
Enhancement.
Price it right.
Expose it.
Enhancement
Presentation, is everything… and so it is with your home. The more attractive it is, the more likely buyers are to bite.
Our group has some do-it-yourself tips for making your home look " and show " great.
Price it right
Buyers purchase homes at, or below market value – not above it. Price your home at market value and you're likely to see more prospects, which increases your chance for a sale.
Our agents are experts when it comes to pricing, let them help you price it right, from the beginning. There is an inverse relationship between the amount of time a home spends on the market and the price at which it sells. And this makes sense, when a home first hits the market buyers who have been looking and haven't yet found the "perfect home"  rush out to see the new listing hoping that it's the one, and to beat out other buyers with their timing and pricing if they like the home. If the home doesn't sell within the first few weeks of being listed what you are left with there after are new buyers trickling into the market. These buyers see that the home hasn't sold and are less concerned about the chance of another buyer submitting an offer on the property and having to compete for the home and are more inclined to submit lower and more aggressive offers. Buyers who are focused on finding the perfect home are those that rush out to see new properties as they hit the market, they are less concerned about finding a deal and more with finding the right house. Buyers who wait until a home has been on the market for a few weeks or months to view a property, are those who are more concerned with finding a deal, that is a home they can pick up below market value.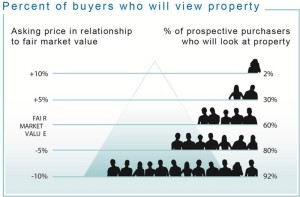 This graphic reveals the percentage of buyers who will view a home based on where it is priced in relation to it's market value. As you can see if a home is priced at market value 60 percent of ready, able and willing buyers are likely to view the home.  If the price is just 5 percent above the home's market value, the pool of buyers likely to view the home drops to just 30 percent!
It critically important that your home be priced appropriately right from the start to ensure it sells quickly to a buyer who is looking for a home just like yours and willing to pay top dollar for it! If you aren't receiving good showing activity within the first week check with your agent and find out if market activity is slow across the board, or perhaps in your price point or community, or if you've simply overpriced your home and need to make an adjustment.
Expose  it
Reduce the time to sell with proper exposure and  marketing. Innovative and  effective marketing is crucial to the sale of your home. To reach the most possible buyers,  we will advertise your home across many different and relevant venues, going far beyond traditional methods like print advertising to proven-effective venues like the Web and direct mail.
With 80 percent of home buyers online, you'll want to be sure you're working with an agent who uses the Internet to sell your home; otherwise, you'll be missing out on a lot of buyers!
Marketing is so much more than advertising. It's a complex process that's a  combination of both art and science. Having technologies and ideas is one thing; knowing how and when to use them is another!
If you, or someone you know is considering Buying or Selling a Home in Columbus, Ohio please contact The Opland Group. We offer professional real estate advice and look forward to helping you achieve your real estate goals!
The Opland Group Specializes in Real Estate Sales, Luxury Home Sales, Short Sales in; Bexley 43209 Columbus 43201 43206 43214 43215 Delaware 43015 Dublin 43016 43017 Gahanna 43219 43230 Grandview Heights 43212 Hilliard 43026 Lewis Center 43035 Marysville 43040 43041 New Albany 43054 Pickerington 43147 Powell 43065 Upper Arlington 43220 43221 Westerville 43081 43082 Worthington 43235