A Better Way to Buy AND Sell a Home
How you Save…
On average, a traditional agent charges you 3-4% of your home's sale price to list your home (the total fee is 6-7% with 3% going to the agent that represents the Buyer for your home). If you agree to Buy and Sell with us… we charge just 1.0% (with a minimum fee of $3,000), without forcing you to compromise on service (the total fee is 4.0%).
As an example, on a $400,000 home you would save $6,000 in fees by buying and selling with our team instead of a traditional agent: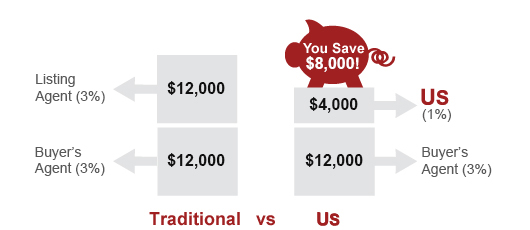 We use the latest technology and strategic partnerships to make selling your home easier for everyone, so we can afford to give you both better service and lower fees!
How Real Estate Commissions Work
Brokerages charge a commission for the services they provide. When you sell your home with a traditional brokerage, on average you pay your agent 3-4% and the buyer's agent 3% — for a total of 6-7% of the home's sale price.
When you agree to buy and sell with us, you pay less than half the normal fee (just 1.0% of your home's sale price with a minimum fee of $3,000), yet you receive a more advanced marketing plan, and a much more complete range of services than you'd receive from the traditional agent. To be clear, we are not limited service / discount brokers (who simply list your home on the MLS and a handful of real estate websites and allow you to handle the details of actually selling your home) and rather we provide the complete range of real estate listing services.
While you still have to pay the 3% buyer broker fee (this is paid out to the agent that represents the buyer for your home), your total brokerage fee is 4.0%, NOT 6-7%. Plus, we never charge an up-front fee and there are no hidden fees.
As the buyer, you pay nothing for the services we provide as your buyer's agent, and rather we are paid by the listing broker via the 3% buyer broker fee the seller agreed to when they signed the listing agreement with their listing agent. So when you agree to buy and sell with us you not only receive our Buyer Agency Services FREE OF CHARGE (this applies regardless of whether you purchase an existing home, or a newly built home from one of the area's local builders), but you also save 2% on the sale of your current home!
Sell Your Home Faster, for More Money
Obtaining the highest price for your home involves providing far-reaching exposure to a qualified audience of motivated homebuyers. This requires the combination of a solid marketing plan, targeted media exposure, and the utilization of our powerful network of in and out-of-area brokers and buyers.
When you partner with our team, you and your home become a vital component of our integrated marketing program. Our unparalleled ability to expose your property through both traditional as well as advanced modern channels, combined with our industry contacts and local knowledge, assures that your property will be marketed through a disciplined and comprehensive plan that is based on proven marketing principles. See the numbers for yourself and how we provide… better results for a lower fee.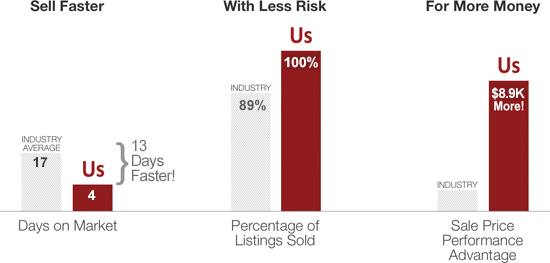 When you combine the commission savings with the higher average sales price, sellers who list with our team save approximately $16,900.
Why Work with Us…
Proven Performance & Honest Advice from an Experienced Professional
Rest assured you're getting the best representation and service available.
We use up-to-the-minute data and online tools to ensure your home is properly priced.
Our agents have more experience and close 16x the business of the average agent.
We are a full service brokerage and while our fee is reduced the level of service we provide is not.
We'll suggest what should (and what shouldn't) be done to prepare and sell your home.
No hidden fees.
Staging & Professional Photos Help your Home to Look its Best
We'll work with you to make sure your home stands out from the competition both online and in person.
Our free, staging and professional photography allows your home to show in its best light resulting in a faster sale at the highest possible price.
Find local, top-rated professionals for handyman services, landscaping, painting, etc. in our online service provider directory.
Maximum Exposure Means 10x as Many Buyers See Your Home
Your listing gets premium placement as a featured listing and is seen by 10x as many buyers on the most-visited websites for homebuyers.
Over 50 percent of today's buyers are searching on mobile devices. Our marketing put your home in front of buyers on-the-go. Our signs include QR Codes allowing these mobile buyers access to property details and the ability to schedule showings direct from their devices.
We promote your home in targeted campaigns using NextHome's exclusive PinPoint Marketing, targeted to interested buyers in your area.
Keeping you Informed Every Step of the Way
We will provide updates with important information on web traffic and showing feedback.
We will keep you abreast of local market activity, that is new listings and price reductions on comparable properties.
We will provide bi-weekly progress reports to discuss overall activity and strategy.
You Get the Best Price & Lower Fees
– We've got the determination, prowess and experience to negotiate the best price.
– We give honest, no pressure advice and get you the right outcome.
– You'll work with a specialist… a Listing Agent and a Buyer's Agent who specialize in these individual capacities and will spend their time serving you! While the average agent attempts to serve both responsibilities in an effort to earn both sides of the deal this is counter productive to the client's interest. Your listing agent will focus solely on selling your home rather than spending half of their day showing homes to buyer. Your Buyer's agent will focus exclusively on finding your new home as opposed to drumming up new business.
– You get all this and our reduced fees allow you to keep more money in your pocket.
Click here to view testimonials and reviews from our past clients or here to learn more about myself and my team.
Call us now at 614.245.5353 to take advantage of this offer…
or request a free, no-obligation consultation on your home's value.
Your contact information:
We will call you to schedule your consultation: