The option to work from home or remotely is likely to become part of the workforce culture.
A larger fraction of workers allowed to work from home will change the mix of demand for residential and commercial real estate between the city and the suburbs, give rise to new home designs that allow workers to work from home effectively, and change the way offices are configured geographically to enable the most efficient way for workers to work remotely.
To capture this change over time, NAR developed a Work from Home Score that encapsulates factors that reflect the current fraction of workers already working from home and factors that are expected to support the trend to work from home or work remotely―internet connectivity, the fraction of workers that work in industries that have normally been heavy occupiers of office space, home affordability, and a county's population growth.
Based on these underlying factors, NAR estimated a Work from Home Score for 3,142 counties. A positive score (above 0) means that a county's score is in the top half of the distribution.
Using the Work From Home Score
How might the Work from Home Score be used? For one, the score is a good measure of the competitiveness of a county in attracting residents and businesses, given the importance of the factors that are used in creating the score: for example, counties with more affordable housing and with good internet connectivity will be more attractive compared to another county which fares not as well in terms of these factors. County governments may use the score as a competitiveness indicator, attracting companies in technology, finance, or management which in turn is likely to drive up demand for local homes and thus home values. Real estate developers can use the score for evaluating where there may be a demand for housing with small home offices or flexible office spaces. Finally, a prospective homebuyer can use the score as a first-step indicator to identifying counties that offer supportive conditions for working from home.
Methodology for Calculating the NAR Work From Home Score
Recognizing that working-from-home will continue to increase over time, the National Association of REALTORS® conducted a study of the 3,142 counties that are best poised to provide a supportive environment for working remotely, mainly, working from home. NAR looked at nine factors related to internet connectivity, urbanization, office-related jobs, home affordability, and a county's population growth that are then combined into a Remote Work Score. These factors are4:
percent of households with a computer or laptop
percent of households with internet broadband access
percent of population with 3 or more providers
percent of workers who worked at home
percent of area that is urban
population growth from 2014 to 2019
percent of population working in information; finance and insurance; real estate, rental, and leasing; and professional, scientific, management, administrative and waste services,
median value of property to median household income
percent of housing units with a mortgage who spent 30% or more of income on housing costs
Top 1% Work From Home Counties
Among counties with at least 5,000 households as of 2019, the top 30 represent about 1% of all counties.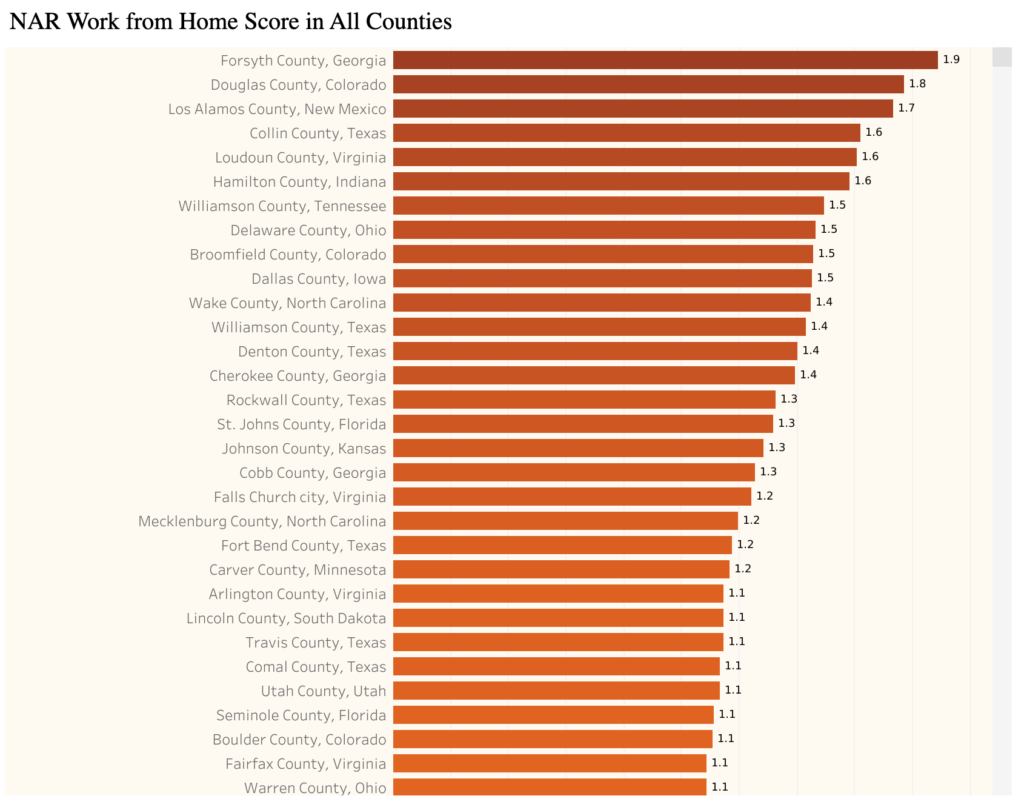 Ohio counties breakdown as follows.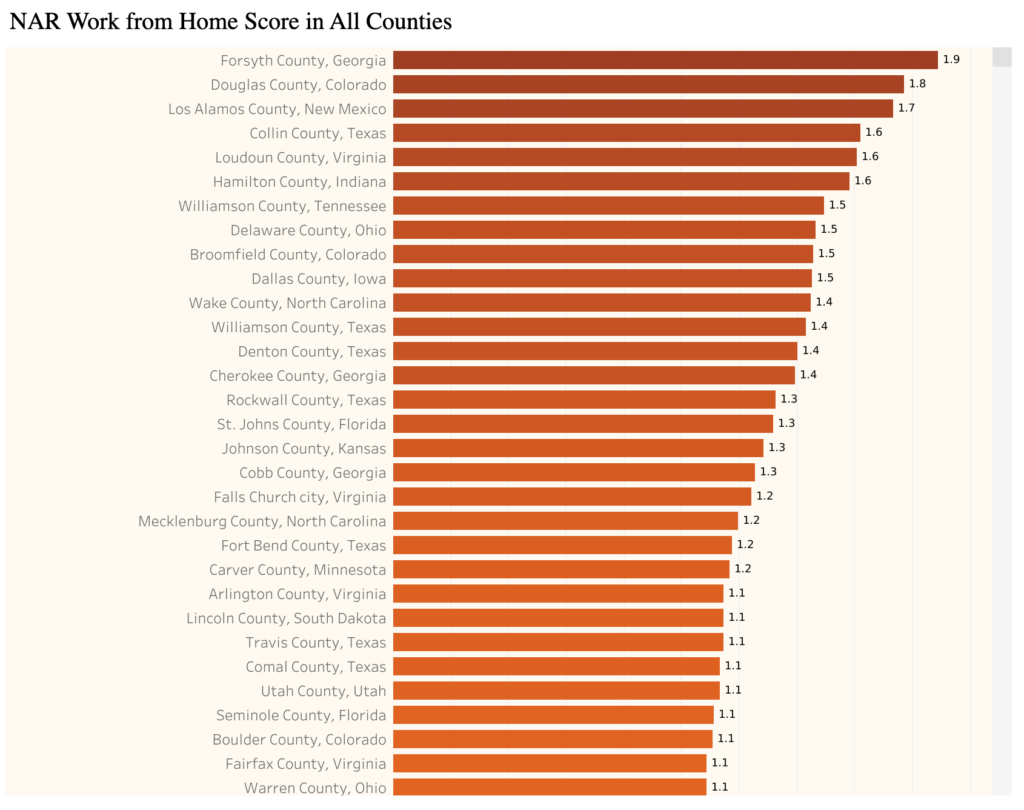 If you, or someone you know is considering Buying or Selling an Investment Property in Columbus, Ohio please give us a call and we'd be happy to assist you!
The Opland Group Specializes in Real Estate Sales, Luxury Home Sales, Short Sales in; Bexley 43209 Columbus 43201 43206 43214 43215 Delaware 43015 Downtown Dublin 43016 43017 Gahanna 43219 43230 Grandview Heights 43212 Galena 43021 Hilliard 43026 Lewis Center 43035 New Albany 43054 Pickerington 43147 Polaris Powell 43065 Upper Arlington 43220 43221 Westerville 43081 43082 Worthington 43235