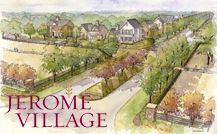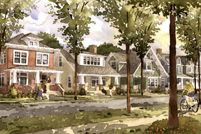 Welcome back to a time before homes were mass-produced like automobiles. Back to a time when the front porch was a point of social connection. Back to a time when architects and land planners cared about how a home meets the land on which it's built. Welcome home to Jerome Village.
The diverse architectural styles available at Jerome Village only begin to tell the story. Just as important is the way a classic red brick Colonial sits comfortably next to a cedar shingle Victorian. And how all the homes fit within the community.
Picture a genuine village atmosphere with many styles of homes at a wide range of values all naturally coexisting as if they've always been here.
Here, each home is part of a bigger picture.
Jerome Village will include the perfect blend of residential, commercial, retail, and recreational spaces, all anchored by a vibrant town center. This will be a traditional and inclusive community, with distinctive and diverse housing, schools, a community center, a collection of local shops, amphitheatre, swimming pool, and a retirement village (all within walking distance of each other). Click here to view an animation of the Jerome Village Town Center
This 1,450 acre+/- mixed-used community is located in a high-growth market just northwest of the city of Dublin. Upon its completion, it will include more than 835 acres of residential space, 233 acres of commercial property, 70 acres for new schools in the Dublin City School District, and 560 acres for parkland linked directly to the 1,000-acre Glacier Ridge Metro Park.
Fast Facts
•Around 2,200 single- and multi-family housing units priced from $275,000 to $1+ million
•300 acres of trails, parks, nature preserves and community centers
•1.5 million square feet of commercial office and retail space
•2013 BIA Parade of Homes Site

Naturally Inviting
Jerome Village will be a place where community and life follow a natural flow. The community will feature parks, tree-lined parkways, wetlands, ponds, ample green space and an extensive nature trail system that connects to the existing trails of Glacier Ridge Metro Park.
In fact, Glacier Ridge will set the tone for the many trails that will wind their way throughout the community. The result will be a place that makes it easy for residents to walk in a natural, beautiful setting from one destination to the next.
Imagine strolling with your family along beautifully tree-lined streets. On weekends or summer nights, you could relax while catching a concert at the amphitheater, plan a family picnic in the park, or enjoy a refreshing dip in the community pool.
Jerome Village, with its inclusive collection of housing options and natural ambience, will provide special appeal for families in all stages of life who are looking for an environment that celebrates nature and the role it plays in a happy, healthy life.

Phase 1 – Glacier Ridge
Glacier Park Neighborhood is the first phase of Jerome Village, and began development in 2010. It features a select mixture of builders, 500 single family residential lots, attached residential, schools and green space.
Call for showings on existing inventory homes or for more information about the available  lots and builders to choose from in Jerome Village please contact Jason Opland and Better Homes and Gardens Realty at 614.332.6984.
It is important to consider the value of a full time Real Estate Agent that has local knowledge of your search area when buying or selling a home. I would be happy to meet with you to explain all of the benefits. Remember, using me as your buyers agent costs you nothing but assures you that you secured the best purchase terms possible! (see Why Buyers Should Use a Realtor)
Click here for additional information on other Columbus and Central Ohio Neighborhoods and Communities.