April is traditionally the heart of real estate's spring selling season. Shop in the spring, move in the summer is often the strategy, especially for those with school-age children. Roughly 50 percent of home sales take place in the summer, with most buyers signing purchase agreements in late spring, this according to the National Association of Realtors.
The housing market hit a bit of a slump in the second half of 2018, raising concerns for some potential buyers that home values could experience another drop. Reminders of the major collapse in home prices during the Great Recession of 2007-2009 a not so distant memory. Although this is an understandable concern for anyone considering a major purchase, housing fundamentals are in much better shape than the market's late 2018 performance implies
Recent trends are unsustainable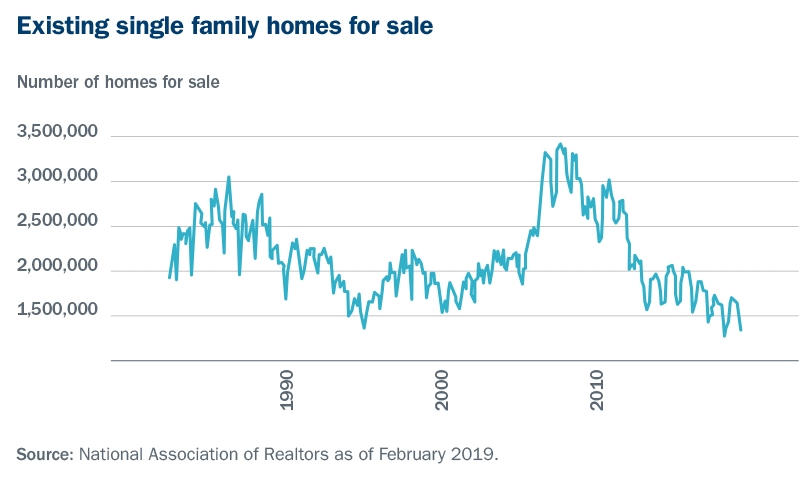 In the second half of 2018, housing market sentiment endured a confluence of negative developments: a jump in mortgage rates, plunging stock prices, two major hurricanes (Florence in September and Michael in October), limited availability of homes for sale, and growing talk of a pending recession (which has failed to present itself but has influenced the Fed to hold on additional interest rate increases and driven the stock market even higher… coincidence, or strategic manipulation? You decide.).
While these perceived threats have largely subsided, the housing market still faces a fundamental constraint in the form of too few homes available for purchase, specifically in the lower, starter home segment of the market. Nationally, the number of single-family homes on the market at the end of 2018 was the second lowest on record since 1982. The only year that ended with fewer homes available was 2017.1
According to the National Association of Realtors, overall single-family home sales were down 3.5 percent in 2018, but the median transaction price was up 4.9 percent to $257,267
Supply remains the primary constraint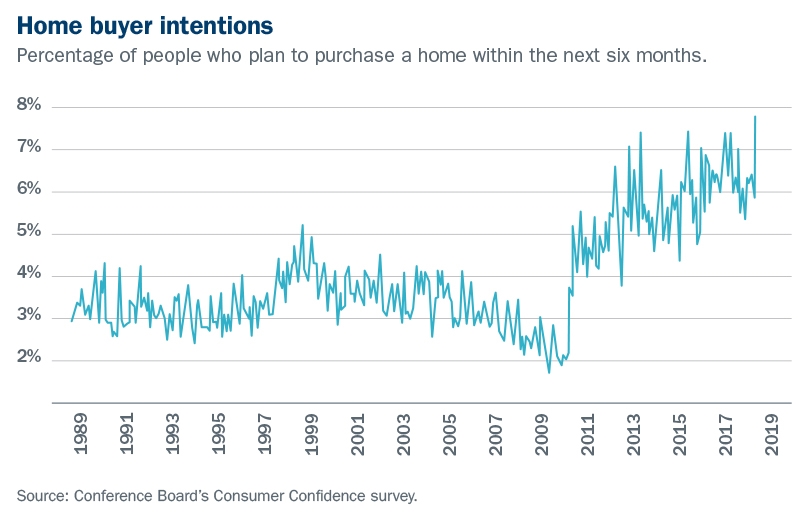 In Columbus, and across most of the nation, demand remains solidly supported by a strong job market and rising household incomes. At the end of January 2019, the Conference Board's Consumer Confidence survey showed the percentage of people planning to buy an existing home within the next six months jumped to a new 30-year high as mortgage rates moderated and the stock market recovered.
Overall, we believe existing home sales are likely to be flat in 2019, as potential transactions remain constrained by availability. Prices, however, should continue to see healthy gains. We project home price increases of 3 to 6 percent nationally this year, and 3 to 5 percent here in Columbus and Central Ohio.
New home sales, meanwhile, are likely to do a bit better — they were up 2 percent year-over-year in 2018 — but labor shortages and higher land, material and permit costs are likely to further limit inventory (supply) in this arena as well
Is housing still a good investment?
Real estate markets are always subject to local conditions, but housing fundamentals on a national scale are quite healthy, in our view. Locally,
Columbus and Central Ohio homes continues to be an excellent investment with the city ranking within the Top 10 in the country over the course of the past two years in Realtor.com's Hot Markets Ranking. Columbus was ranked second as the hottest housing market in the country for the month of July 2018.
Overall real estate investment offers a favorable alternative to the stock market and, in the current market, represents a lower risk, yielding solid returns and improved diversification. According to the real estate research firm Black Knight, the percentage of mortgages that were 30 days or more past due ended 2018 at its lowest level since the data was first tracked in 2000.
Affordability, though well off its recent highs, also remains attractive relative to historical norms. Homeowner equity as a percentage of a property's value has been rising rapidly (at the national level) in recent years, as owners have been much more conservative around cash-out refinancing and other borrowing options
Summary
For decades, investors have regarded homeownership as one of the soundest investments an average American could make. The housing bubble and subsequent crash altered that view somewhat, leaving many leery of housing's potential volatility. Indeed, in the years ahead, housing could face periodic pressure from rising interest rates however, the collapse of 2007 was the result of a confluence of factors which have all but been eliminated in an effort to avoid such an event from ever happening again. The factors include: subprime loans, low-doc loans, no money down mortgages, and the unregulated use of financial derivatives.
Overall, however, housing fundamentals appear well supported by sound financing and the fact that housing demand exceeds the available supply in many areas. Housing can and should serve as an important component of any long-term term financial plan.
Talk to your financial advisor about your current real estate exposure and whether it aligns with your long-term financial goals.
If you, or someone you know is considering Buying or Selling a Home in Columbus, Ohio please give us a call and we'd be happy to assist you!
The Opland Group Specializes in Real Estate Sales, Luxury Home Sales, Short Sales in; Bexley 43209 Columbus 43201 43206 43214 43215 Delaware 43015 Downtown Dublin 43016 43017 Gahanna 43219 43230 Grandview Heights 43212 Galena 43021 Hilliard 43026 Lewis Center 43035 New Albany 43054 Pickerington 43147 Polaris Powell 43065 Upper Arlington 43220 43221 Westerville 43081 43082 Worthington 43235