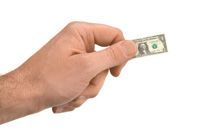 With rising prices and low inventory in markets across the country, including our own right here in Columbus OH,  home sellers are less inclined to consider offers that come in far below their asking price.
Buyers who do ask for deep discounts risk offending sellers to the point where they quash any chances of bringing a deal together and before making an aggressive offer, home buyers should sit down with their agent and do some homework. Would be buyers need to effectively explain why the price of a home should be lower and should work to justify their offer.
There is always an inherent danger in going too low as a low offer could insult the seller to the point that they'll refuse to counter with the seller assuming the buyer isn't serious about their home in particular and rather is simply interested in a home they can steal. As such there are guideline buyers will want to follow!
Here are three guidelines on how — and when — to make an aggressive bid:
1. Learn how motivated the seller is to make a deal.
Certain sellers are going to be more willing than others to negotiate a low offer — and there are several giveaways that might indicate more leeway on price.
For instance, if the sellers have already purchased another home and that sale has closed, they're likely to be more willing to make a deal.
If the property has been on the market for a period far extending the average for the area and price point, sellers will be typically be more inclined to entertain lower offers.
Your Realtor will want to talk to the seller's agent to get as many details as possible about how motivated the seller is.
Overall local market conditions also play a significant role as do the seller's individual circumstances, if the seller needs to move because of a job relocation and needs to sell their current home before purchasing a new home in their destination city, they are might be more likely to consider lower offers.
2. Make your case with hard facts.
When putting together an aggressive offer your Realtor shouldn't just hand the seller a purchase agreement with the price you are willing to pay — they should create a cover letter explaining exactly where that number came from, backing it up with nearby comparable sales.
In addition to citing comparable sales in making the offer, it could also help to include details regarding the amount of inventory in the immediate surrounding area, as well as any repairs or improvements which the home requires.
You, the buyer may even personally write a letter to the sellers to make your point, and in an effort to stand out from the crowd and any competing bidders. That way, you can detail what you (and/or your family) like about the house but also express your concerns as well.
3. Prepare for the possibility of rejection or negotiation.
Ultimately, a real-estate agent working on behalf of a buyer needs to sit down with the buyer and determine what the home is actually worth, at which time the buyer should determine what the home is worth to them.
Buyers wishing to make very low offers should be aware that the seller might refuse to negotiate. On a "super aggressive offer" I often tell my clients "there's a one in one hundred chance there will be a positive response."
Still, there's that potential for a seller to make a counter offer, especially if there haven't been many other bids.
On the other side of that coin, I personally often advise my sellers not to think of a low offer as an insult but as "a sign of interest." The offer begins the dialogue regarding the purchase of your house.
Not all hope is lost even if a seller doesn't bite immediately. Sometimes after time elapses, the seller comes around and decides to negotiate. New information — such as the sale of a comparable home at a lower price — can also nudge a seller to give an aggressive offer a second look and open the negotiation process.
If you, or someone you know is considering Buying or Selling a Home in Columbus, Ohio please  give us a call and we'd be happy to assist you!
The Opland Group Specializes in Real Estate Sales, Luxury Home Sales, Short Sales in; Bexley 43209 Columbus 43201 43206 43214 43215 Delaware 43015 Dublin 43016 43017 Gahanna 43219 43230 Grandview Heights 43212 Hilliard 43026 Lewis Center 43035 New Albany 43054 Pickerington Powell 43065 Upper Arlington 43220 43221 Westerville 43081 43082 Worthington 43235