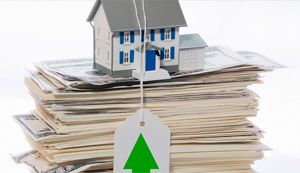 Learn how much your home can appreciate in value if you do regular maintenance — and what the risks are if you don't.
Proactive maintenance is essential to preserving the value of your home—without it, your home could lose 10% or more of its value in short time. Regular, routine maintenance enhances curb appeal, ensures safety, and prevents neglected upkeep from turning into more costly and substantial repairs.
It's the little things that tend to trip up people. Some cracked caulk around the windows, or maybe a furnace filter that hasn't been changed in awhile. It may not seem like much, but behind that caulk, water could get into your sheathing, causing mold and rot. Before you know it, you're looking at a $5,000 repair that could have been prevented by a $4 tube of caulk and a half hour of your time.
Maintenance affects property value Outright damage to your home is just one of the consequences of neglected maintenance. Without regular upkeep, overall property value is affected.
If a house is in worn condition and shows signs of deferred maintenance and a general lack of preventative maintenance, the property could easily lose 10% or more of its appraised value.
When it comes time to sell, a house with chipped, fading paint, sagging gutters, and worn carpeting faces will have a difficult time competing with homes that has been maintained and properly prepared for market. The home's poor appearance is bound to turn off prospective buyers and depress the selling price.
Prolonging economic age To a professional appraiser, diligent maintenance doesn't translate into higher property valuations the way that improvements, upgrades, and appreciation all increase a home's worth. But good maintenance does affect an appraiser's estimate of a property's economic age—the number of years that a house is expected to survive.
Economic age is a key factor in helping appraisers determine depreciation—the rate at which a house is losing value. A well-maintained house with a long, healthy economic age depreciates at a much slower rate than a poorly maintained house, helping to preserve value.
Estimating the value of maintenance Maintenance is not just about preventing little problems from becoming larger. A study by researchers at the University of Connecticut and Syracuse University suggests that maintenance actually increases the value of a house by about 1% each year, meaning that getting off the couch and heading outside with a caulking gun is more than simply a chore—it actually makes money.
That said, the 1% gain in valuation is typically offset by the ongoing cost of maintenance. Maintenance costs money, so it's probably best to say that the net effect of regular maintenance is to slow the rate of depreciation.
How much does maintenance cost? How much money is required for annual maintenance varies. Some years, routine tasks, such as cleaning gutters and changing furnace filters, are all that's needed, and your total expenditures may be a few hundred dollars. Other years may include major replacements, such as a new roof, at a cost of $10,000 or more. Click here to learn about the Life Expectancy of Common Household Items.
Over time, annual maintenance costs average more than $3,300, according to data from the U.S. Census. Various lending institutions, agree, placing maintenance costs at 1% to 3% of initial house price. That means owners of a $200,000 house should plan to budget $2,000 to $6,000 per year for ongoing upkeep and replacements.
Proactive maintenance strategies Knowing these average costs can help homeowners be prepared. It's called reserve for replacements and real estate investors use it to make sure they have enough cash on hand for replacing systems and materials.
We recommend a similar strategy for homeowners, setting aside a cash reserve that's used strictly for home repair and maintenance. This way, routine upkeep is a snap and any significant replacements won't blindside the family budget. Other strategies include:
Play offense, not defense. Proactive maintenance is key to preventing small problems from becoming big issues. Take the initiative with regular inspections. Create and faithfully follow a maintenance schedule. If you're unsure of what needs to be done, a $200 to $300 visit from a professional inspector can be invaluable in pointing out quick fixes and potential problems however and honest contractor should be able to perform the same inspection at no cost.
Plan a room-per-year redo. Pick a different room every other year and go through it, fixing and improving as you go. This helps keep maintenance fun and interesting and is likely to enhance your enjoyment of the home.
Keep track. Having a Home Binder notebook of all your maintenance and upgrades, along with receipts, is a powerful tool when it comes to sell your home. It gets rid of any doubts for the buyer, and it says you are a meticulous, caring homeowner. A maintenance record also proves repairs and replacements for systems, such as wiring and plumbing, which might not be readily apparent.
If you, or someone you know is considering Buying or Selling a Home in Columbus, Ohio please  give us a call and we'd be happy to assist you!
The Opland Group Specializes in Real Estate Sales, Luxury Home Sales, Short Sales in; Bexley 43209 Columbus 43201 43206 43214 43215 Delaware 43015 Dublin 43016 43017 Gahanna 43219 43230 Grandview Heights 43212 Hilliard 43026 Lewis Center 43035 New Albany 43054 Pickerington Powell 43065 Upper Arlington 43220 43221 Westerville 43081 43082 Worthington 43235