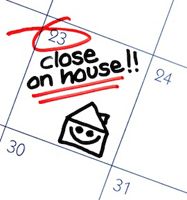 How long does it take to close on a home purchase? If you are a cash buyer theoretically you can close as soon as you like. If you intend to finance your purchase with a mortgage the process can take a bit longer.
Average Purchase Closing Time : 30 Days
Nationwide, as demand and competition for homes for sale has grown, so has buyer demand for "quick closings". Requests for quick closings have climbed as the home buying landscape has become more competitive. Buyers will offer to "close quickly" to enhance the appeal of their purchase offer making it more compelling and so it stands-out among the competition.
Offering to close within 30 days is one way in which buyers attempt to "sweeten the deal".
Loan volumes play a major role in approval timelines and as loan volumes decrease, lenders are able to turn purchase approvals more quickly to the benefit of today's home buyers. Loan volume is highly seasonal and volumes tend to increase in the spring and summer months.
As loan volume rises, then, your ability to do a quick close will wane. Therefore, if you're going under contract and want to maximize your closing speed, follow these helpful behaviors. Your loan can be approved more quickly.
How To Get Your Purchase Approved More Quickly
For buyers wanting to close quickly, some of the loan factors will be beyond your control. For example, you cannot control how fast the inspection or the appraisal is performed because the inspector and appraisers schedule is outside of your control and both require the cooperation of the seller.
However, there are steps you can take to make sure your loan gets approved as fast as humanly possible. Step one is to be prepared.
1. Know Your Paperwork Requirements
It's no secret. Buying a home requires a lot of paperwork. When you're buying a home, you'll want to be prepared with the most commonly-required verification documents. This can include W-2 statements and federal tax returns from the last 2 years; your two most recent paystubs; and your last two bank statements. You should also have a copy of your drivers license handy, as well as the social security numbers of everyone whose name will be listed on the mortgage.
Furthermore, if you know you have a unique credit situation such as a recent short sale or foreclosure; child support or alimony payments; or if you'll be receiving gift funds from a relative, have the relevant, related documentation ready.
This "paperwork gathering" step can be one of the most time-consuming steps in the mortgage approval process. You know you're going to need the documents. Consider scanning them and having them ready in advance. This can simple step can help you reach your closing more quickly.
2. Don't Keep Secrets From Your Lender
Be honest and open with your lender — even if you worry that what you share may harm your approval. There are two reasons for this.
The first reason to share is that withholding information from your mortgage application can constitute loan fraud, which is a far worse outcome than not getting approved. The second reason is that your mortgage lender will often uncover what you're electing not to share anyway.
As part of the mortgage approval process, a credit check is performed and various "occupancy tests" are conducted by an underwriter. Employers are contacted to verify job status and public records are sometimes checked as part of the approval process.
With so many mortgage programs available for today's home buyers — from large-downpayment to low-downpayment to no downpayment at all — the more information you share with your lender, the more equipped s/he will be to help you close quickly.
3. Use Pre-Approvals To Speed Closing Time
For a buyer, mortgage pre-approvals are among the most under-used tools to speed a purchase closing. Home buyers with pre-approvals in-hand at the time of offer can typically reduce closing times by one week or more.
During the pre-approval process, your lender will take a complete loan application which includes performing an income and asset verification, and s/he will account for specific loan traits which may affect your final approval such as your personal credit scores, and any required child support payments, as examples.
In fact, when a pre-approval is issued, the only missing item is often the physical property address of the home being purchase. To compensate, lenders use dummy information based on probable loan data including a sample purchase price, a sample real estate tax bill, and a sample homeowners insurance policy and/or homeowners association assessment, where applicable.
With their loan "pre-approved", buyers can move immediately from the 'Writing The Contract Phase' to the 'Underwriting The Loan Phase'. This can save 7 days or more days from the mortgage approval process.
Home Buyers : Get Pre-Approved Right Now
For many lenders it can be tough to close on a home in 30 days or fewer. You can assist your lender by being prepared. The first step is to get mortgage pre-approved.
Determine how much home you'll qualify for, and what your lender will require in order to deliver a loan approval once you find your next home. Get started online by requesting a no cost, no obligation mortgage quote from one of our preferred mortgage lenders!
Arranging Financing to Buy a Home
Determining Your Housing Budget – How Much Can I Afford
Determining Your Down Payment on a Home
Mortgage and Payment Calculators
How to Get the Best Mortgage Interest Rate
If you, or someone you know is considering Buying or Selling a Home in Columbus, Ohio please contact The Opland Group. We offer professional real estate advice and look forward to helping you achieve your real estate goals!
The Opland Group Specializes in Real Estate Sales, Luxury Home Sales, Short Sales in; Bexley Columbus Delaware Downtown Dublin Gahanna Grandview Heights Granville Grove City Groveport Hilliard Lewis Center New Albany Pickerington Polaris Powell Upper Arlington Westerville Worthington