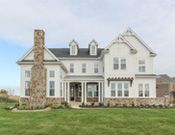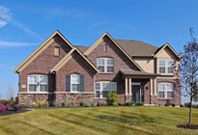 Heritage Preserve is the newest and finest community in Hilliard, conveniently located near Downtown Hilliard and Heritage Golf Club. Live with nature in this park-like setting at the highest end of Hilliard. Celebrate living at one with nature at Heritage Preserve! This nature-focused community with a unique park-like setting features walking trails and bike paths that connect to Heritage Trail, Observation Tower that overlooks the community, creative play area, covered pavilion and conservation areas including ponds and wetlands. The neighborhood is perfect for just about anyone, from active young professionals, empty nesters, to small and large families.
The neighborhood truly offers it all from the perfect location just outside of the 270 loop, a highly rated school system, and an active tight knit community that will make you feel welcome!
Community residents showcase their pride of ownership through the upkeep of their properties which has further enhanced the desirability of the community contributing to increased demand and in turn elevated rates of appreciation.
Heritage Preserve on Alton Darby Creek Road in Hilliard, designed to hold 405 homes. There is also an apartment site zoned for 282 units located at the Southwest portion of the site and will cater to young professionals. At 419 acres, the community is the largest subdivision to open in central Ohio in recent years and, more important for its developer and builder, Fischer Homes, the first central Ohio subdivision that it has built from scratch.
Buyers can expect to find a wide array of styles, designs and floor plans. Fischer offers 27 home plans in three product lines at Heritage and expects to eventually add patio homes. All plans come in different facades that reflect traditional architectural styles. Fischer worked with outside architects to fine-tune exterior architectural details, adding, for example, a metal roof onto the porch in the facade called Vintage Victorian. Other unusual touches in many of the homes are master suite closets off the bathroom instead of the bedroom, allowing occupants to get ready for the day without disturbing a partner; and a sun-filled "hearth room" off the kitchen that can be used as a seating area or for casual dining. Truberry Homes also owns lots in this subdivision and offers six floor plans buyers can choose from.
Heritage Preserve offers options for Hilliard move-up buyers who want a bigger and newer homes offering the latest in design, technology and building materials. Homes in the community range in size from 1,683 to 6,752 with prices ranging from $260,000 to $800,000.
Heritage Preserve is the first residential development in Hilliard's portion of the Big Darby Creek watershed are. Heritage Preserve's residential density is 1.64 units per acre, 2,000 utility taps are available within the 2,200 acres, yielding a density just less than the one unit per acre recommended in the Big Darby Accord watershed master plan.
Search for Hilliard – Heritage Preserve Homes for Sale
Hampton Oaks Homeowners Association
Just south of us off of Fishinger Road is Griggs Reservoir Park, offering many activities for those who prefer the terra firma. From picnic areas to walking and riding trails, the park offers many family-friendly recreational activities to enjoy.
This Hilliard, Ohio community resides in Franklin county, and is part of the Hilliard City School District. The Hampton Oaks feeds into Alton Darby Elementary, Hilliard Station, as well as Hilliard Memorial Middle School, and Hilliard Bradley High School! Click here for information and ratings on Hilliard Schools. From preschool and elementary education to middle school, high school and vocational/technical school, you get the benefits of being the 9th largest school district in the state of Ohio. The school buses offer convenient pickup locations throughout our subdivision as well.
Only a short distance from the Port Columbus International Airport, downtown Hilliard, downtown Dublin, I-270 and I-71, everything you need is just around the corner. You'll never run out of things to do while living in this community with nearby attractions including those mentioned above as well as local shopping and dining, Tuttle Mall, Polaris Fashion Place, Easton Town Center, Columbus Zoo and Aquarium, Zoombezi Bay, Near by hospitals include Dublin Methodist Hospital and Doctors Hospital.
New development in the surrounding area has and will continue to keep Hertiage Preserve in demand, allowing residents to enjoy many new retail stores, restaurants and medical facilities.
Contact us today for help with your new home search in Hilliard.
County:

Franklin

School District:

Hilliard

Price Range:

$260,000 – $800,000

Square Feet:

1,683 – 6,752

Home Types:

Single Family
Call for information on homes for sale in this community and showings!
It is important to consider the value of a full time Real Estate Agent that has local knowledge of your search area when buying or selling a home. I would be happy to meet with you to explain all of the benefits. Remember, using me as your buyers agent costs you nothing but assures you that you secured the best purchase terms possible! (see Why Buyers Should Use a Realtor)
Click here for additional information on other Columbus and Central Ohio Neighborhoods and Communities
Homes For Sale in Hilliard OH List Your Hilliard Home For Sale
If you're already a resident of this Hilliard community and considering listing your Heritage Preserve home, contact me as well for expert home-selling advice!
River Landings includes homes on: Audubon Ave, Blue Heron Dr, Buttonbush Ct, Goldenrod St, Marshview Dr, Woodland Dr, Switch Grass Ct