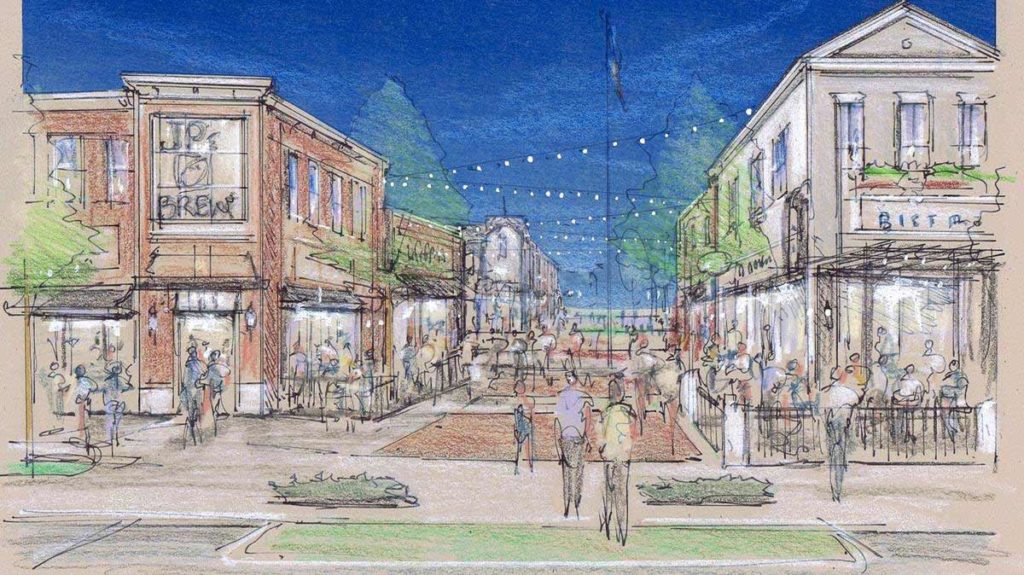 If you love the architecture and charm of gentler time – if you like the idea of a village-like setting where sidewalks connect you to shops and dining and paths and playgrounds – then Evans Farm is for you.
This is a community designed to bring people together, to get out and walk, to connect with their neighbors. A community carefully planned to offer a sort of 'new urbanism' appeal to buyers looking to put down roots in a place where they can make memories. When you live at Evans Farm, you can expect to see farmer's markets, community barbecues, street festivals, wine tastings and other community-centered events.
The Evans family's desire was to create a unique community that reflects their commitment to the land and agricultural values and ethics associated with sustainability and conservation of sensitive areas, while fully using the land capable of sustaining proposed uses.
The family envisioned a community that was different… their vision for their 1,250 acre property includes both residential and commercial development and is founded and solidly based on New Urbanism principles: walkability, interconnected street and walk network, mixed housing styles, quality architecture and urban design, a traditional neighborhood structure, promote green transportation, encourage sustainability, and focus on quality of life…This is Evans Farm.
New Urbanism offers what many Central Ohio Communities lack, but that which today's buyer deeply desire. Its community living based off front porches, social town centers, and open recreation. You can live, work and play all in the same neighborhood. It takes on functional design- sweeping streetscapes with no breaks in the curb due to rear alley loaded garages, sidewalks leading to amenities no further than a quarter of a mile away and mindfully constructed homes that take inspiration from classic architectural styles. It represents a stark departure from what we've all become accustomed to, oversized homes with rooms that sit bare, on at least 100 feet of lot frontage (which you can still get in Evans Farm is this is what you desire) and so much privacy that you often don't know your neighbors. Evans Farm brings back a sense of community.
The development is expected to include 2,200 houses, hundreds of apartments, two commercial districts including a "downtown," an elementary school, a small farm, a retirement community, fire and police substations, parks and a trout stream, all in small-town layout.
The homes will offer a rich diversity of styles – bungelow, craftsman, Cape Cod and Victorian to name just a few. Porches, and spindles, and gables will make a glorious comeback –beautiful architectural details that have been out of the new-build picture for awhile.Evans Farm will feature traditional-style homes on small lots with front porches. Garages will sit behind the homes, in some cases accessed by alleys. Sidewalks will line the streets.
In scale, Evans Farm rivals only a few central Ohio developments, including Muirfield, New Albany, Jerome Village and Northstar.
Unlike those developments, which began with housing or golf courses, Evans Farm will start with houses and a commercial district. The commercial district will serve as a town center for Orange Township the the surrounding areas.
The first phase of the project, on the north side of Lewis Center Road east of Route 23. This phase will include 144 homes and Evans Farm's downtown. The developers say they would like to avoid cookie-cutter homes and to this end they have decided only custom home builders will work in the development, and they will not allow these builders to buy blocks of adjoining lots as they would in conventional developments.
Lots will range from $55,000 to $200,000. Buyers then can choose from among 12 to 15 approved builders. Expectation are final home prices will start in the low $300,000s. The smallest lots will be 40 feet wide, comparable to some traditional neighborhoods such as Clintonville but about half the size of lots found in many new subdivisions. In addition, most homes will sit 10 feet from the sidewalk instead of the 30 feet or so common in new communities. Homes can also be built as close as 6 feet from the lot's edge, compared with the more conventional 25 feet.
Initial tenants interested in the downtown portion of the project include the YMCA and several restaurants. Most of the commercial buildings will be two or three stories with apartments above the businesses. It is estimated that the project will take 10 years to complete.
Recreation
So much to see and do… it's all right here. Forget the car … neighborhood sidewalks can take you to parks, playgrounds, sports fields, even a beautiful new YMCA. The crown jewel of Evans Farm will be a fabulous Town Center with shops, restaurants, nightlife and so much more to experience … all within walking distance, all right here at Evans Farm.
At Evans Farm, you'll spend less time looking for a place to park and more time at the park, because parks, lakes, sports fields, a new YMCA, and more are all a short walk or bike ride away.
The community is located in southern Delaware County, just minutes from what makes the area one of the best places to live in the state: Polaris, Alum Creek State Park, Highbanks Metro Park, golf courses, country clubs, and more, as well as convenient access to I-270, SR 315, and I-71.
Shops, Restaurants & Entertainment
Imagine a community where you can walk for coffee before work. Where you can bike with your kids to get ice cream after school. Where you can catch a show at the amphitheater or catch up with friends over dinner. And with retail and office space available, a community where your commute could be a walk in the park, literally.
You can do all of that and more at Evans Farm, where shops, restaurants, entertainment, businesses and more are just steps from your front door.
Living Environment
• Front porch living
• Walkable community
• Architectural design guidelines
• Village Center servicing residents of Orange Township
• Farmers market
• Safe living environment
Recreation / Health
• Health & Wellness facilities
• Swimming, baseball, soccer, hockey
• Parks and recreational areas (35% greenspace)
• Fishing lakes and trails
• Picnic/grill areas
• Group activities
• Connecting to Alum Creek beach and marina
Educational
• Olentangy pre-school and elementary school location
• Creating over $2 million yearly for township at build out
• Scholarship programs
• Additional educational class space
• Walking trails connecting schools
• Agricultural Center
• Gathering places
Who are the Evans Farm Builders?
As a property owner in Evans Farm, once you have selected your lot, you will then need to select your custom home builder of choice. Each builder will have custom designs and layouts as well as different price levels.
Evans Farm Frequently Asked Questions
Partner with THE Lewis Center Real Estate Experts
No other real estate team knows Lewis Center and Evans Farm like Jason Opland and The Opland Group. Whether you're considering buying a home or selling a home in Evans Farm community, we can assist with every detail of your transaction. Call us at 614.332.6984 and let's talk about your real estate goals.
Searching for a Home in Evans Farm?
View All Homes For Sale in Evans Farm     View Available Lots For Sale in Evans Farm     Contact Us For a Showing