Since the epic housing boom and bust of the last decade, nearly 8 million borrowers have lost their homes to foreclosure. Now, with credit repaired, many of them want to try homeownership again. The numbers are small to start, but so-called boomerang buyers could become a significant driver of new housing demand over the next few years.
In 2015, the first wave of 7.3 million homeowners who lost their homes to foreclosure or short sale during the foreclosure crisis are now past the seven-year window they conservatively need to repair their credit and qualify to buy a home. More waves of these so called boomerang buyers will be moving past this window over the next eight years corresponding to the eight years of above historically normal foreclosure activity from 2007 to 2014, according to a recent RealtyTrac report.
About 700,000 boomerang buyers will be eligible for credit again this year, and up to 2.2 million over the next five years, this according to TransUnion. TransUnion defines these buyers as having been 60-plus days delinquent on a mortgage loan, having lost a mortgage through foreclosure, short sale or other nonsatisfactory closure, or having a mortgage loan modification.
The wait times for qualifying for a loan can vary depending on the former home owners' circumstances. Typically, the wait times following a short sale or foreclosure are as follows:
Seven-year wait for home owners with a previous foreclosure before they can qualify for a new mortgage through mortgage giants Fannie Mae and Freddie Mac. If the foreclosure was  included in a bankruptcy, the borrower has to wait only four years.
Two-year wait for home owners who underwent a short sale before they're eligible for another Freddie Mac and Fannie Mae loan.
Three-year wait for home owners seeking a Federal Housing Administration loan after a foreclosure or short sale. Some home owners who underwent a foreclosure because of at least a 20 percent cut in their pay may be able to qualify for a new mortgage after just a year through FHA's Back to Work program.
Some of these boomerang buyers re-entering the housing market may find they have to make down payments of at least 20 percent to qualify for a loan, but others are finding opportunities to put down as little as 3.5 to 5 percent.
Over the 12-month period from July of 2013 to June of 2014, 8% of home buyers were previously distressed sellers, an increase from 6% over the previous 12 months.
While millennials have gotten a lot of attention lately as the generation whose below-normal homeownership rates are changing the landscape of the U.S. real estate market, the boomerang buyers — who are primarily Generation Xers or Baby Boomers — represent a massive wave of potential pent-up demand that could shape the housing market in the short term even more dramatically.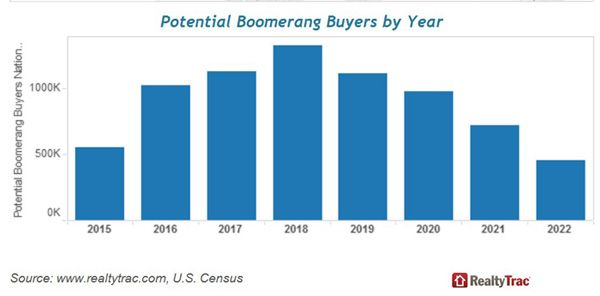 Markets with the most potential boomerang buyers over the next eight years among metropolitan statistical areas with a population of at least 250,000 were not surprisingly in some of the nation's largest markets that were also hardest hit by the housing crisis. These are primarily in the Sun Belt and Rust Belt which includes Ohio.
Markets most likely to see the boomerang buyers materialize are those where a high percentage of housing units were lost to foreclosure, where current home prices are still affordable for median income earners, and where the population of Gen Xers and Baby Boomers — the two generations most likely to be boomerang buyers — have held steady or increased during the Great Recession.
There were 21 metros among those with at least 250,000 people where this trifecta of market conditions is in place, making these metros the most likely nationwide to see a large number of boomerang buyers materialize in 2015 and beyond. For all the markets on this list potential boomerang buyers represent at least 5 percent of all housing units, house payments on a median priced home require 28 percent or less of the median household income, and the population of Gen Xers and Baby Boomers combined has stayed steady or increased between 2007 and 2013.
If you, or someone you know is considering Buying or Selling a Home in Columbus, Ohio please  give us a call and we'd be happy to assist you!
The Opland Group Specializes in Real Estate Sales, Luxury Home Sales, Short Sales in; Bexley 43209 Columbus 43201 43206 43214 43215 Delaware 43015 Dublin 43016 43017 Gahanna 43219 43230 Grandview Heights 43212 Hilliard 43026 Lewis Center 43035 New Albany 43054 Pickerington Powell 43065 Upper Arlington 43220 43221 Westerville 43081 43082 Worthington 43235