2021 HOME SALES HAVE ALREADY PASSED 2020
There have been 33,548 homes and condominiums sold in central Ohio this year (January through November). Not only is this 9.3% higher than the same period last year, but it surpasses the total number of homes sold (33,431) in 2020 (33,431).
Sales last month were 8.7% higher than last year and set a record for the number of home sales during the month of November.
Housing Activity Remains Strong
Even with the seasonality of real estate in central Ohio, we're still seeing strong buyer activity. This comes as no surprise as economists are forecasting mortgage interest rate increases for 2022, which is motivating buyers to lock in today's mortgage interest rates and home prices before these rise further.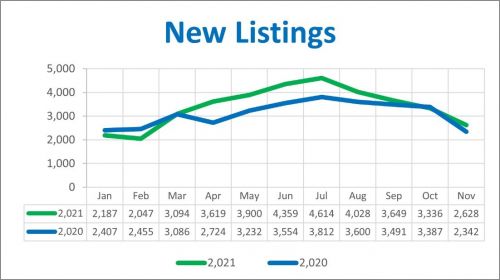 November saw 2,628 new listings added to the market, the highest number of new listings since November 2007. Year to date (January through November), new listings total 38,033.
The last time we had this many new listings was in 2010 when there were 17,471 homes for sale and sales were less than half of what they are today. At this point in the market cycle, homeowners are seeking to take advantage of these prices and it no longer that we're seeing fewer homes being listed, rather we're seeing an exponential increase in the number of buyers in the marketplace and as a result demand continues to outpace supply.
This elevated demand left inventory at just 2,619 and the months supply at 0.9 (this means if no more homes were added to the market, buyers would deplete the current stock in less than a month).
Average Sales Price Continues to Rise
The median sale price increased 11.4% to $261,835 in November, and the average price of $295,723 marked a 9.8% increase from last year.
Roughly one in five homes (19.3 percent) were cash transactions in November. Of those buyers that financed their home purchase, just over half (53.1 percent) used conventional financing, 9.4 percent used FHA financing and 4.6 percent secured a VA loan.
Buyers Continue to Pay Above Ask
Once again the average sales price exceeded the last list price. On average homes sold 1.3% above their asking price in November. In this market, many buyers continue to pay $10,000 or more above list price, with appraisal gap coverage to secure a property.
Appraisals often fall short of the higher contract price. With appraisal gap coverage, buyers agree to bring cash to closing to cover some portion of the difference between the appraised value and the contract price.
Homes Continue to Sell Quickly
It took an average of 17 days to sell a Central Ohio home in November.
Homes under $500,000 sold in an average of 16 days. Homes in the $500,000 to $700,000 price range sold in an average of 20 days, and homes over $700,000 were on the market for an average of 39 days.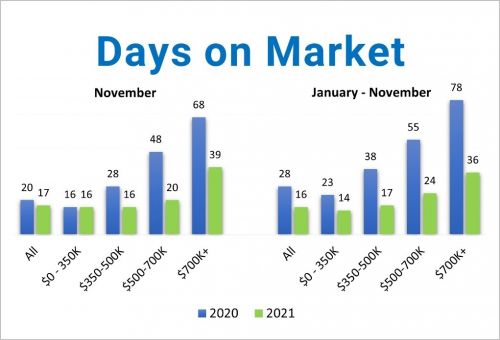 November 2021 Housing Stats
Here are the numbers (compared to the same month a year ago):
Closed Transactions – 3,018 – DOWN 11.1%
Pending Contracts – 3,099 – DOWN 16.5%
Inventory for Sale – 2,619 – DOWN 17.7%
New Listings – 2,628 – DOWN 10.9%
Days on Market – 17 – UP 11.76%
Average Sales Price – $295,723 – DOWN .009%
Bottom Line
If you're interested in selling your Central Ohio home we'd encourage you to give us a call so we can show you the market conditions in your neighborhood and help you to get the most exposure and the most money for your home!
If you, or someone you know is considering Buying or Selling a Home in Columbus, Ohio please give us a call and we'd be happy to assist you!
The Opland Group Specializes in Real Estate Sales, Luxury Home Sales, Short Sales in; Bexley 43209 Columbus 43201 43206 43214 43215 Delaware 43015 Downtown Dublin 43016 43017 Gahanna 43219 43230 Grandview Heights 43212 Galena 43021 Hilliard 43026 Lewis Center 43035 New Albany 43054 Pickerington 43147 Polaris Powell 43065 Upper Arlington 43220 43221 Westerville 43081 43082 Worthington 43235
For more information about the Central Ohio housing market, visit https://blog.jasonopland.com/category/market-reports/.