Columbus area housing in demand – now and in the future
Columbus has retained a spot as one of top ten hottest real estate markets in America since March 2018, based on rising demand and how long it takes to sell a home.
In 11 of those 20 months, Columbus ranked in the top five, rising to #1 in March of this year.
In addition, Columbus just made the top ten list of markets expected to outperform in the next 3-5 years based on domestic migration, housing affordability, job growth, population age structure, attractiveness for retirees and home price appreciation, among other variables.
Living in central Ohio has become incredibly attractive due to a host of factors, including job availability, a diversity of housing options, great affordability, and exciting entertainment and dining options.
Based on these factors and our healthy economy, a buying a home in Columbus and Central Ohio is and will continue to be one of the best investments you can have.
The median sale price of a home sold in central Ohio this year is up to $210,000 which is 7.7% higher than 2018. The average sale price is $241,810, up 6.0% over last year.
Homes sold in November were up 3.1% to 2,465 putting Columbus just slightly ahead of last year for the first 11 months of the year.
There were 2,163 homes listed for sale last month which is 2.0% lower than November of 2018 and a significant drop (34.2%) from the previous month.
This brought the total inventory of homes for sale last month to just over 4,700.
Even in these winter months and activity of the holidays, we have a diverse inventory base in Central Ohio which offers consumers a good selection of homes in all price ranges.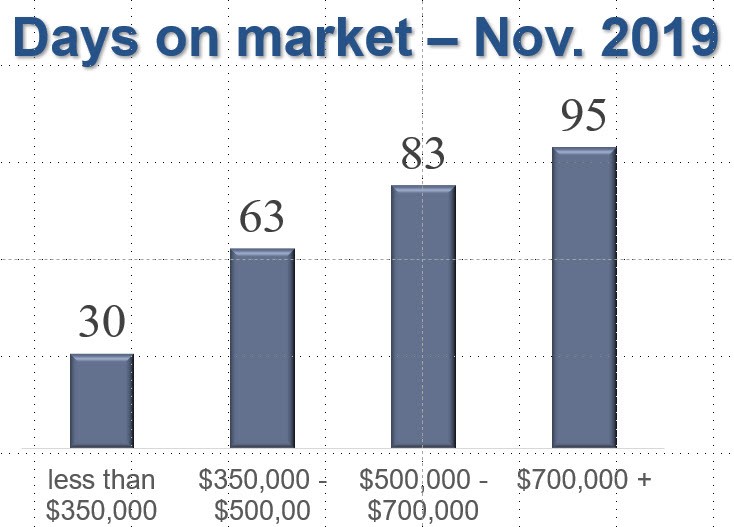 During the month of November, homes under $350,000 sold in an average of 30 days. Homes sold between $350,000 and $500,000 took about 63 days to sell. Homes in the $500,000 to $700,000 price range sold in an average of 83 days and homes over $700,000 were on the market for an average of 95 days. Inventory levels in the lower tiers of the market remain incredibly low which is contributing to short market stays and rising prices. Builders continue to build in the upper tiers of the market, but overall continue to avoid the entry to starter end of the market due to increased land, labor, material and permit costs which make it very difficult to earn a profit in these lower price tiers.
In additional market developments nearly a decade of NAR efforts culminated in a Department of Housing and Urban Development announcement unveiling new Federal Housing Administration condominium loan policies. NAR is hopeful the changes will yield thousands of new homeownership opportunities and help increase access to credit, as condominiums are often the most affordable option for first-time homebuyers, small families and those in urban areas.
On the heels of the 75th anniversary celebration of the GI Bill, the Blue Water Navy Vietnam Veterans Act was signed into law in late June, increasing well-deserved resources for America's veterans. This legislation eliminates the cap on home loans issued by the Department of Veterans Affairs and helps ensure our nation's veterans have greater access to the American Dream of homeownership.
Finally, early this year, NAR unveiled a comprehensive vision for Government Sponsored Enterprise (GSE) reform—a private, shareholder-owned utility model. NAR's proposal—unveiled at the group's annual Policy Forum in February—prioritizes and protects a liquid mortgage market for Middle America and underserved borrowers alike.
While NAR eyes GSE reforms that ensure responsible, creditworthy Americans can secure a mortgage in all types of markets, its work with Congress and the administration will continue until consensus on reforms that protect taxpayers, support homeownership and maximize competition is found. NAR believes the utility model it proposed earlier this year outlines the best possible path forward for the GSEs, and 2020 advocacy efforts will be shaped by its collaboration with policymakers to secure these positive, pragmatic system reforms.
Current housing report – November 2019
All housing reports
If you, or someone you know is considering Buying or Selling an Investment Property in Columbus, Ohio please give us a call and we'd be happy to assist you!
The Opland Group Specializes in Real Estate Sales, Luxury Home Sales, Short Sales in; Bexley 43209 Columbus 43201 43206 43214 43215 Delaware 43015 Downtown Dublin 43016 43017 Gahanna 43219 43230 Grandview Heights 43212 Galena 43021 Hilliard 43026 Lewis Center 43035 New Albany 43054 Pickerington 43147 Polaris Powell 43065 Upper Arlington 43220 43221 Westerville 43081 43082 Worthington 43235