Record sales at record prices in record time!
A healthy influx of new listings in June has resulted in the highest number of homes sold on record during any month ever in Central Ohio. There were 3,644 homes closed in June, which was 15.6 percent higher than last year, and 21.3 percent higher than May.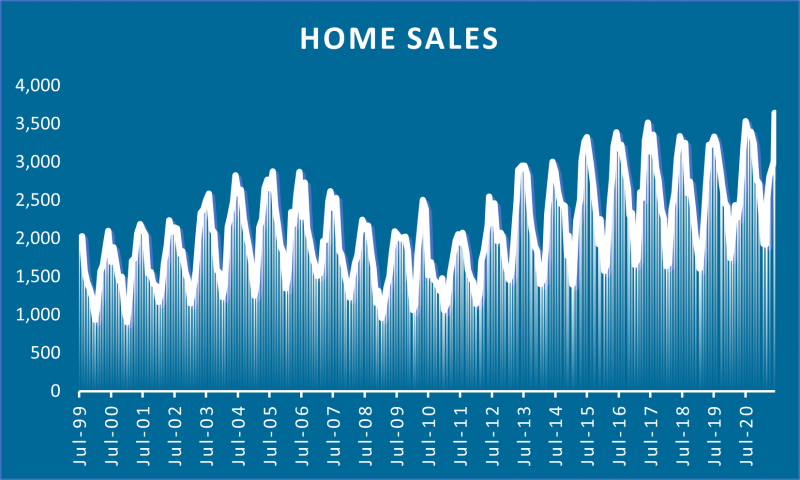 Home sales also set a new record high for first half sales, with a total of 16,033, a full 12.6 percent higher than last year.
Over the past 12 months, we've averaged about 3,000 new listings each month but last month, Columbus saw 4,359 homes added to the market. This was quite the boon for motivated buyers who acted quickly to put them in contract!
This additional inventory came largely in the form of homeowners listing their current homes in an effort to seize on the current supply imbalance in the market place. Sales of newly built single-family homes continued to decline in June as some builders slowed sales contracts to manage supply-chain challenges and more potential buyers became priced out. Homebuilding timelines are stretching longer and higher construction costs are frustrating buyers encouraging many to refocus on existing construction and resale homes.
New home sales have been trending lower as construction costs increase. Homebuilding costs for a variety of building materials, including lumber, remain high. "While lumber prices have shown some improvement in spot markets, these declines take time to translate into lower construction costs," said Chuck Fowke, chairman of the National Association of Home Builders. "Moreover, other items like oriented strand board remain elevated." Read more: Plummeting Lumber Prices Little Help to Builders and Prices for Construction Materials Jump 26% in a Year
In spite of the drop in new home production, homes that went into contract in June set another record which, combined with the increase in new listings, suggest strong homes sales in July.
Average Sales Price Continues to Rise
The average price of a home sold in June was $316,207, an increase of 15.8 percent from a year ago. The median sale price was $275,000, an increase of 14,1 percent over June 2020.
Year to date, homes sold during the first six months of 2021 sold at an average of $292,860 which is 15.9 percent ahead of last year. The median sale price of $251,000 is 13.1 percent higher than a year ago during the same period.
Buyers Continue to Pay Above Ask
Once again the average sales price exceeded the last list price. On average homes sold 3.9% above their asking price in June. In this market, many buyers decided to pay $10,000 or even $40,000 above list price, with appraisal gap coverage to secure a property.
Appraisals often fall short of the higher contract price. With appraisal gap coverage, buyers agree to bring cash to closing to cover some portion of the difference between the appraised value and the contract price.
Homes Continue to Sell Quickly
Not only were new listing and sales activity strong last month, but the time it took to put a home in contract dropped to an all-time low of 11 days in June 2021.
Homes under $350,000 sold in an average of 9 days. Homes sold between $350,000 and $500,000 took about 10 days to sell. Homes in the $500,000 to $700,000 price range sold in an average of 19 days, and homes over $700,000 were on the market for an average of 40 days.
For the first half of the year, homes have sold in an average of 18 days. Breaking this down by price range, homes under $350,000 sold in an average of 15 days. Homes priced $350,000 -$500,000 took 20 days. Homes between $500,000 and $700,000 took 30 days to sell and homes over $700,000 sold in an average of 45 days.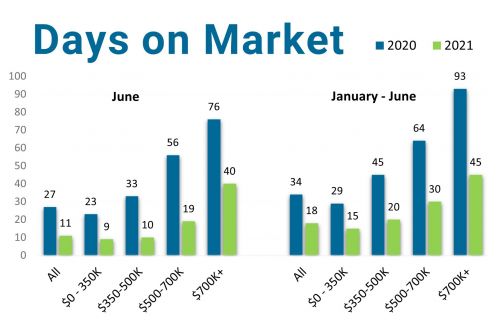 Although homes under $350,000 have always been in high demand, we're seeing significantly increased interest for homes in the higher price ranges this year. And as demand is higher, most homes are selling more quickly. Ten years ago, it took almost 100 days to sell a home priced between $350,000 and $500,000. Last month, it took an average of ten days!
While homes for sale are still being snatched up quickly, a recent slowdown in bidding wars should come as encouraging news to would be home buyers.
Mortgage Interest Rate Remain Low
As the economy works to get back to its pre-pandemic self, and the fight against COVID-19 variants unfolds, owners and buyers continue to benefit from some of the lowest mortgage rates of all-time. Largely due to the current environment, the 30-year fixed-rate remains below 3% for the fifth consecutive week while the 15-year fixed-rate hits another record low.
Low rates are fuel for continued home-price increases. With prices high, affordability is tied even more strongly to mortgage rates, so potential buyers starting to hunt for a home should consider what changes in mortgage rates mean for their home shopping budget and work to put a home in contract quickly so they can lock in today's historically low rates.
Window of Opportunity for Buyers
While March through June are busy months for home sales (a time when most buyers are aggressively looking for a new home), we are now entering the end of summer season a time when consumers are preoccupied with other activities (weddings, final summer vacations, cook outs and family reunions, athletics and sporting events, and preparations for the start of the school year) and they don't spend as much time house hunting.
Increasing inventory levels combined with a bit less demand means fewer buyers to compete with! Less competition creates a window of opportunity to secure a home at today's prices while locking in today's low mortgage interest rates (which have retreated back to lows seen in January and February of this year).
Buyers who have been priced out of the market, or those who have been looking and lost out on properties in the past should seize this opportunity as mortgage interest rates will not stay this low much longer and home prices will continue to rise.
June 2021 Housing Stats
Here are the numbers (compared to the same month a year ago):
Closed Transactions – 3,644 – UP 15.6%
Pending Contracts – 4,299 – UP 3.4%
Inventory for Sale – 2,425 – DOWN 17.7%
New Listings – 4,359 – UP 22.7%
Days on Market – 11 – DOWN 59.3%
Average Sales Price – $316,207 – UP 15.8%
Bottom Line
If you're interested in selling your Central Ohio home we'd encourage you to give us a call so we can show you the market conditions in your neighborhood and help you to get the most exposure and the most money for your home!
June 2021 Housing Report
Video: June 2021 Housing Report
All housing reports
If you, or someone you know is considering Buying or Selling an Investment Property in Columbus, Ohio please give us a call and we'd be happy to assist you!
The Opland Group Specializes in Real Estate Sales, Luxury Home Sales, Short Sales in; Bexley 43209 Columbus 43201 43206 43214 43215 Delaware 43015 Downtown Dublin 43016 43017 Gahanna 43219 43230 Grandview Heights 43212 Galena 43021 Hilliard 43026 Lewis Center 43035 New Albany 43054 Pickerington 43147 Polaris Powell 43065 Upper Arlington 43220 43221 Westerville 43081 43082 Worthington 43235
For more information about the Central Ohio housing market, visit https://blog.jasonopland.com/category/market-reports/.