More Inventory, Fewer Sales.
For the fourth consecutive month, the number of new listings in central Ohio increased by over 20 percent. Over the past few years this type of double-digit increase in new listings would have been accompanied by a corresponding increase in home sales, however, this wasn't the case in July.
There were 4,614 homes listed for sale last month in central Ohio, which was an increase of 21.0 percent from last year. However, at 3,630 the number of home sales only increased 2.7 percent – a marked change from the double-digit increases seen in eight of the last 10 months.
It's possible we're seeing a change in the pace of housing activity as we head into the fall. The welcome increase in inventory is giving buyers more choices, as well as a little more flexibility to consider their options.
Average Sales Price Continues to Rise
The average price of a home sold in July was $313,737, up 12.8 percent from July of 2020. The median sale price was up 12.2 percent to $275,000.
Thus far in 2021, just 12.6 percent of homes needed a decrease in the list price in order to sell. Price adjustments have trended down since the beginning of the year, however, July saw an uptick with just under 15 percent of homes requiring price adjustment to their price prior to sale.
As REALTORS®, we recommend pricing a home at market value, usually a value that will appraise. If the current market supports a higher value, we'll see that in the offers as buyers have been conditioned to pay above ask.
Homes Continue to Sell Quickly
The time it took to sell a home remained at 11 days last month.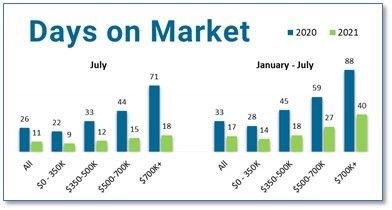 Homes under $350,000 sold in an average of 9 days. Homes sold between $350,000 and $500,000 took about 12 days to sell. Homes in the $500,000 to $700,000 price range sold in an average of 15 days, and homes over $700,000 were on the market for an average of 18 days.
For the first seven months of 2021, homes have sold in an average of 17 days. Breaking this down by price range, homes under $350,000 sold in an average of 14 days. Homes priced $350,000 -$500,000 took 18 days. Homes between $500,000 and $700,000 took 27 days to sell and homes over $700,000 sold in an average of 40 days.
Mortgage Interest Rate Remain Low
Low mortgage rates have motivated home buyers to endure this year's challenging market and now some buyers are starting to see their persistence pay off,
Low rates continue to fuel home-price increases and with prices high, affordability is tied even more strongly to mortgage rates. Potential buyers starting to hunt for a home should consider what changes in mortgage rates mean for their home shopping budget and work to put a home in contract quickly so they can lock in today's historically low rates.
Window of Opportunity for Buyers
As we discussed last month, while March through June are busy months for home sales (a time when most buyers are aggressively looking for a new home), we are now entering the fall season a time when consumers are preoccupied with other activities (athletics and sporting events, and the start of the school year) and they don't spend as much time house hunting.
Increasing inventory levels combined with a bit less demand means fewer buyers to compete with! Less competition creates a window of opportunity to secure a home at today's prices while locking in today's low mortgage interest rates (which have retreated back to lows seen in January and February of this year).
Buyers who have been priced out of the market, or those who have been looking and lost out on properties in the past should seize this opportunity as mortgage interest rates will not stay this low much longer and home prices will continue to rise.
July 2021 Housing Stats
Here are the numbers (compared to the same month a year ago):
Closed Transactions – 3,630 – UP 2.7%
Pending Contracts – 4,341 – UP 4.7%
Inventory for Sale – 3,079 – UP 4.2%
New Listings – 4,614 – UP 21.0%
Days on Market – 11 – DOWN 56.0%
Average Sales Price – $313,737 – UP 12.8%
Bottom Line
If you're interested in selling your central Ohio home we'd encourage you to give us a call so we can show you the market conditions in your neighborhood and help you to get the most exposure and the most money for your home!
To view residential properties for sale, visit jasonopland.com.
To view commercial properties for sale or lease, visit COCIE.org.
If you, or someone you know is considering Buying or Selling an Investment Property in Columbus, Ohio please give us a call and we'd be happy to assist you!
The Opland Group Specializes in Real Estate Sales, Luxury Home Sales, Short Sales in; Bexley 43209 Columbus 43201 43206 43214 43215 Delaware 43015 Downtown Dublin 43016 43017 Gahanna 43219 43230 Grandview Heights 43212 Galena 43021 Hilliard 43026 Lewis Center 43035 New Albany 43054 Pickerington 43147 Polaris Powell 43065 Upper Arlington 43220 43221 Westerville 43081 43082 Worthington 43235