After three months of less than normal housing activity due to the COVID-19 shutdown, central Ohio saw a spike in home sales last month. The 3,536 homes sold in July were 12.2% higher than June and 6.1% higher than last year.
Over 4,100 homes and condominiums were put in contract during the month which was just 11 homes shy of the previous month, but 9.0% higher than July of 2019.
For the first time in central Ohio history, sale prices exceeded list prices last month as many buyers paid more for a home than it was listed for sale.
For most buyers paying more than the list price goes against the grain as negotiation is traditionally a part of the home buying process. However, due to high demand and low supply, competition is stiff so buyers must decide how much the home is worth to them when deciding how much to offer.
There were 3,812 residential homes listed for sale during the month of July, which was just short of the previous year, but 7.3% higher than June.
Even with the increase in new listings, inventory remained 41% lower than last summer leaving central Ohio again at 1.1 months supply of inventory at the current sales pace.
Housing inventory remains at or near all-time lows in many markets and price points across the Columbus and Central Ohio as eager buyers return to market more quickly than sellers. Homeowners may be seeing their neighbors' homes going under contract at record speeds and believe that selling fast for their target price will be a given, but getting top dollar in this, or any other market still involves preparing your home for sale.
Today's buyers don't want to do a lot of work. They want turnkey, move-in ready, Instagram worthy homes offering features and finishes that are on trend. These are the homes that sell fastest and for the most money.
Unfortunately sellers often haven't redone the home in a decade or more. Maybe it has outdated brown carpeting, wallpaper on the walls, or an enclosed kitchen with drop ceiling with fluorescent lighting, the sorts of finishes that are likely to turn off home shoppers as they click through online listings.
Sellers may understand this but be at a loss on what changes will pay off, maximizing the home's chance of selling quickly and for the most money, as well as how to pay for the updates.
Thanks to a new service, sellers have a unique opportunity to maximize profit on the sale of their home through pre-sale renovations. Improvio to help renovate first, sell for more and pay at closing.
Improvio provides turnkey repairs and renovations for homeowners who want to sell their homes for the highest price possible, and defers payment until your home is sold.
Whether it's replacing carpet, a fresh coat of paint, and other minor cosmetic repairs, or replacing a roof, and a complete kitchen and master bath remodel, they can help.
Improvio makes pre-sale home improvements possible for every seller, and transforms houses into the listings buyers love. Improvio helps homwowners maximize the return on their most valuable investment… their home!
Home sale prices continued their upward trend as the average sale price in July was $278,044, up 10.4% from last year and the median sale price of $245,000 boasted an 11.4% increase over July of 2019.
Although the shortage of new homes built over the past decade has contributed to our housing shortage, Central Ohio Home Builders have been very active this summer, providing a welcome influx of new home inventory..
As every single-family home built produces 2.9 jobs and $130,000 in tax revenue, this will also be a boon for the Columbus region as we work to repair the economic damage caused by COVID-19 and the virus-induced shutdown.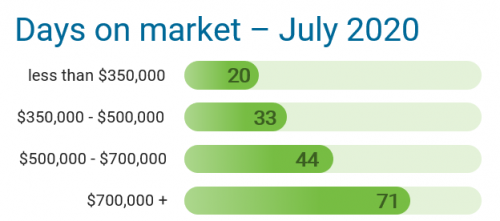 During the month of July, homes under $350,000 sold in an average of 20 days. Homes sold between $350,000 and $500,000 took about 33 days to sell. Homes sold between $500,000 and $700,000 sold in an average of 44 days and homes over $700,000 took an average of 71 days to sell.
Current housing report – July 2020
All housing reports
If you, or someone you know is considering Buying or Selling an Investment Property in Columbus, Ohio please give us a call and we'd be happy to assist you!
The Opland Group Specializes in Real Estate Sales, Luxury Home Sales, Short Sales in; Bexley 43209 Columbus 43201 43206 43214 43215 Delaware 43015 Downtown Dublin 43016 43017 Gahanna 43219 43230 Grandview Heights 43212 Galena 43021 Hilliard 43026 Lewis Center 43035 New Albany 43054 Pickerington 43147 Polaris Powell 43065 Upper Arlington 43220 43221 Westerville 43081 43082 Worthington 43235