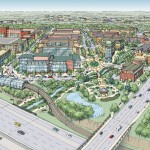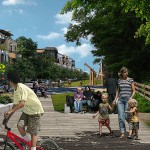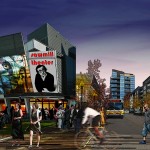 The City of Dublin is an affluent Columbus suburb typically known for it's good schools, access to employment and high paying jobs, low density housing and retail developments that have rapidly sprawled outward over the past forty years. Overall, a very desirable suburban community, crowned with a quaint historic Downtown intersection that is home to a small selection of local shops and restaurants.
Fast forward another forty years and things may look drastically different. Officials with the city's planning department have been steadily working on the Bridge Street District plan, which calls for the redevelopment of 1,200 acres located at the core of Dublin, roughly defined by Sawmill Road, State Route 161 and the arc of Interstate 270. Essentially, this development would capitalize upon the success of Historic Dublin and expand around it with denser urban infill that woud take the form of multiple mixed-use neighborhoods built side-by-side throughout this entire area. The Corridor could eventually host over 8,000 residential units in over 15 million square feet of mixed-use space, and be serviced by new mass transit lines connected to Downtown Columbus or other suburban communities. Think Easton Town Center with residential housing units built around and above the retail centers.
The Bridge Street District is envisioned to be a highly walkable, mixed use area at the center of Dublin. Bridge Street District will develop as a series of interconnected urban neighborhoods, each having a distinct development character consistent with the Vision Plan adopted by City Council in October 2010. The Bridge Street Corridor Vision is a market-based plan that will be implemented through a combination of private development and public/private development partnerships.
The timeline for completion of the project is approximately 30 years with the expectation that residential will happen first as this is what retail needs before it can commit. So housing will happen first, retail will follow and office will probably come third, however, demand will largely dictate how the project unfolds and the timeline.